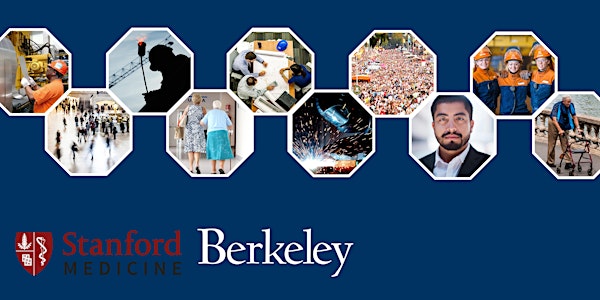 Work-Life, Health, and Economic Trajectories of an Aging Workforce: A Lo...
Location
Berkeley Faculty Club
Heyns Room
UC Berkeley Campus
Berkeley, CA 94720
Description
Work-Life, Health, and Economic Trajectories of an Aging Workforce: A Longitudinal Research Data Workshop
An overview and research applications of a broad, longitudinal and linked catalogue of data, including occupational exposure, health, medical claims, human resources, payroll, workplace safety and mortality spanning over 20 years for a cohort of 230,000 employees of a multinational aluminum manufacturing company, and their spouses/dependents.
Sponsored by
Center on the Economics and Demography of Aging, UC Berkeley
Center for the Population Health Sciences, Stanford University
Speakers and Activities
A combination of presentations, discussions, and hands-on training.
AM: presentations of existing research drawing upong the dataset,
PM: a hands-on, practical workshop exploring the use and nuances of the data
Program Outline
Will Dow, UC Berkeley: Welcome and Introduction
Mark Cullen, Stanford University: Overview of Manufacturing Cohort, Project History and Research Data
Sepideh Modrek, San Francisco State University:

Employment security, worker health and health care utilization

Amal Harrati, Stanford Medicine:

Characterizing transitions between work, disability, and retirement, and implications for aging cohorts

Sadie Costello, UC Berkeley:

Long term particulate matter exposure and associations with chronic disease onset



Linda Cantley, Yale School of Medicine: Health shocks such as musculoskeletal conditions and workplace injury and the impact on retirement
Erika Tribett, Valerie Measoone, and Mark Cullen, Stanford University: introduction to the website and nuances of the data (with papers/abstracts utilizing data to be distributed in advance)
All: Workshop to explore data sets, and discuss issues relevant to individual research interests with project data experts
Participation is free, but registration is required.
Coffee, tea, refreshments, and a light lunch will be served.