Description
The Work it OUT Tour concept brings the club vibe to fitness. Founded by David "DJ O.G.ONE" Jackson. Bringing a fun-filled workout experience to people on all different fitness levels, who may never find motivation going to a standard gym, but love to move and sweat to good music. O.G.ONE brings the live dj sounds as fitness trainer Janita "JJ" Jones and her team of amazing guest instructors make you sweat.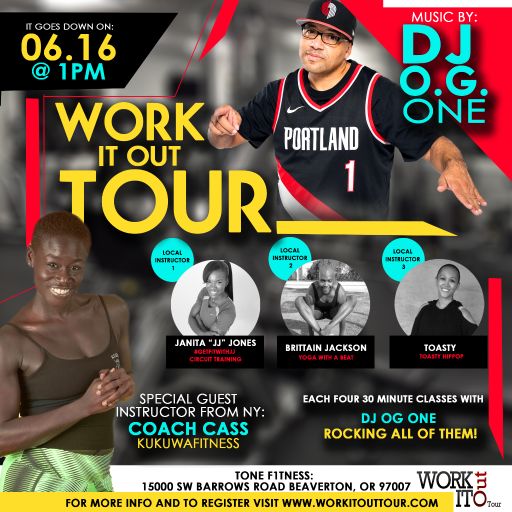 Work It Out Tour #1 Team
Special Guest Instructor from NY:
Coach Cass of Kukuwafitness
Kukuwa Class Description:
Get ready to experience Africa without a passport through music and dance! KUKUWA® African Dance has you immediately moving your arms, waist, legs and hips to a blend of Central, East, South, and West African songs. It will take you on an exotic African Expedition through the infectious sounds of African music, and energy giving dance moves. The session pumps FUN through your veins, leaving you with energy earned and dance moves learned

. It is open to all dance and fitness levels
Local Instructor #1 Janita Jones

#GETFITWITHJJ Circuit Training
Fun exercises that are set up for you to do at your level of fitness and ability. Tone F1tness has a bunch of athletic "toys" we get to play with! We will rotate and of course I will provide my loved "active recovery" exercises in between each roation.
Local Instructor #2 Brittain Jackson
Yoga With A Beat!
Get ready for a super charged and high energy yoga practice with Brittain Jackson! All are welcome. In this class you will lengthen, tone, and stretch your body through a series of yoga poses that will revitalize and renew you from the inside out. Be prepared to get your body active and moving!
Local Instructor #3 Toasty
Toasty HipPop
Toasty is my name & dancing is my game. Move, groove, sweat and smile with me! My dance fitness set list will make you forget that you are working out!
CHILDCARE AVAILABLE