Description
We're excited to invite you to the Work Awesome Conference & The Workies in New York City – the annual boutique gathering that empowers you for the future of work!
dedicated website here -> www.workawesomenyc.com
Join us for a stellar day and brand new awards program, connecting you with 20+ speakers and 200+ executives, innovators and creators in the heart of New York City. Speakers include Woodstock co-creator Michael Lang, Siemens Head of People & Leadership Pooja Anand, Lorna Davis, Leading Transformation for food giant Danone; and best-selling author Douglas Rushkoff.
You'll experience highly curated talks, brilliant storytelling and engaging immersive workshops, accompanied by a brand new awards program for people leaders. You'll learn:
- how leaders are embracing culture change and digital transformation
- how the next generation of data-driven HR retains, recruits and train the future workforce
- how diverse and inclusive teams and organizations work and adapt their strategies
- how entire industries embrace A.I. and automation to transform their factories

As part of The Workies, an awards program for people leaders, you'll meet the most innovative individuals, teams and companies reinventing the world of human resources.
Plus: live music, farm-to-table food and afterparty! See highlights from last year's event here.
Scroll down for the full Run of Day.
Many thanks to our sponsors Grant Thornton, Sayge, Knotel, Volonte, Klaxoon and The German-American Chamber of Commerce!
Media Partner Grit Daily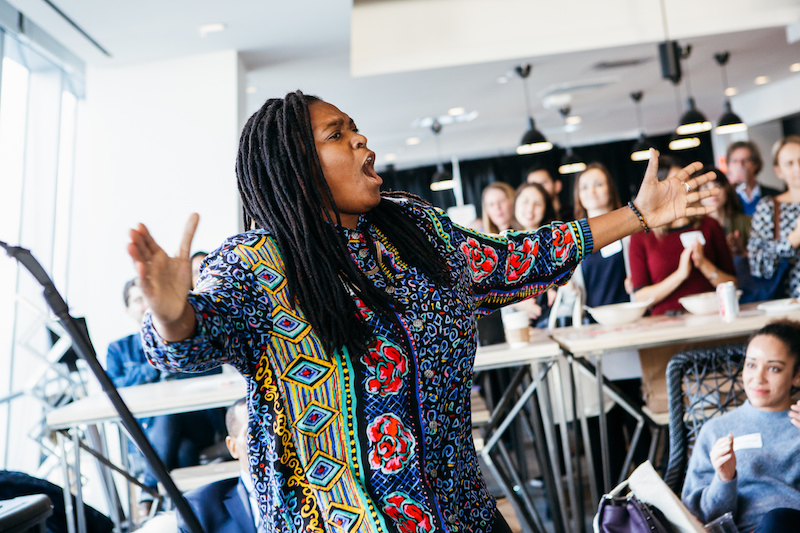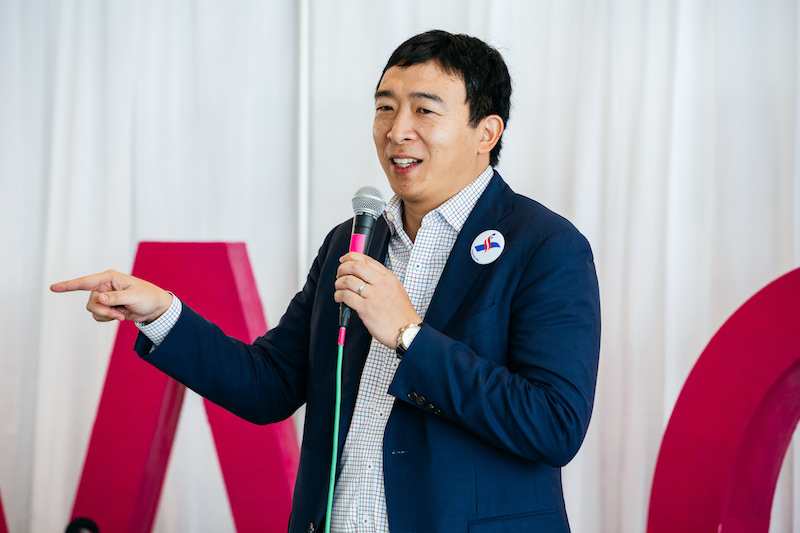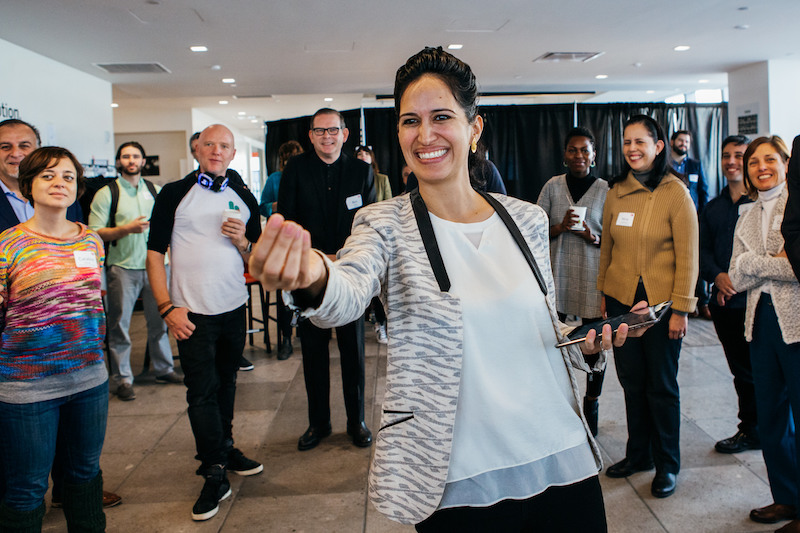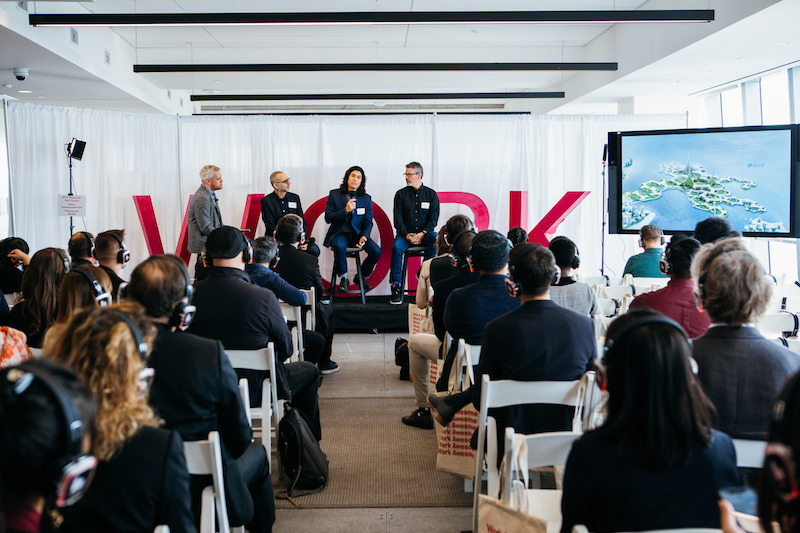 PRELIMINARY AGENDA
10:00 AM || Doors open, breakfast & coffee || Live Music by Andrea Wright
10:30 AM || Welcome & Introductions
- Grace Cook, Co-Founder, The Workies
- Felix Zeltner, Co-Founder, Work Awesome

10:50 AM || Opening Keynote: Ditch Your Heroes
- Lorna Davis, Senior Advisor to CEO and Global B-Corp Ambassador, Danone
Lorna, a seasoned executive with decades of global experience in the food industry, will reveal how she transforms a food giant with into a purpose-centric corporation – and redefines leadership on the way.
11:15 AM || From A.I. to Ageism: What World Of Work Do We Want To Live In?
An all-star debate about one of the toughest questions surrounding the future of work, featuring Work Awesome keynote speaker and Danone executive Lorna Davis, award-winning futurist and philosopher Douglas Rushkoff, award-winning architect and ageism expert Matthias Hollwich, and co-working pioneer and tech entrepreneur Amol Sarva.
12:00 PM || The Workies Technology Award Winners Announced

12:30 PM || Lunch

1:15 PM || Keynote: The Corporate Citizen – How To Build The Company Culture Of The Future
- Aria Finger, CEO & Chief Old Person at DoSomething.org,
Aria leads the largest non-profit for young people and social change and will deliver a behind-the-scenes look at the insights and tactics that guide success activating young people for good. She'll share actionable insights to challenge the status quo of employee engagement and equip attendees with key takeaways to take corporate citizenship to a new level.

1:40 PM || Reskill, Upskill, Vanish? The Future of Talent In The World's Largest Organizations
An open and honest exchange about how to find, and keep, the talent of the future, and how to integrate (or dissolve) Human Resources along the way. Featuring Pooja Anand, Global Head of Learning at Siemens, Brenda Wagner, Head of HR at Grant Thornton, Daniel Masata, Co-Founder, Volonte, and Martha Bird, Business Anthropologist at ADP.

2:25 PM || The Workies Talent Award Winners Announced. Featuring an all-hands coaching session by Sayge.
15:00 PM || Awesome Workshops!
Epigenetics at Work
Coming from brand new scientific research, expert Rajkumari Neogy breaks down how our work-life alters our DNA – and what to do about it – in this groundbreaking, awe-inspiring workshop.
The End of Procrastination
With their global bestseller "The End of Procrastination", Adela Schicker and Petr Ludwig help millions to work better, simpler and be less overwhelmed with the accelerating change in the workplace. In this workshop, they will share and discuss the best strategies from years of research.
5:00 PM || Workplace Wellness
A tailored conference work out and way to work awesome-ly hosted by Gympass a worldwide fitness discovery platform that offers fitness classes through an employer's benefits program.
5:20 PM || The Workies Culture Award Winners Announced
5:50 PM || Woodstock: How To Make History Through Community
Woodstock co-creator and legendary community builder, promoter, producer and manager Michael Lang discusses his historic work from building community and organizations out of nothing, to keeping the Woodstock brand alive for the past 50 years – and of course to the recent disappoint of the failed Woodstock 50 remount. He will reflect on secrets and lessons-learned from his legendary half-century career and be given a Lifetime Achievement Award for his pioneering work in the field.
6:45 PM || Music, Food, Networking
#workaweome #theworkies #futureofwork