Words & Music - A Hands-On Musical Theatre Workshop

Tuesday, September 26, 2017 at 7:00 PM

-

Tuesday, November 14, 2017 at 7:00 PM (PDT)
Event Details

The Los Angeles LGBT Center is pleased to welcome back one of our most popular class offerings in an exciting new format. Words & Music - A Hands On Musical Theatre Workshop has been extended and is now an 8-week course! 
A CLASS FOR COMPOSERS, LYRICISTS, PLAYWRIGHTS, SCREENWRITERS AND TV WRITERS
For Writers:
So many writers, playwrights, tv and movie writers, are trying their hand at writing musical and the process of musical theater creation can be bewildering, especially if you're a writer who has only written non-musical projects and may not be acquainted with basic principles of music. If Mom didn't force piano lessons on you, if you weren't in a high school garage band, how do you, as a writer or scriptwriter, navigate that daunting world of tempos, rhythms, verse-chorus, legatos and back beats? This course provides, for writers, a place where your questions about music, no matter how basic, can be safely asked.
Your script writing skills will be valuable in writing musicals, but they're going to have to be adapted. All you've learned about laying out a narrative line, story structure, characterization, plot points, all of it, will be just as crucial in musicals. (Don't let your songwriters convince you otherwise!) But on occasion, some bending will have to occur. For example, in musicals, it is, shockingly enough, OK sometimes to let forward plot motion stop.
For Composers:
It's equally important for a composer / songwriter starting out in musical theater to know something about the basic principles of dramatic writing: story structure, plot points, engaging an audience, and the crucial matter of making an audience wonder what's going to happen next. And it's important to become familiar with the sight of index cards on a corkboard. Your instrument, the one you'll be playing in musical theater, is your audience. So how do you get the right responses at the right times? How do you find the perfect place in the narrative to put a song, and the perfect song for that place, remembering at all times you are writing a score, not just a song? How can you to avoid the trap of too many passive songs in which characters do nothing but reflect on past plot events?
For both composer / songwriters and script writers:
Collaboration Fundamentals: This will be Couples Counseling (or in some cases, Threesome Counseling) for creative teams: Learning to communicate directly, in clear language, not jargon, particular the jargon of music. Making sure all collaborators are writing the same show. Being sure the script writing side is able to contribute knowledgably to the musical elements, and that the songwriters are respectful of the dramatic writing rules. Examining how the team can advance their project from an idea on a page to a finished draft to the process of readings, workshops and finally, production.

Class Requirements
Students are required to submit a valid contact email when registering. Your instructor will contact you prior to your first session to go over what is expected of you during the class and what you will need to have ready upon joining the group. 
Instructor: Mark Saltzman
Course Meeting Dates: Tuesdays, September 26, October 3, 10, 17, 24, 31, November 7 & 14
Course Meeting Times: 7 - 9:30 p.m.
Location: The Village at Ed Gould Plaza
Enrollment closes at 5 pm on Monday, September 25


INSTRUCTIONS FOR STUDENT PARKING AT LOS ANGELES LGBT CENTER'S YOUTH CENTER ON HIGHLAND
As you are aware, the Center is undertaking a large construction project to build affordable intergenerational housing for LGBT youth & seniors. During this project, parking will no longer be available at the Village. To accommodate all those who use the Village, we are offering parking at the Center's Highland Youth Center at 1220 Highland Ave., just one block from the Village. See map below.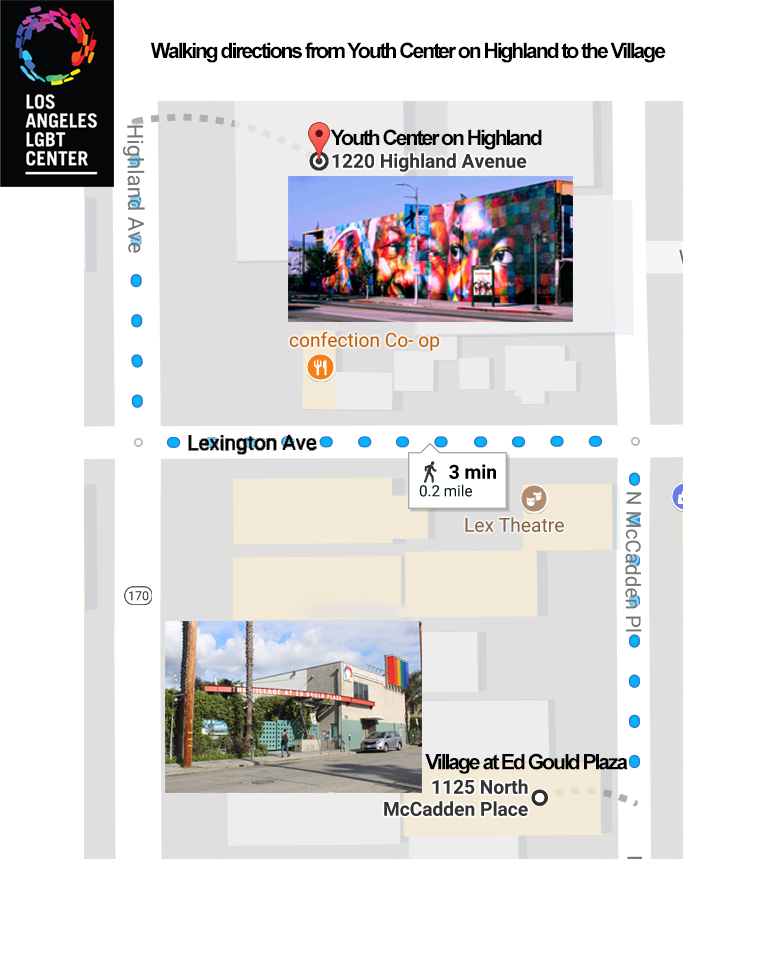 There are several Center departments that use the Village for meetings and events, so please understand that we are doing our very best to make sure that there is minimal frustrations and inconveniences during the construction process. Designated parking spaces have been reserved for you and your fellow students in the Youth Center parking lot. See map below.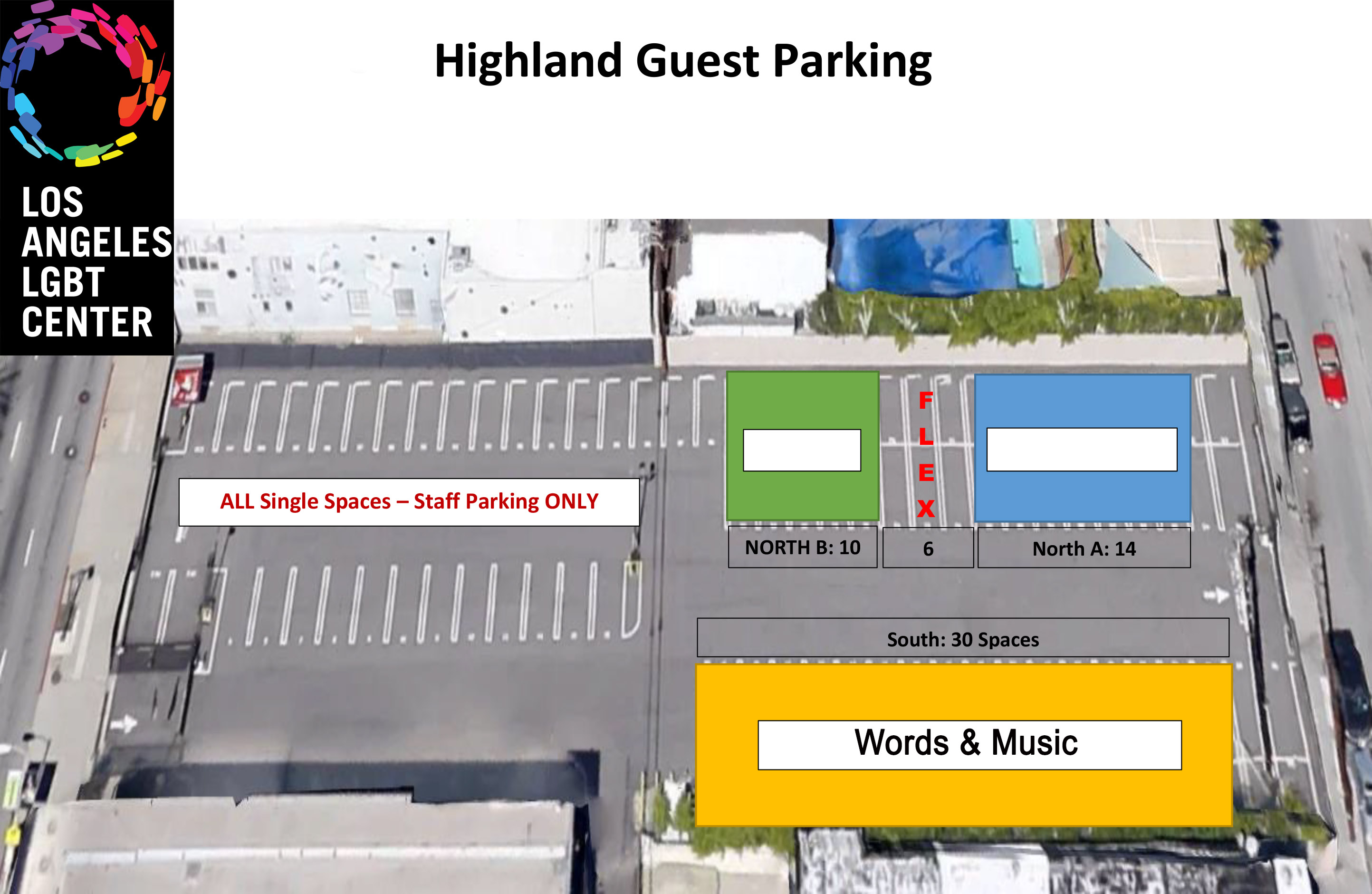 Please note that these spots are on a FIRST-COME, FIRST-SERVED basis. If you arrive after the start of your class and our section of the lot is full, YOU WILL NEED TO EXIT THE LOT AND FIND STREET PARKING. Below are instructions from our facilities staff on parking at Highland…
Arriving at the Youth Center: 
Student must enter the lot from the Highland Ave. entrance. See image below.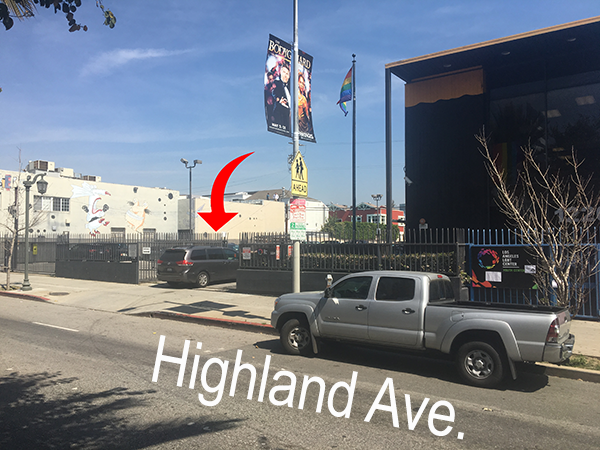 The Highland entry gate closes at 5pm every day. This is to prevent random people from speeding thru the parking lot to avoid the Highland Blvd traffic. We ask that you please try to time your arrival to occur AFTER 6 pm. There is a note on the gate at Highland that has the number to the security desk. That number is 323-860-3701. When you arrive, you must call the security desk number from your personal cell phone, (the keypad on the callbox does not work).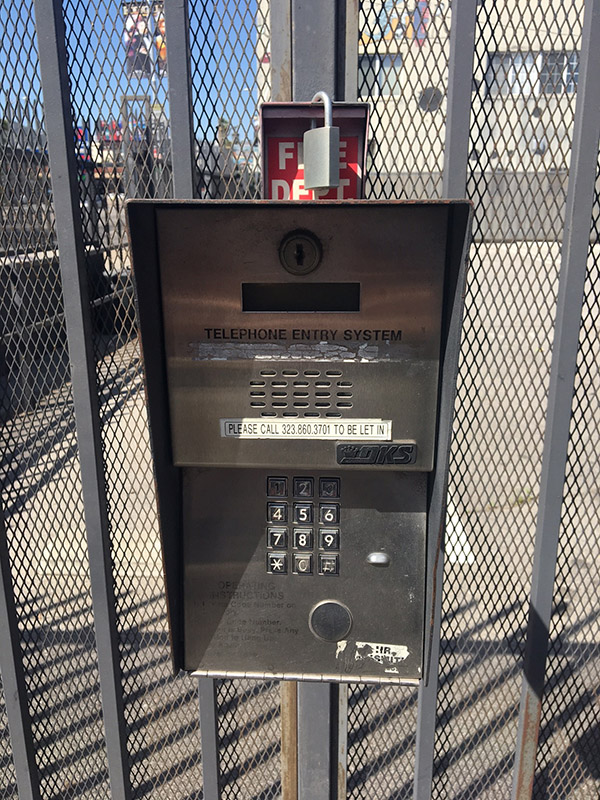 The Security Officer on duty will come out and use the remote to open the gate. IF there is no answer, the Officer may have stepped away from the desk – please be patient and try again. We are currently working on having an Officer available to be IN the lot at 6pm.
Returning to your vehicle following class:
To maintain the security and safety of all parties – the gates at Highland will always remain closed "after hours". The McCadden gate is a staff and/or exit ONLY and will not be opened for access after 4pm. So, all entry and exit should be through the Highland Gate. Be sure all guests have the security desk number (323-860-3701) and call the Security Officer on duty once again to gain access to the lot and your vehicle.
This is something new for all of us. We appreciate your patience as we navigate these new procedures and please know that we are doing all we can to continue to make your time at the Center a fun and fulfilling experience. If you have any questions or concerns regarding this situation, you can contact me at 323-860-7336 or gbigham@lalgbtcenter.org.
Thank you for your continued support of the Center and we look forward to seeing you in class!
When & Where

The Village at Ed Gould Plaza
1125 N McCadden Pl
Los Angeles, CA 90038


Tuesday, September 26, 2017 at 7:00 PM

-

Tuesday, November 14, 2017 at 7:00 PM (PDT)
Add to my calendar
Organizer
Learning Curve is an alternative adult education and empowerment program expressly committed to improving and elevating the lives and lifestyles of LGBT people and their friends and allies from all over Southern California. This is accomplished by presenting a wide array of powerful, educational, enriching and inspirational courses, workshops, seminars, panel discussions, special events, conferences, social- and empowerment-groups.
Learning Curve's varous offerings include courses that fall under a large variety of categories, including: Language & Culture, Career Development, Arts & Entertainment, Performance, Creativity & Fun, Dating & Intimacy, Computer Technology, Photography & Video Production, Self-Improvement, Health & Wellness and Wealth & Security.
Learning Curve is a program of the Los Angeles LGBT Center. Everyone is welcome to take part in Learning Curve various course and program offerings regardless of sexual- or gender-identity. A part of Learning Curve's mission is to offer high-quality courses for adults, geared toward serving the needs of LGBT people, our friends and allies. 
For more information, visit us at LearningCurveLA.org