WORDS ACROSS THE WATERS 4 - A Tribute to Orisha Oya
Sales Have Ended
Registrations are closed
Thank you for your donation to support Words Across the Waters!
Sales Have Ended
Registrations are closed
Thank you for your donation to support Words Across the Waters!
WORDS ACROSS THE WATERS 4: Selected Readings from Jambalaya with Our Kinfolk Around the Globe
About this event
The only way we shall change long-standing perceptions and limiting concepts of Africa is for us to change the conversation. We must have a vision and we must develop Africa." - Nana Abena Serwaa
"WORDS ACROSS THE WATERS" proudly presents the fourth in a series of events designed to reunite us across the African Diaspora.
This program is a tribute to Orisha Oya - The Divine Feminine Force of wind, hurricanes, storms, change, revolution, and transformation as edified in the cultural wisdom of Yoruba.
The "Words Across the Water" book party and performance series is hosted by Yeye Luisah Teish and Nana Abena Serwaa. Each party in the series consists of music, art, conversation and dramatic readings from Yeye Teish's book "Jambalaya" and other selected writings. Yeye will elaborate with her wisdom and expertise as an Elegant Elder, which weaves together our common heritage and shared destiny as daughters and sons of Mother Africa.
WORDS ACROSS THE WATERS features readings by Elegant Elders, luminary artists, tradition bearers, and community builders:
~ Yeye Luisah Teish is the legendary High Priestess of Oshun and Ifa, Storyteller, and Author of Jambalaya: The Natural Woman's Book of Personal Charms and Practical Rituals. She is globally renown as a ritual leader, artist, and activist who rallies for the interests and sacred well being of women, children, and our environment. Visit www.yeyeluisahteish.com.
~ Nana Abena is an internationally acclaimed, educator, theater artist, storyteller, Akan priestess, and Metaphysical minister. For more than 20 years, she has been bridging the gap between African people, here, in the USA and those in Ghana, West Africa. She currently accomplishes this, through her dynamic, "East meets West" tours of various regions in Ghana, which create a multitude of social/cultural/economic exchanges between Kinfolk on both continents.
~ Mama Charlotte Hill O'Neal a/k/a Mama C, Iya Osotunde Fasuyi Ola Osebikan is an internationally known writer/poet/visual artist, musician, performance artist, of nearly three decades of experience. Mama C was a Kansas City Chapter Black Panther, a longtime community activist and Director of the United African Alliance Community Center (UAACC) based in Tanzania, east Africa. She is also a Cultural Warrior, Omo Oshun and Egungun Priestess. She was born in Kansas City, KS in 1951 and has lived in Africa with her husband Pete O'Neal since 1970. She is the mother of two children, Malcolm and AnnWood 'Stormy'. Mama C believes in the power of African Spirituality and Art to change people's lives in positive and uplifting ways!
~ Ayo Fayemi-Robinson is principal of Compositions Coaching and Consulting. She is author of the poetry collection Spherical Woman and co-founder of Runagate Press, an independent, New Orleans-based publisher that specializes in books on New Orleans culture and African heritage cultures worldwide. Ayo is a senior priest of the Obafemi Fayemi Institute for the Divine and Universal Study of Ifa and is divinely addressed as Iyanifa Oyawande Omitona Ekundayo Fayemi.
~ Queen Leia Lewis (Iya Oriade Efunyemi) is a spiritualist, creative, and educator who facilitates online learning communities, executive leadership development strategies, and brand administrative and marketing services for Spiritual Women to flourish in their callings. Visit BeautifulandSacredthings.com.
WORDS ACROSS THE WATERS invites YOU to join this important discussion!
This and future conversations are helping create sustainable family projects and community development initiatives that shall support the education of children and adults, as well as catalyze economic development in the USA, Ghana, and other countires.
Ticket proceeds for these events help to establish Ibukole Estates Library and Gardens project in Ghana. Plans for this project include a literacy program and historical Tours Across the Waters to El Mina Castle. This is being done with the approval of the indigenous elders.
Also, you shall be invited to support by shopping our WORDS ACROSS THE WATERS globally inspired marketplace featuring products and services by women! A share of every sale benefits this good work of connecting hands and hearts in the Diaspora! SHOP YEYE'S PARADISE MARKET
****************************************************************
Register for this online program with your sliding scale donation of $10 to $25.
IMPORTANT! CHECK YOUR EMAIL! You will be sent the ZOOM link to attend this online program. Please also check your SPAM folder for communication from Eventbrite and/or Words Across the Waters.
****************************************************************
Thank you for your support! Medaase / Asante Sana!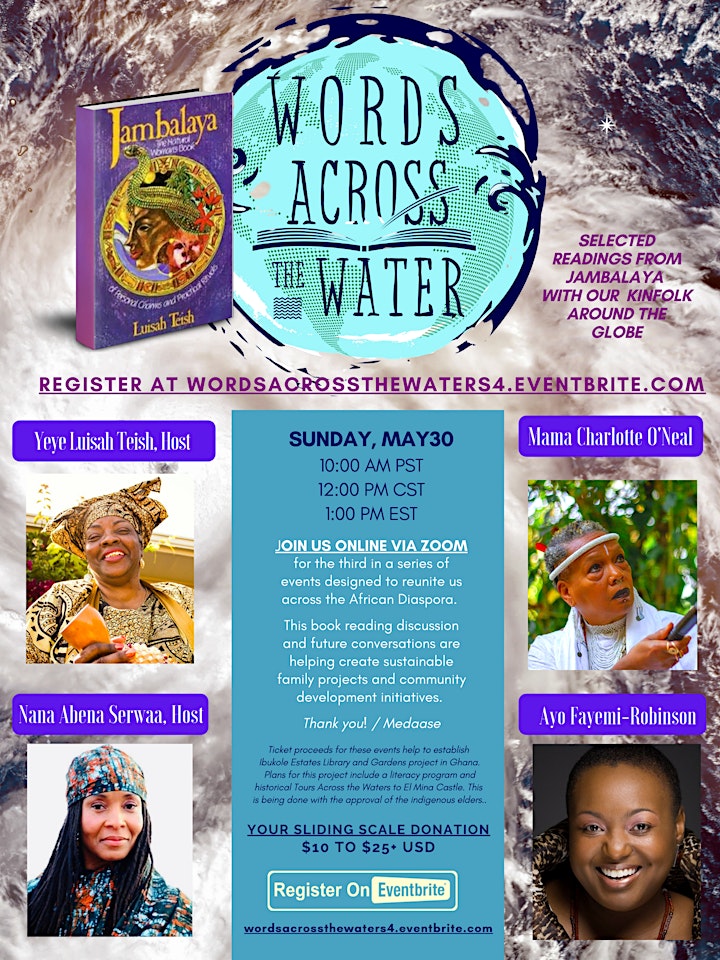 Organizer of WORDS ACROSS THE WATERS 4 - A Tribute to Orisha Oya