Multiple Dates
WordPress for Dummies: 1-Day WP Workshop™ Class
Description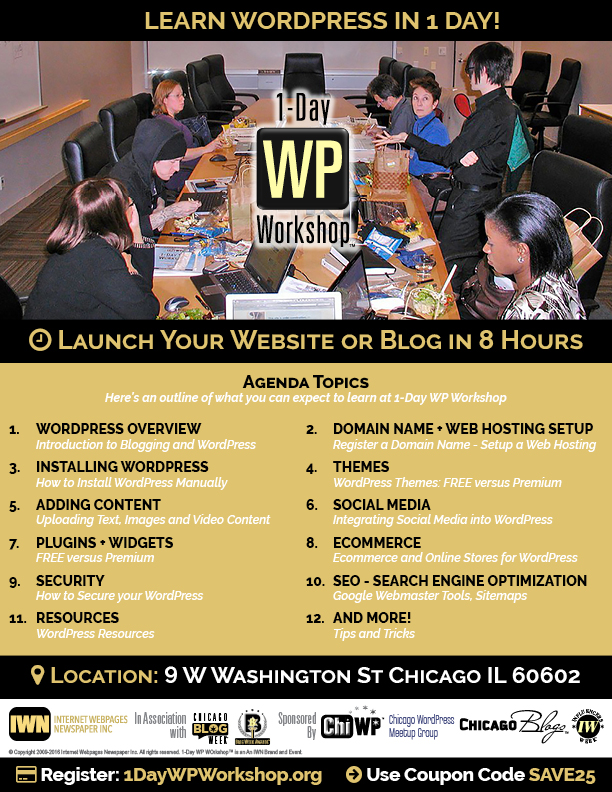 Launch Your Website or Blog in Just 8 Hours
Get your ordPress Site up and Running in one day • Register Now for 1-Day WP Workshop!
Located in Downtown Chicago at Washington and State Street
This is a Hands-on, Interactive Instructor-led Training.
1-Day WP Workshop uses live websites hosted on Rackspace Cloud Sites.
Each 1-Day WP Workshop is customized for attendees based on your goals and objective.
Agenda Topics
Here's an outline of what you can expect at 1-Day WP Workshop
Introduction to Blogging and WordPress
How to Register a Domain Name and Setup a Web Hosting account.
How to Install WordPress Manually (not the quick install method)
WordPress Themes: FREE versus Premium
Uploading and Developing Text, Images, Graphics and Video Content
How to Integrate your Social Media channels into WordPress
Basic Ecommerce and Online Storefronts for WordPress
How to Secure your WordPress
Search Engine Optimization (SEO), Google Webmaster Tools, Sitemaps
YOUR REGISTRATION INCLUDES TWO VALUABLE BONUSES:
1. Chicago Blog Week™ 2016 All Access Pass ($149 Value)
2. Chicago Blog Week™ Awards Entry ($99 Value)
Limited Offer - First 50 Only • Don't Miss Out - RSVP Today!
THE 1-DAY WP WORKSHOP™ SOLUTION
Three Results you Accomplish After Attending • Register Now
There's no need to hire expensive Web Designers and Developers. Save thousands of dollars by learning how to set up and manage your WordPress site.
In this workshop, you will register your new domain, setup your web hosting account, install WordPress and have your Blog or Website live online by the end of the class.
Once you set up and layout your WordPress Blog or Website at the 1-Day WP Workshop™, you will know how to manage important aspects of your WordPress site. Just log in and update your website whenever you want.
Never be held hostage to expensive web designers and developers again! Declare freedom when you attend 1-Day WP Workshop. Control your destiny.
Your Registration Includes
Here's what's included with your 1-Day WP Workshop™ registration
Get WordPress dashboard screenshots of important information and instructions so you can review what you learned using valuable printouts. Organized in a 3-Ring Binder and customized just for you.
All WordPress sites require a Theme. Get started building your Blog or Website at 1-Day WP Workshop with a complimentary WordPress Theme and sample Templates.
Building a Mailing List from visitors to your site is important. You'll get Mailchimp, an email marketing plugin, which allows you to integrate mailing list database within your WordPress Website or Blog.
Landing Pages are designed to convert visitors to your site into action (buy a product, download a file, subscribe to email list, etc). You'll get a FREE Landing Page Template you can deploy on your Website or Blog so you're up and running and ready for online marketing, lead generation and sales conversions.
Enjoy delicious Decaf or Regular flavor coffee with real cream (Half & Half) throughout the entire day. Hot Tea and Cold Water also available.
Choose from Roti Mediterranean Grill (Sat/Sun) or Cosi (Sat only) homemade flatbread sandwich meal. Includes beverage.
Everyone knows how expensive it is to park in downtown Chicago. Pay only $17 for up to 24 hours when you park at Theatre District Self Park (2 blocks from workshop location).
General Admission All Access Pass to Chicago Blog Week August 8-14, 2016 events. Includes a bonus entry into Chicago Blog Week Awards competition for your blog.
Two free 60-minute follow-up sessions up to 60 days after you've taken the 1-Day WP Workshop.
If needed, here are optional services available to all 1-Day WP Workshop™ attendees: 1. Ecommerce Setup Using Stripe Payments. 2. Online Marketing Campaign Setup (Facebook / Instagram, Twitter, Pinterest, YouTube or Google Adwords). 3. Website / Blog Design, Development and Maintenance.
LEAD INSTRUCTOR
Edmund Dantés Hamilton
Founding Organizer of Chicago WordPress Meetup Group (800+ members) in November 2008, Hamilton is a Graphic and Web Designer turned Event Organizer. A native Clevelander, after 26 years in the Windy City, Hamilton calls Chicago his home.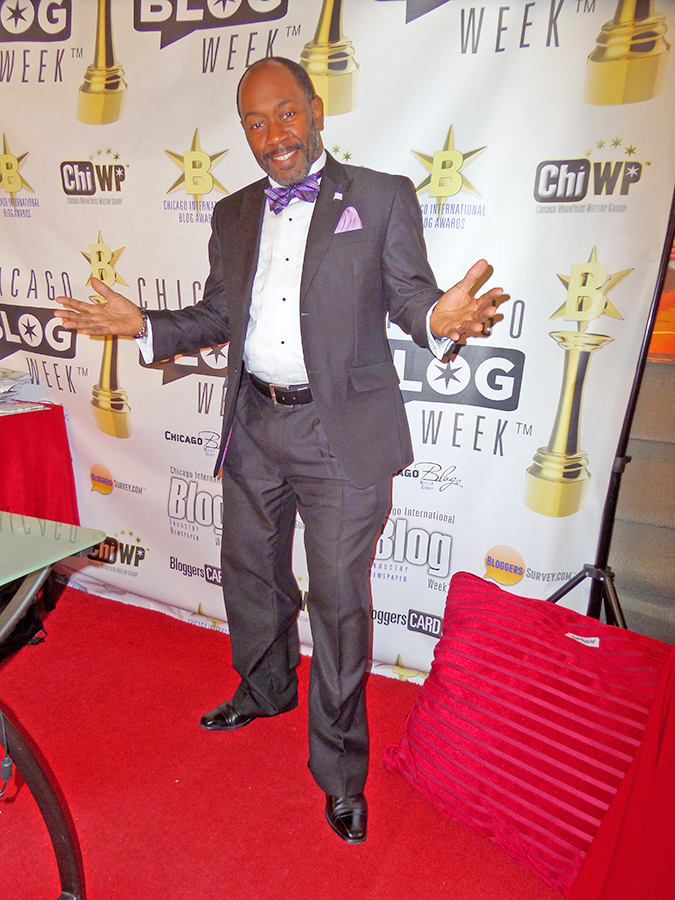 In Association With