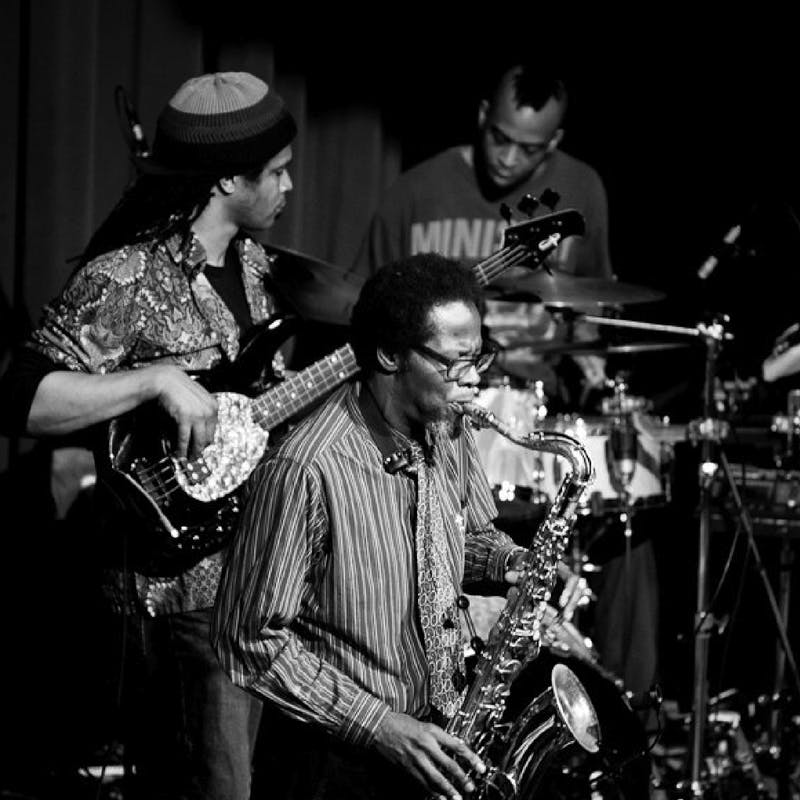 About this Event
Doors open at 7:30 PM. Show starts at 8:00 PM.
In the great tradition of San Francisco jazz and spoken-word basement readings first forged by Lawrence Ferlinghetti, Kenneth Rexroth, and Bob Kaufman, witness this contemporary blowout. Litquake's Word/Jazz features world-class poets accompanied by improvised music created on the spot. With Paul S. Flores, Valerie Ibarra, outgoing SFJAZZ Poet Laureate Genny Lim, and Rico Pabón. Music by Afro-futurist jazz trio Broun Fellinis. $15 adv / $20 door
Paul S. Flores is a poet and playwright from San Francisco. A multi-award winning writer, a Doris Duke Artist, and 2018 Headlands Center Artist in Residence, Paul's plays have been presented by Yerba Buena Center for the Arts, Los Angeles Theater Center, New Jersey Performing Arts Center, South Coast Rep, Brava Theater, Pregones Theater/Puerto Rican Traveling Theater, DiverseWorks, InterAct Theater, GALA Hispanic Theatre and many more. Flores is proud to receive the 2017 Mission Cultural Center Award for The Arts in Literature and Poetry. He is a co-founder of Youth Speaks, and currently teaches theater at the University of San Francisco.
Valerie Anne Francesca Ibarra is a poet, radio producer & host, festival emcee, teacher, world traveler, and fifth-generation San Franciscan with roots in the Sunset, the Mission and North Beach. She spreads the word and the love Fridays at MutinyRadio.fm in the Mission District with her two shows: Women's Magazine with Global Val (in collaboration with KPFA 94.1FM) and The Common Thread Collective community open mic. She also helps coordinate Poems Under the Dome, the annual celebration of National Poetry Month in City Hall. Her first collection of poems is called Shaking Out the Smokescreen, and she is included in The Beat Museum Poetry Anthology: Vol. 1. She performs her poetry around the Bay Area. It gives her great pleasure to help elevate artists' voices and share inspiration around the world.
Former SFJAZZ Poet Laureate Genny Lim has collaborated with such great jazz legends as Max Roach, Herbie Lewis, Eddie Marshall, and Fred Ho, and local musicians John Santos and Jon Jang. She has been featured at jazz festivals throughout the country and has toured World Poetry Festivals in Venezuela, Bosnia and Italy. Her award-winning play "Paper Angels" was the first Asian-American play to be aired on PBS American Playhouse in 1985. It received a San Francisco Fringe Festival Award in 2010 and was remounted in 2016 at the Seattle Fringe Festival. Lim's performance piece "Don't Shoot! A Requiem in Black," dedicated to Black Lives Matter, was presented at SFJAZZ last year with musicians Marshall Trammell, Francis Wong and rap artist Equipto. Lim is author of five poetry collections, Winter Place, Child of War, Paper Gods and Rebels, KRA!, La Morte Del Tempo, and co-author of the seminal Island: Poetry and History of Chinese Immigrants on Angel Island.
The Puerto Rican bilingual musician known as Rico Pabón found his voice as an emcee at age 15 and has since released six full-length albums and appeared on numerous compilations and collaborations. Pabón's songs have been placed in nighttime television dramas October Road and CSI: Miami, and he has shared the stage with an array of highly acclaimed artists, across many genres of music. He currently gigs as an emcee, poet and singer with legendary Bay Area Latin jazz artist John Santos. Rico was a lead member of Prophets of Rage, O-Maya, and AguaLibre, and his newest release is the album Todo Lo Que Soy/All That I Am, with Grammy-nominated producer Greg Landau and musician/producer Camilo Landau.
The most important thing about music is the way it makes you feel. Musicians are lucky enough to live a life of pure feeling if they can play their personal visionary music with as much integrity and energy as the spirit grants them. For the last 27 years, the trio called BROUN FELLINIS (pictured) have been doing exactly this, innovating and disseminating their "Brounsoun," a sonic expression inspired by the ancient to future traditions of jazz, funk, Afrocentric Hip Hop, Dub, film soundtracks and African/Indian trance sounds. The Fellinis play this NOW music with passion, precision and soul in energetic performances that embrace freedom and structure equally. Out of nowhere, improvised themes and motifs morph into well-crafted songs with evocative melodies, exotic harmonies and infectious rhythms. It is a music of the moment, reflecting the lives of three exceptional musicians living and creating in the Bay Area, California.
KEVIN CARNES (drums), a founding member of the Afro industrial noise ensemble The BeatNigs, is an in-demand studio ace with credits including analog/digital drum work for Om Records, and George Clinton/P-Funk. His playing is elemental, like thunder, the wind or volcanoes erupting.
In 1989, CARNES met DAVID BOYCE (saxophones/spoken word), after Boyce moved to SF from NY. Their first jam session was preempted by the Loma Prieta earthquake. They perceived this as a good omen and collaborated consistently, forming the BROUN FELLINIS in 1991 (with original bassist Ayman Mobarak, who left the band in 1994). BOYCE is an original voice developing a personal syntax all his own. His use of effects pedals to create hallucinatory audio visual paintings is emotionally provocative.
KIRK PETERSON (bass), who joined the band in the spring of 1995, is a selfless, treacherously funky, hypnotic groove shaman. After relocating to the Bay Area, he ended up in a short-lived funk band with CARNES and BOYCE, and was the natural replacement for Mobarak. Since his arrival the Fellinis have performed in Spain, British Columbia, toured with Ben Harper, appeared at music festivals in the U.S. and Canada, and played support to such artists as Erykah Badu, The Roots, Mos Def, P-Funk, Me'Shell Ndegeocello, The Last Poets, Gil Scott-Heron, and more. The Broun Fellinis have been profiled on NPR and BET in the U.S., Radio Nova in France, and Greater London Radio in the United Kingdom.