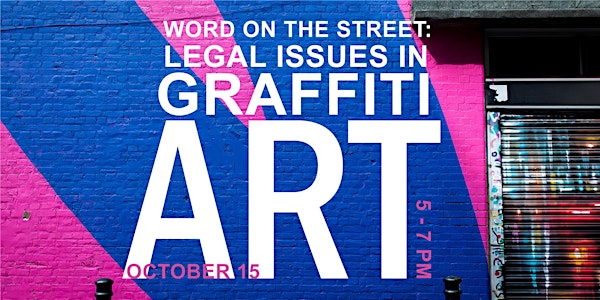 Word on the Street: Legal Issues in Graffiti Art (CLE)
When and where
Location
Volunteer Lawyers for the Arts 1 East 53rd Street New York, NY 10022
Description
From Basquiat to Banksy, from the streets to the gallery, from vandalism to fashion, graffiti and street art are thriving and bringing with them new legal issues. Like many new areas of art, the law is still catching up, leaving us with questions such as: Can graffiti be copyrighted? Can it be removed without the artist's knowledge or consent? Is street art legal and if not, who owns it?
Join us on October 15th and hear from Louise Carron, Executive Director of the Center for Art Law and Scott Burroughs, partner and litigator at Doniger / Burroughs, as they explain the legal issues that arise when graffiti becomes accepted by the art world.
Artists, art collectors and attorneys alike will benefit from learning about this hotly debated topic!
This program will offer 2 Continuing Legal Education credits to attorneys.


---
Fees:
$25 Full-Time Student (must present proof of full-time status with registration)
$25 Artists Over Sixty
$35 Arts Professional VLA Member
$55 Arts Professional Non-Member
$175 Legal Professional VLA Member
$225 Legal Professional Non-Member
$140 Young Associate Members (YAM's)

To register by phone or email, please contact 212.319.2787 x Ext. 10 or registrations@vlany.org.
Membership Discount Code:
For members, please contact 212.319.2787 ext. 10 or registrations@vlany.org to receive a membership discount code.
Please note you are not registered until full payment is received. For attorneys, there are various scholarships available. To view our Financial Aid Policy Guidelines and for more information on how to apply, click here.


---
Refund Policy:
All registration fees are non-refundable. Instructors are subject to change and no refunds will be given in the event that there is a substitution of the instructor.
On-Time Arrival:
Please arrive on time for the class. Registrants who arrive more than 20 minutes late may not be permitted to enter the class.


---
Speakers:
Scott Alan Burroughs, Esq., partner and litigator at Doniger / Burroughs
Mr. Burroughs was selected as a Rising Star for 2015 and 2016 by Los Angeles Magazine and Super Lawyers. This honor recognizes the top 2.5% of all attorneys under 40 years of age. One of his jury verdicts was also recognized by The Recorder and VerdictSearch as a top jury verdict for the year 2014.
He has handled over a thousand art and business law disputes in his decade of practice – more than virtually any other attorney in the United States. His matters involve fashion, art, photography, scripted and reality programming, accessories, literature, documentary and feature films, websites, advertising, novelty goods, jewelry, hospitality, and home décor. In one representative case, Mr. Burroughs resolved a rights dispute regarding one of the most popular web series of all time.
Mr. Burroughs is passionate about protecting the rights of artists and content creators, and writes and speaks often on the subject. He has lectured for California Lawyers for the Arts, the Fashion Business Institute, the Loyola Law School Fashion Symposium, and the University of Southern California Law School. He also taught Fashion Law at the Art Institute of California, and curates a popular art law blog. He has been been published in Above The Law, including his piece on the 5Pointz case and another on the legal battle between street artist Revok and the retail giant H&M.
In addition to his work on the west coast, Mr. Burroughs handles litigation for firm clients in jurisdictions including New York, Canada, and the United Kingdom. Prior to joining the firm, he worked at Sony Pictures Entertainment, Miramax Films, SFX Entertainment, and as a music journalist. He earned his Bachelor of Arts at the University of California, San Diego and his Juris Doctorate from the University of Southern California.


Louise Carron, attorney and Executive Director of the Center for Art Law
Born in Paris, France, Louise Carron pursued her undergraduate studies in French law and Common Law, completed by a Master's degree in Comparative Business Law from the Université Paris Nanterre. She moved to New York to pursue an LL.M at the Benjamin N. Cardozo School of Law (NY) and graduated in May 2018.
Since September 2018, Louise manages the Center's daily operations, including editing and reviewing articles and the Center's monthly newsletter, planning and coordinating events, along with training and supervising interns. Louise has taught several workshops on legal basics for artists, including copyright law which is her main area of interest. Based on her Master's thesis comparing the French and American legal approach to street art, published in the Spring 2019 issue of the Entertainment, Art and Sports Law Journal by the New York State Bar Association, Louise Carron has been speaking on the topic since 2018 on behalf of the Center for Art Law and was quoted in various online publications, including Artsy and The New Republic."
She is admitted to practice law before the courts of New York and she believes in helping artists to protect their creations, rights, and legacies.
For more information on this program, please contact VLA at registrations@vlany.org or 212.319.2787 x 10.