Description
"What do you love, hate, and hope for?"
The Women's Off-Road Cycling Congress (WÖRCC) opens an authentic dialogue between women of all experience levels. The WÖRCC initiative is creating the most robust collective voice for female off-road cyclists. We are the antidote to cycling industry "ladies' nights"; an interactive, meet-up style event inviting all women to join the conversation, create community, and inspire adventure. Bring your stories and experiences: they are the essential ingredients of a report that will convey to the off-road cycling industry where our true values lie.
When: Tuesday, February 12, 2019 | 6:30 - 9:00 pm

Where: Tempe, Arizona | specific location TBD
Become a part of our Congress. We're looking for representatives from every corner of female off-road cycling including:
First-time mountain bikers

Experienced racers

Weekend warriors

Moms missing the trail

Pros who lead the way

Newbies dragged around by "the guys"

Dreamers still on skinny tires

Bikepackers

Seasoned gravel road adventurers
---
2019 Break-out Session Topics
Shop 'Til You Drop: What, where, and how are female off-road cyclists are acquiring gear?

Equality in the Industry: A conversation with Camber Outdoors.

Teams, Clubs, and Group Rides: Where's the sweet spot for creating community?

Media Mania: How do - or don't - you identify with language, images, and portrayals of female riders?

"Women's Specific": Fact or fiction?

Paying to Play: What makes races, festivals, and events worth your investment?

E-mtb: What's happening in the pedal-assisted off-road world?

Bucket List, Baby: What are your dreams, goals, and aspirations as an off-road cyclist?
Enjoy food and beverages during a hosted happy hour reception, followed by the evening's keynote speaker and fast-paced breakout sessions. Join us as a representative of the Women's Off-Road Cycling Congress and add your voice to our statement: What do you love, hate, and hope for?
The 2019 WÖRCC Series
1/17/19: Boulder, CO | 1/30/19: Minneapolis, MN | 2/12/19: Phoenix, AZ
---
2019 Keynote Speaker: Kaitlyn Boyle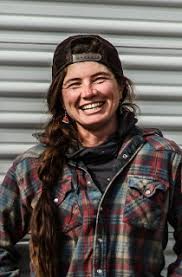 Kaitlyn Boyle is a professional MTB Racer: specializing in Ultra Endurance, Bike Packing and Enduro. After touring the Great Divide Mountain Bike route on her singlespeed in 2012 Kaitlyn started racing mountain bikes, tackling longer and longer races while concurrently exploring the mountains of the world by way of multi-week, singletrack oriented bikepacking trips. She has spent a decade as an Outdoor Educator for Prescott College and NOLS and is nearing completion of a M.A. in Conservation Education. She co-founded Bikepacking Roots and coordinates the nonprofit's conservation outreach efforts. Kaitlyn was recently crowned 2018 24 Hour Female Solo World Champion after having an unreal season setting records at 24 Hours in the Old Pueblo and AZ Trail 300.