Description
We are excited to celebrate the holidays and our 3rd anniversary with our friends and fans at the Newly renovated St.Gregory Hotel in DC. You are in for a treat with a Haute couture winter fashion show featuring "WoolWonders" by Irena Levkovich along with live performances and a art show. Tickets are on sale now and grab yours while they last
Hosted by Dr. Renee Allen
7:30pm-8:30pm Cocktail resception-Art show
8:30pm Fashion Show
Vip Swag bags by Calypso Salon
beauty service by GLAMSQUAD visit to make your reservations
https://www.glamsquad.com/book/#/markets
Hair and make up by DC Swim Week- DCSW Team - Beauty director Azin Farshadfar
About Irina Levkovich
Eco-Fashion has come a long way in recent years with major designers recognizing an emerging market and demand for clothing that is both eco-friendly and stylish. Gone are the days of plain, simple designs and rough, scratchy feeling materials. In are the visually appealing, elaborate designs and svelte, comfortable feeling materials that today's consumers expect.
Previously, eco-minded consumers that made a decision and commitment to live according to their values had limited choices for clothing. Clothing made from sustainable, eco-friendly fabrics and materials, such as hemp, were course feeling, often times heavy and lent themselves to very simplistic designs with limited color choices. Thankfully, due to demand and technological advances, a large selection of eco-friendly fabrics is available in many vibrant colors and prints. Far from being uncomfortable many of these fabrics are light-weight, have a luxurious, comforting feel and are durable. A few examples: organic cotton, silk (peace or vegan), bamboo, lyocell, soy fabrics, hemp, cashmere, linen, wool, eco-fur, alpaca, polyester (made from recycled materials)
More fabric and material choices offer clothing designers many options to choose from for their clothing lines and they are using these to create modern, chic outfits that are stylish, comfortable, durable and ecologically sound. A rise in consumer demand has drawn the attention of well-known and boutique designers alike and there are more options than ever before for the eco-minded consumer. One such designer, Irina Levkovich, is featured in the photos accompanying this article. She is very passionate about her designs and selective of the fabrics and materials that she uses. Irina's designs are hand-made, unique pieces that she enjoys a special connection with, spinning much of the wool and silk and weaving it into fabric for use in her creations herself.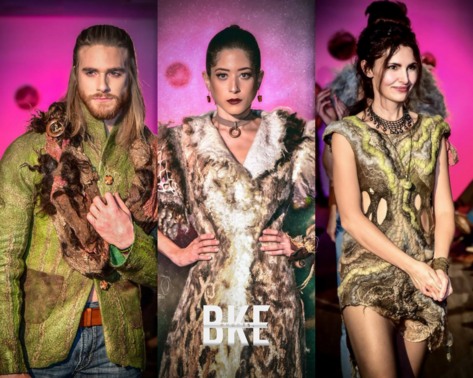 Artists:
Live installation by Irene Clouthier

Oksana began her art career during a one-year intensive study under Professor and Master Artist, Yuri Matvienko, of the Boychuk Institute of Art and Technology in Kyiv, Ukraine. With a degree/emphasis in Business Technology, Oksana is currently studying Fine Art and Business at George Mason University. Her artist emphasis centers on classical portraiture and works of still life.
"A classical portrait is an artistic form of immortality. The goal of my work is to capture the essence of the individual to achieve an heirloom quality remembrance for generations."

Yuno DB was born in Duri, Sumatra, Indonesia. after moving to the US in 1983 he continued his art studies at the University of Maryland where pursued a masters degree in painting. Currently his collection is displayed in his studio in Adams Morgan, Washington DC.
www.yunodelwizarbaswir.com

Live Belly dance and fusion hip-hop performance by
Shashmeen Martha & Basher Bassene
Basher comes from Senegal & has danced all over Europe, USA, & Senegal; including with Circ De Soliel.
Shasmeen has studied & performed locally. Her teachers are Rachael Kay Brookmire, Jennifer Tether, Marta, & more.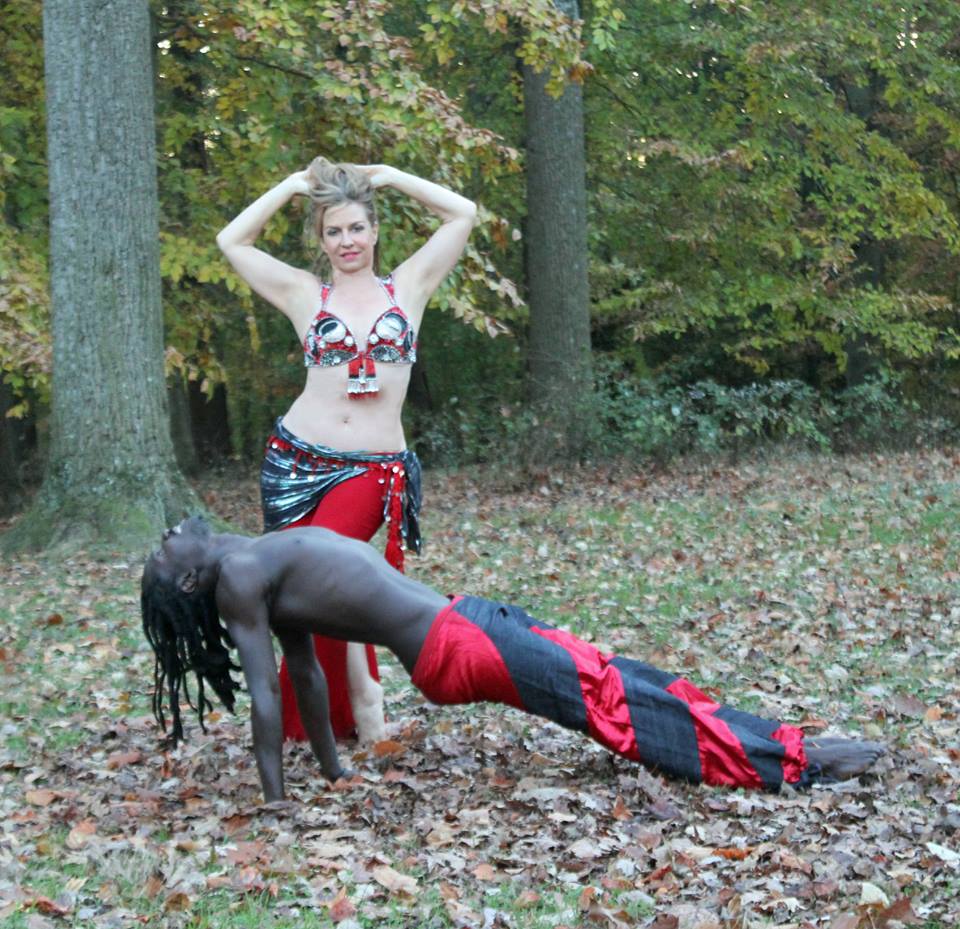 We hope to see you on the 16th and celebrate the holidays in style!