Woofstock: The Road to Puppy Bowl
When and where
Location
Stadium Green at Soldier Field 1410 Museum Campus Drive Chicago, IL 60605 United States
Description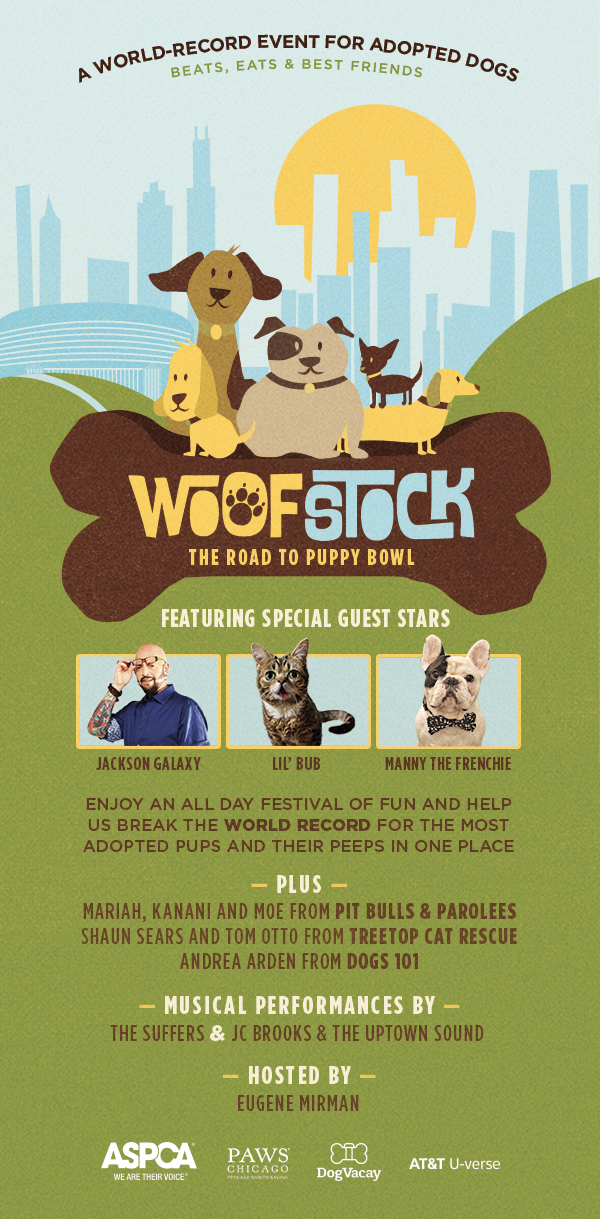 2:30 pm Guinness World Record Attempt!
Enjoy an all day festival of fun (rain or shine) and help Animal Planet break the world record of the largest gathering of adopted pets in one location!
Animal Planet Stars on site

Photo Ops- with a chance to be featured on Puppy Bowl XII

Puppy Bowl Replica Field

Beer Garden

Food Trucks

Live Musical Performances

Adoptable pups from PAWS on site

Much More!
To Help us break the record you must have:
You must bring proof of adoption

This can be a letter from the shelter letter head or Certificate

Must include: Pets Name, Owner's First & last Name, Date of Adoption

If you have an electronic version it should be some type of signed letter or official document from the adoption center

Max. of 2 adopted pets per owner
Bringing your dog?
Immunization Requirements

We accept a number of things to prove your pets' rabies immunization! You can provide us with your vet-issued rabies certificate, city/county license, a rabies tag that lists the current year, a receipt of vaccination purchase/label for those who self-vaccinate, a vet receipt that itemizes the vaccination payment, adoption paperwork that lists the pet has current vaccinations or serologic titer results issued from a veterinary clinic.
FAQs
1. Only bring your pet along if it is well-behaved, non-aggressive and doesn't get stressed out in crowded, stimulating and noisy situations. There are all kinds of other animals, small children, wheelchairs and lots of people at the event. There will also be a stage with amplified sound and music. Your pet will be exposed to dogs barking, people speaking loudly on microphones, crowds clapping and attendees cheering. You know your pet best, so please use your best judgment to make sure that your pet will enjoy Woofstock just as much as you will.
2. While we have a number of staff members who are always carefully watching the crowds and pets to ensure everyone stays safe, it only takes a second for a dog bite to occur. Please review safe dog (and all pets, for that matter) greeting behaviors with your children before attending the show. Remind your child to always ask the owner's permission to pet an animal, allow the calm pet to sniff their hands and then they should gently pet the animal's chest, chin or back (not the top of its head), speaking calmly and quietly to the pet. Children should never "stare down" a dog, jump on it, grab it from behind or scream at it. If a dog is hyper and won't sit for the owner, walk away and don't allow your child to pet the dog. Sometimes the most well behaved pets can be startled, especially if they're already keyed up being at such an exciting event.
3. We only have a few rules for bringing pets: your pet must be current on all age-appropriate shots.
A rabies tag with the year stamped is acceptable as proof of vaccinations, as are blood titer results for those pet parents who don't immunize annually. Dogs must be on a fixed lead or a locked retractable lead, no longer than 6 feet, at all times. No female pets in heat can attend. You'll be required to agree to a waiver during the ticketing process in order to attend Woofstock.
4. If you are interested in adopting a pet, the adoption area could be just what you're looking for. Pets will be available for adoption or application (for those groups that don't do on-site adoptions).
5. Take note of the pet-potty areas. While we do have pet clean-up teams at the event, you'll also be given bags for your pet's waste pick-up when you enter. Please be kind and pick up after your pet.
6. Pet water stations will be scattered throughout the event so that your excited companion doesn't get dehydrated. These are communal bowls, so if you have a puppy or elderly pet, please keep it safe and bring a travel or disposable bowl for their use.
7. This a large event, with limited shade cover. If you have a pet breed with you that can't tolerate this kind of exertion, (for example, English Bulldogs), please plan to bring a stroller or wagon for them. It can be a lot of exercise for breeds that don't handle heat or exercise well.
8. If you have a small or tiny dog, you may want to be prepared to either carry it or have a stroller available. There may be many large and super large dogs at the event that some small pet owners may feel overwhelmed and their little fur-babies may unintentionally get stepped on.
9. Please note that we will have a designated area for food and beverages (both alcoholic and non-alcoholic) for humans. We ask that you please eat in that area, as we would like to limit the risk of any dogs eating fallen food. Please be mindful of disposing of trash to keep everyone safe!