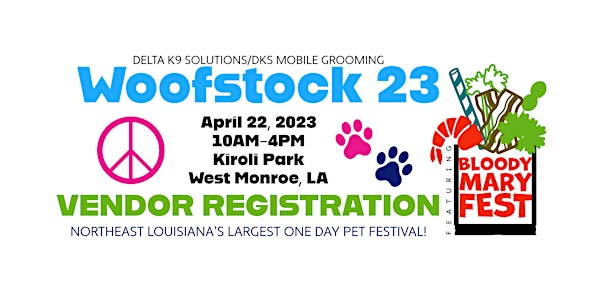 Woofstock 23 Vendor Registration
Vendor registration is open!
When and where
Location
Kiroli Park 820 Kiroli Road West Monroe, LA 71291
Refund Policy
Contact the organizer to request a refund.
Eventbrite's fee is nonrefundable.
About this event
Delta K-9 Solutions/DKS Mobile Grooming Woofstock 23 featuring Bloody Mary Fest!
We are looking for specialty pet vendors, arts and crafts, boutiques, boho/hippie, bakeries, Louisiana made products, woodworking, produce, sustainable products, face painters, and more for our 8th year as NELA's largest one day pet & music festival. Don't forget we are Hippie themed so this one is all about peace, love, and paws!
If you are interested in competing in our Bloody Mary Fest, give us a call. This is open to bartenders, restaurants, bars, and groups who know they have the best recipe around! What we supply: vodka, cups, napkins You bring: your recipe mix, table, optional tent, decorations for the booth contest Attendees will have a punch card, wristband, and age verified at check in booth Restaurants: have the option to sell food at the event *By law, samples are 2oz max, 1/2 oz vodka, 1 1/2 oz mix
If you would like to host a kids craft or activity, please reach out to us!
Vendor Space: Max tent size is 12x12. Vendors are responsible for their own set up.
Location: Kiroli Park. Bandstand/Field. 820 Kiroli Park Rd, West Monroe, La. 71291 Time: 10am-4pm Set Up: 7:30am-9am Bloody Mary Competition: 12pm-4pm Earth Day Celebration: Field area Woofstock/Bloody Mary: Bandstand area (competitors/vendors mixed together) Bloody Mary Awards: 3:45pm (Vendors may start packing up then)
Event Coordinator: Jessica Manes Email: woofstocknela@gmail.com Phone: 318-732-9704 Facebook: Woofstock 23 Registration form/rules: Will be emailed once registration is complete, please use email address you check regularly or can screen shot below
Here's what you will find in 2023: We are combining Woofstock 23 with a Bloody Mary Fest and Earth Day Celebrations. Woofstock is all about our pet community and the rescues/shelters who work round the clock to advocate for those who can't speak for themselves. We'll have everything from dog art to races and a pageant hosted by our local rescues/nonprofits. Attendees enjoy shopping for their pets and specialty items for the home. Our goal is to raise awareness of the hard work our rescues do on behalf of our pet community. One way we do that is by recognizing a hero in the rescue world with our Animal Advocacy Award. Bloody Mary will be a competition between bars, restaurants, local groups, nonprofits, and individuals bringing their best recipe to compete for awards such as People's Choice, Best Dressed, Most Inventive, Best Traditional Recipe, and one more just for the booth who brought the party! This group will shop so we will mix in the competition with vendors so you get traffic all day. Earth Day Celebrations include family activities centered around getting outdoors to explore and have fun.
This event will have something for everyone! Whether you are a pet vendor or boutique and arts/crafts, we will have a draw to bring the community out to shop with you.
Closed sections will be updated daily. Make sure to check before paying if your company only allows one per event. If you are unsure, message Jessica at 318-732-9704.
Closed sections: Food Trucks, Hot Food, Grooming, Dog Training, Shaved Ice/Snow Cones, Photo Booth.
We do not take payments thru PayPal, please be aware we only take payment thru Eventbrite or mail.
If you would rather pay by mail, please make check or money order to: ACE Development of NELA. 3109 Ft Miro, Monroe, La 71201.
Remember to email your logo and product images so we can advertise you will be there! Email: woofstocknela@gmail.com