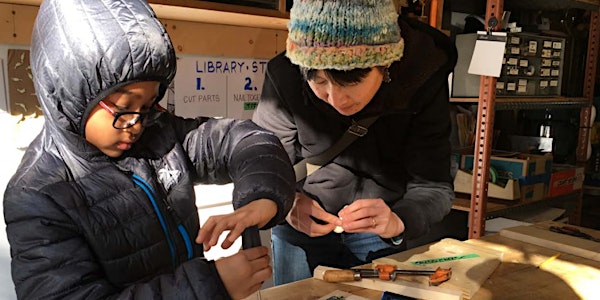 Woodworking Essentials for Families with 9th Street Labs
Woodworking for Families at the Berkeley Tool Lending Library!
When and where
Location
Berkeley Public Library - Tarea Hall Pittman South Branch 1901 Russell Street Berkeley, CA 94703
About this event
The two-hour workshop consists of three steps: introduction, building, and sharing. In the introduction, the workshop goals are described and questions are asked to gauge the experience of participants. We give a demonstration of safety and the proper use of the tools we will use: hammers and nails. We show the variety of wood available and we demonstrate basic hammering and assembly techniques. Everyone participates in a hammering warm up exercise to gain comfort and practice safety. From there on we propose the building challenge for the workshop and the steps to take. Each child/adult pair collaborates to build a fun project. Our staff guides the building and helps as needed with learning essential skills. At the end, we discuss and share the building highlights and challenges.
This outdoor workshop is open to Adult-Child pairs. Children ages 7-12 will most enjoy this workshop. Adults must be present and working with their child throughout the event. Space is limited to 12 pairs and sign ups will open September 1st. Check back soon for an RSVP link.
This event is generiously sponsored by The Friends of the Library.