Join us to recognize leaders, celebrate wins and envision the future of financial justice | 5 p.m. Thursday, June 10
About this event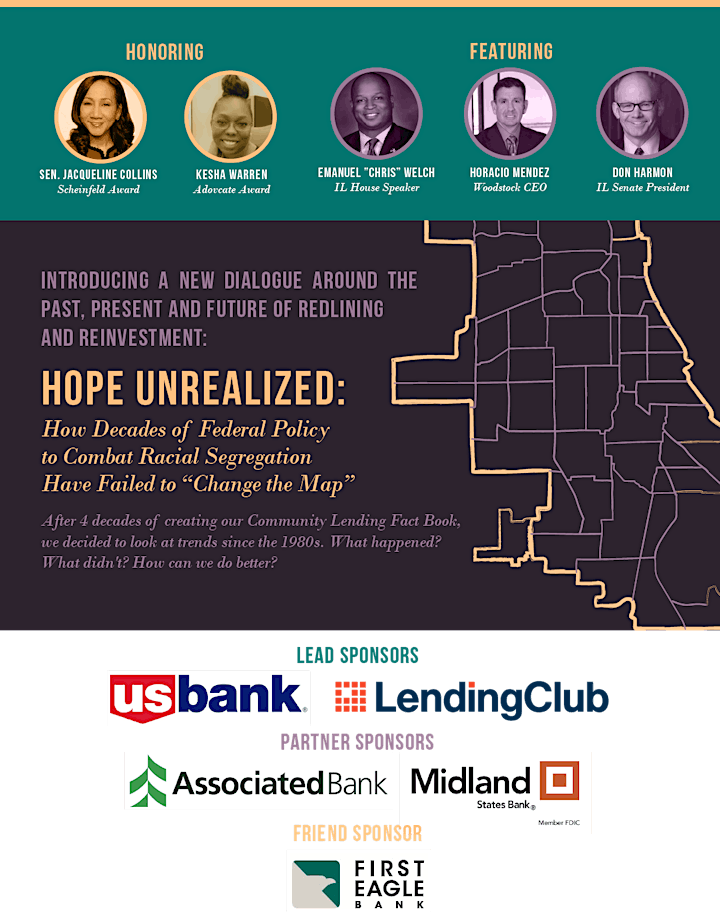 We're thrilled to celebrate the passage of the Illinois Community Reinvestment Act and Predatory Loan Prevention Act this spring, thanks to the Illinois Legislative Black Caucus, Gov. J.B. Pritzker, and a movement of consumer advocates.
Our first event with new CEO Horacio Mendez also marks an opportunity to rededicate ourselves to building a more just economy for communities of color and lower income people.As we celebrate, we also plan to introduce a new dialogue around the past, present and future of redlining and reinvestment:
Hope Unrealized: How Decades of Federal Policy to Combat Racial Segregation Have Failed to "Change the Map"
After 4 decades of creating our Community Lending Fact Book, we decided to look at trends since the 1980s. What happened? What didn't? How can we do better?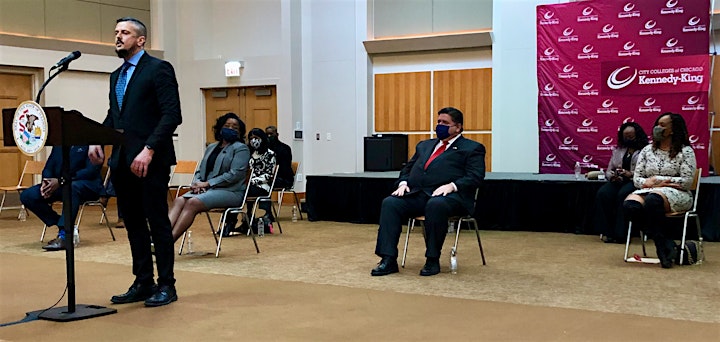 Above: Brent Adams, Woodstock vice president for policy and communications, speaks at PLPA bill signing event at Kennedy -King College in March.
After 4 decades of creating our Community Lending Fact Book, we decided to look at trends since the 1980s. Join us to discuss this question: "While the federal Community Reinvestment Act is a necessary anti-discrimination regulation, is it sufficient? And if it isn't sufficient, what is?"
Join us for a hybrid live/ taped event to celebrate victories of the past year and discuss the strategies we need to build a better future. There is no cost to attend but donations are welcomed. Sponsorship details below.
Scheinfeld Award
In the 1960s, Aaron and Sylvia Scheinfeld established a nonprofit conference center in Woodstock, Illinois to give community leaders a place to work together, free of distractions, on societal issues in the Chicago region such as redlining, inequality, and racial discrimination.
As it became clear the organization needed ongoing commitment to adequately address these issues, the Scheinfelds established the nonprofit Woodstock Institute in Chicago in 1973. Periodically, Woodstock Institute designates deserving champions to receive the Scheinfeld Award to recognize those with a long-term and visionary commitment to financial justice. Prior to Sen. Collins, the last Scheinfeld Award winner was Illinois Attorney General Lisa Madigan. (2013)
Be an Economic Justice Champion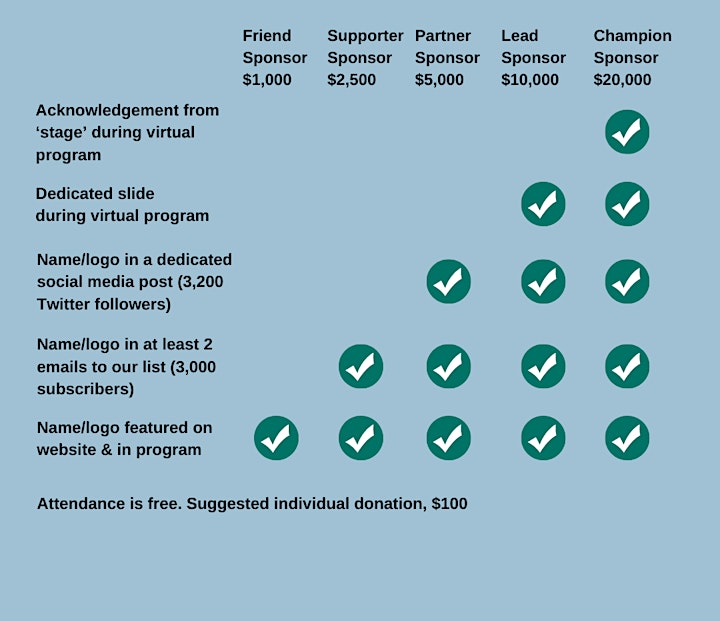 Our event is free to all. Your donation can help support our work for economic justice.
If you prefer to fill out the sponsorship form/pay by check the form is available for download here.
Questions? Contact us at hello@woodstockinst.org or call 312-368-0310