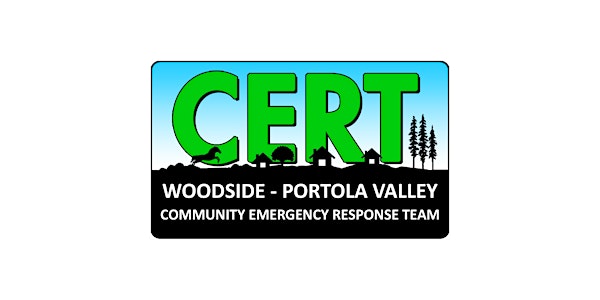 Woodside - Portola Valley Community Emergency Response Team (CERT) Training
Hybrid Online & In-Person CERT Training
About this event
The Basic CERT Training teaches you basic disaster response skills so you can safely help yourself and those around you when disaster strikes and when professional responders aren't available. Learn how to protect yourself, your loved ones, and your community.
This free training is a new hybrid online and in-person format and includes:
an online lecture portion
optional online discussion groups
in-person, hands-on, practical portion
Online Lectures (At your own pace and convenience)
Estimated Time = 12 hours
Access it on your mobile device or computer.
Complete it at your pace and at your convenience.
Course progress will be saved and can be resumed later.
Must be completed before hands-on, practical portion of your training.
Weekly CERT Discussion Time (Mondays from 6-7 pm)
Find out how CERT members can assist emergency response within the Woodside Fire Protection District, which includes Portola Valley, Woodside, Emerald Hills, Ladera, Los Trancos, Skyline and Vista Verde.
A chance to ask questions about and explore the course content with current CERT members and instructors
Monday, November 16th - Disaster Preparedness (Unit 1)
Monday, November 23rd - CERT Organization (Unit 2)
Monday, November 30th - Disaster Medical Operations (Unit 3-4)
Monday, December 7th - Disaster Psychology (Unit 5)
Monday, December 14th - Fire Safety and Utility Controls (Unit 6)
Monday, January 11th - Light Search and Rescue (Unit 7)
Monday, January 18th - Terrorism and Hazardous Materials Safety (Unit 8)
In-Person, Hands-On Practical Skills Training
Estimated Time = 16 hrs
Date and Time: TBD, most likely in early February