Woodblock Printing with Amanda Gordon Miller
When and where
Location
TraillWorks 214 Spring Street Newton, NJ 07860
Description
Woodblock Printing with Amanda Gordon Miller
Saturday, March 23rd | 1pm - 6pm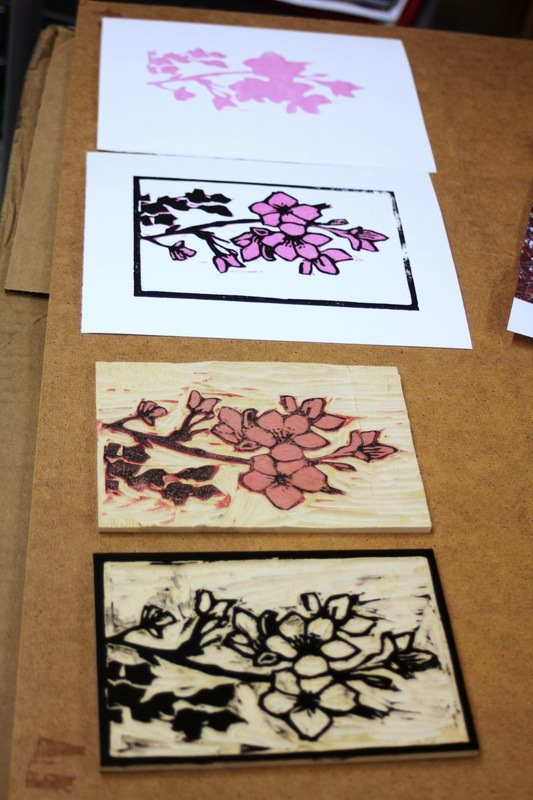 Learn the process of creating woodblock prints, or "woodcuts". Participants will create a line drawing on wood, then carving away the negative space to produce a bold, linear "key block". Participants will then transfer the design to a second block to carve and add color. Printing techniques will be introduced (specific techniques are listed below) as well as instruction on using non-toxic Akua inks. The woodblocks can then be used to print an edition or experiment with color variations.

Participants will have hands-on instruction in exploring a variety of techniques including:
Drawing/Transferring an image to a block

Carving a design into a woodblock (suitable for printing)

Transferring a printed image to a color block

Registration (lining up the key block and the color block)

Inking woodblocks

Printing by hand
This class will run from 1pm to 6pm and welcomes beginner & intermediate artists. These hours include set up, design, creation, clean up and a break for lunch. Please bring your own lunch or lunch may be purchased on your own at area eateries.

WORKSHOP FEES:
Early Bird (until midnight on February 24th): $155
Regular Registration: $165
Materials Fee: $65 (purchase separate tickets)

Stay at The Wooden Duck Bed & Breakfast during your Workshop and SAVE 10%

Save 25% on a one-night stay on any available room
or Save 30% on a 2-night stay!
+ Save 10% on a workshop at TraillWorks (use coupon code WOODENDUCK at checkout when purchasing workshop tickets)

Visit the Wooden Duck Bed & Breakfast to learn more.

POLICIES AND RESTRICTIONS:
1) Reservation must be made directly on our website. In the "Special Needs" section, type the words "Internet Special" in order to receive the discount.
2) Offer is good only for stays between now and April 30, 2013, and cannot be applied to reservations that have already been booked.
3) Offer excludes Valentine/President's weekend (Feb. 14-17). Offer also excludes Tuesday through Saturday nights during the Garden State Horse Show in late April/early May.
4) A 50% non-refundable deposit is required at the time of booking.
5) For reservations made within seven (7) days of arrival, a 100% non-refundable deposit is required at the time of booking.
6) Offer cannot be combined with any other discount, gift card, or outside gift certificate.
7) All other reservation policies and restrictions as shown on our website must be observed.
8) Proof of stay at Wooden Duck is required to receive 10% discount on Workshops.
Materials Included in Workshop:
Materials fee covers carving tools, wood blocks, paper, akua inks and modifiers, bench hook, registration jig, newsprint, tracing paper, baby wipes for cleanup, nitrile gloves, and a brayer. Students will leave with 2 - 3 carved blocks, 10 - 15 4" x 6" prints, and carving tools.
Deadline to register is Saturday, March 16th
Class size is limited to 10 participants. A minimum of 5 students must be enrolled to run the workshop.

WORKSHOP POLICIES:
Workshops must be paid in full four days prior to the date of workshop, unless otherwise stated.
REFUNDS - Students who wish to withdraw from a workshop will receive a full refund upon receipt of written notification, postmarked two weeks (14 days) prior to the start of workshop minus a $20 handling fee. No refunds will be issued after that point. A full refund will be given if a workshop is canceled by TraillWorks. Refunds can be expected 3-4 weeks from the date requested.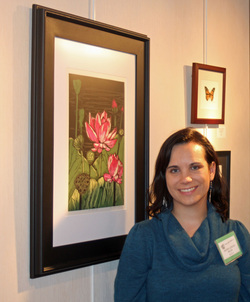 Amanda Gordon Miller:
As an artist, I'm committed to a nontoxic (or less toxic) art practice, which is safer for myself, my family, and the environment. Through my quest for artist-quality, nontoxic materials and techniques, I discovered that the process of experimentation—working with an idea in mind, but ultimately responding to the materials—is what truly makes printmaking a passion for me. I use Akua Intaglio (professional-quality, soy-based inks) in my woodblock prints and natural paper fibers, such as cotton and abaca, in my pulp-paintings.

Working from nature offers endless beauty and complexity to explore, showcases themes that are important to me, and ultimately creates a unified connection between my materials and subject matter. My artwork features landscapes and other organic subjects, reflecting an appreciation for both the grand beauty and intimate details of nature. My inspiration is based in memories of time spent outdoors as a child and the need to reconnect with nature as an adult.

I received my BFA from Syracuse University, College of Visual and Performing Arts, in 2001 and my MA in Museum Studies, also from Syracuse University, in 2003. I teach art and design at two community colleges (Howard and Anne Arundel) and have worked in the Education Department at the National Museum of Women in the Arts. I am a Resident Artist at the Howard County Center for the Arts, and I print using a Conrad Etching Press. I make paper at Pyramid Atlantic Art Center in Silver Spring, MD. My husband and I live in Baltimore with our two beautiful kids. We love to travel and spend time outdoors.