About this Event
Get your tickets today for Wood & Wire
Doors at 8:00pm Show at 8:30pm
NO Seating GUARANTEED. Any Seating Available is on a First Come, First Served Basis. NO REFUNDS all sales final.
Ages 18 and up - All Minors Will Be Charged an Additional $5 At the Door. 17 & Under Admitted with Parent or Guardian Only.
Tickets for Wood & Wire on sale so get yours today!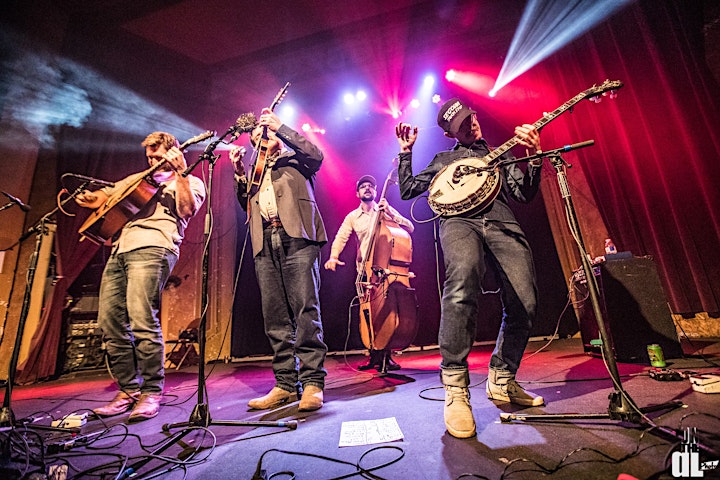 Wood & Wire
The Texas songwriter tradition casts a long shadow today, and Austin-based Americana roots juggernauts Wood & Wire could easily rattle off a long list of songwriters that inspire them from Willie Nelson to James McMurtry, and everyone in between. But ask them about what it is about Texas that brought us so many great songwriters, and they stop cold. That's because they don't romanticize their culture or their past, they're too busy working their asses off making new music, writing new songs. This isn't a land made for quiet reflection, it's a land made for hard work. Respect for honest labor is a central theme in Wood & Wire's 2018 GRAMMY Nominated album for "Best Bluegrass", North of Despair ( Blue Corn Music), with songs populated by people like songwriter Tony Kamel's own grandfather, who built the family's hunting lodge in Llano, Texas with his own two hands. The characters on the album live large, and aren't afraid to share their opinions about the modern world. This kind of vivid, haunting songwriting focused on lives spent deep in the countryside is a hallmark of Texas songwriting. But it's the melding of this hard country songwriting with high-octane bluegrass instrumentation that makes for Wood & Wire's signature sound. Artists like John Hartford have trod this ground before, mixing up great songs, bluegrass virtuosity, and a strong sense of place, and Wood & Wire aim to pave the way for Austin's roots scene, bursting out of the giant expanses of the state with a fully-fledged vision for a new Texan sound. On North of Despair, they bring the ferocity of their live shows to the studio, whipping through barn-burning anthems about hard people in hard times.
Wood & Wire could have returned to Nashville to record North of Despair, but the pull of home was strong, so they elected to work in Dripping Springs, just outside of Austin in the Texas Hill Country. Holing up at renowned studio The Zone, they cut the tracks mostly live to tape, with minimal editing. Touring hard for the past three years helped solidify the songs, and you can feel the impromptu joy in each track. Bassist Dom Fisher lends a buoyancy to the music that mixes racing bluegrass bass lines with the backbeat of a great country bass player. A highlight of the group is the interplay between mandolinist Billy Bright and banjo player Trevor Smith, both of whom seem to delight in pugilistic bouts that romp through the songs, as much country-funk as it is Monroe & Scruggs. Though Kamel is the lead singer and songwriter, each band member contributes compositions and songwriting to the new album, a key feature of Wood & Wire's democratic nature. Bright's "Summertime Rolls" propels a fire-breathing mandolin line, but he takes a more philosophical stance on "As Good As It Gets." Fisher's co-write with Texas songwriter Robin Bernard, "Texas," has all the balletic grace of a great Western that reminds one of Townes Van Zandt. Kamel taps not only into his family's history in Texas, but also his love for the beautiful natural environments of the state and the raw power thereof; in "Awake in the Wake" he references the sound of cypress trees breaking apart during a thousand year flood.
Wood & Wire considers itself fortunate to exist "south of rich and north of despair", buoyed by family and friends to keep them from the bottom. Never ones to shy away from hard work, Wood & Wire rely on their humble acoustic instruments and their own hands to make music meant to last. As Kamel sings "I ain't trying to be the kingpin, I'm just trying to make a living."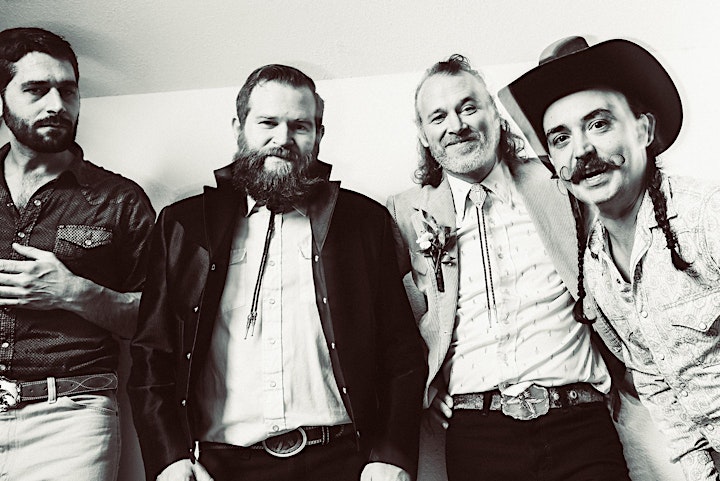 Sour Bridges
Founded in 2009, Austin-based Sour Bridges is a band that has turned into a tight-knit family. Established early on as a mainstay in Austin's finest venues, the band has branched out in recent years to earn substantial airplay in the region and play roots music festivals UTOPiAfest, CMJ Music Marathon, SXSW, Daytrotter and more.
Self-dubbed browngrass – think bluegrass on steroids – Sour Bridges is inspired by greats like Gram Parsons, The Band and The Byrds. The funky, rock-inspired group's distinct sound starts with a steady drumbeat, layers on bluegrass instrumentation – banjo, guitar, bass, and fiddle – and tops off with electric guitar, boots, and impressive harmonies.
Hailing from as far away as Pennsylvania, Oklahoma and other parts of Texas, members include Bill Pucci (vocals, banjo, guitar), Matt Pucci (vocals, mandolin, lead guitar), Kat "Mama Kat" Wilkes (fiddle), Dalton Chamblee (drums), and Jack Bridges (vocals, bass guitar).
"We all met on the frets in Austin, Texas," summed Honesdale, Pennsylvania-native and founding member Bill Pucci, who moved to the music mecca in 2007 along with brother Matt. The two grew up picking bluegrass style with family, including a grandfather who played and built banjos.
Sour Bridges celebrates its third studio release, Sour Bridges (May 12, 2015). Produced at Austin's Church House Studios, Bridges includes original songs – largely by Bill Pucci – that reflect on heartaches and hard times ("Dirt Poor"), greener pastures ("Fine Life,") and picking yourself up again ("Carry On"). Previous albums include Catfish Charlie (2013) and the group's 2010 debut, Workin' On Leavin'.
Performers
Date and Time
Location
Refund Policy