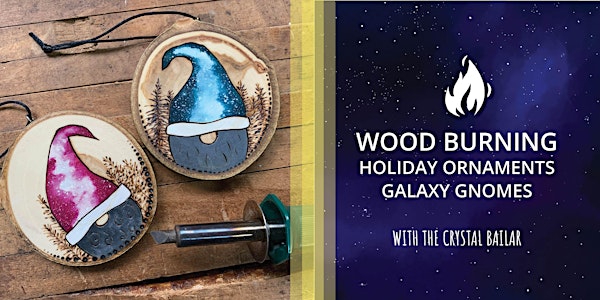 Wood Burning: Create Holiday Ornaments - Galaxy Gnomes
Get in the holiday spirit with Crystal Bailar and learn to create beautiful wood burned ornaments for your tree or to give as gifts.
About this event
Holiday Wood Burning Workshop: Create Two Artisan Galaxy Gnome Ornaments!
Join us for a little fun this holiday season as we create festive galaxy gnome ornaments in this ZOOM wood burning class. You will create two adorable artisan ornaments using wood burning and painting skills taught in the class.
This class is appropriate for any skill level: from wood burning newbies to season wood burning artists. Join us and learn to create festive ornaments you'll be proud to hang on your tree or give to friends and family this holiday season.
Choose between 3 different ticket options:
$80 Premium Ticket: Includes everything you need to complete your project:
Walnut Hollow Wood Burning Tool
Two 3-inch wood slices, pre-sanded and pre-drilled
scrap wood to practice on
cord for hanging
watercolor paint: 6 colors
Water brush pen
Fine grit sandpaper
$60 Standard Ticket: Includes everything above except the Wood Burning Tool
$30 Do It Yourself Ticket: Instruction only
Hurry and sign up for the Premium and Standard Ticket prior to November 16th in order for your kit to be shipped in time for the class.
About Our Instructor: Crystal Bailar

Crystal is an artist and pyrographer who teaches wood burning to empower others to be courageous and expand the boundaries of their own creativity. She firmly believes that adventure is a mindset that can be cultivated whenever and wherever you are. She has been hiking all over the west coast and Alaska since she was a small child, and brings her love for the outdoors to her art.
Whether backpacking in the mountains or just sitting quietly in a canoe, she finds great beauty and adventure everywhere she goes. She lives in Snohomish Washington where she works part time as a nurse at a local clinic and is often found wandering the local trails.