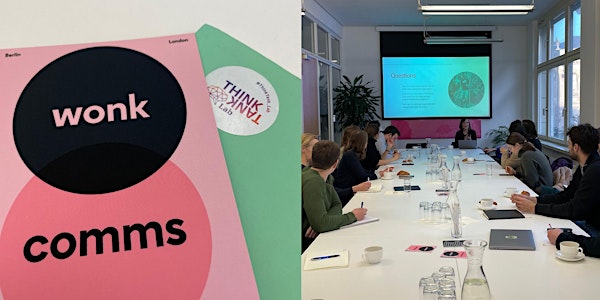 WonkComms Breakfast Club Berlin: Narrative Change for Think Tank Comms
Network with fellow think tank comms professionals over coffee and croissants while discussing practical issues of mutual interest.
Date and time
Wed, 29 Mar 2023 09:00 - 10:30 CEST
Location
Global Public Policy Institute (GPPi) Reinhardtstraße 7 10117 Berlin Germany
About this event
Stories help us make sense of the world. And they tap into deep-rooted attitudes and assumptions – that's why the stories we tell are powerful tools for shaping public opinion and shifting policy.
But changing widely accepted narratives is difficult, time consuming and takes discipline and coordinated effort.
What is the role of think tanks in setting and challenging narratives? Is this effort even possible – or desirable – for think tanks, given our remit to be evidence driven? How do we approach this challenge in our everyday work as think tank communicators? And what can narrative change work look like in practice?
WonkComms Breakfast Clubs are a series of informal events bringing together think tank comms professionals to discuss issues of common interest and work together to tackle questions like these.
We want you to share your experiences and reflections on narrative change – and our discussion will be kickstarted by Katharina Nachbar of GPPi and Thomas Coombes of Hope-Based Communications. They will focus on practical examples of how think tank communicators can reframe issues in positive ways and build narratives that give political traction to research and evidence.
Coffee, croissants and comms – what could be a better start to your morning?
Speakers:
Katharina Nachbar, Head of Communications, Global Public Policy Institute (GPPi)
Thomas Coombes, Founder, Hope-Based Communications
Moderator:
Wiebke Ewering, Head of Communications, German Council on Foreign Relations (DGAP)
About WonkComms Breakfast Clubs: WonkComms is a global network of think tank communications professionals who share ideas and best practices. Our first event was in the UK in 2013 and we have since expanded our activities to the USA, Latin America and now to Germany. We organize informal events on subjects that are of practical interest to our community – including previous Breakfast Club series in London and Washington DC. You can find us on Twitter and LinkedIn.The WonkComms Breakfast Club Berlin is organised by the Think Tank Lab and Soapbox.