WonderWorks - Holacracy® Webinar

Monday, December 9, 2013 from 12:00 PM to 1:00 PM (PST)
Event Details
WonderWorks - Holacracy® Webinar
Is your organization agile and adaptive to its environment - even as it scales? Are the roles within your organization clear, yet also continually evolving, and driven by those doing the work? Is the work aligned with your organization's purpose, without egos getting in the way?
Most often, the answer is no. Holacracy™ is a social technology that cuts through the power dynamics of hierarchical organizations and the laborious consensus-seeking processes of flat organizations.
WonderWorks - Holacracy® support Ceo's and Founders to embed conscious practices into all aspects of their organization.
This Free one hour webinar introduces the core principles, structure, and practices used in Holacracy through real-world stories, presentation, and interactive Q&A. Join us for a whirlwind tour of this compelling new social technology for organizations, and leave with a new vision for what's possible.
This event will begin at 12:00 pm PST (United States). You'll receive an email reminder with webinar access details 24 hours prior to the event.
Organizer
Anna McGrath, Operationalizing Transformation™ Conscious Leadership & Culture | B Corp Member I Self-Organizing | Holacracy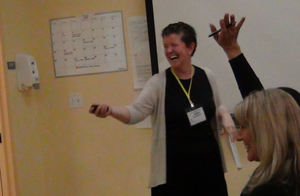 In a nutshell, WonderWorkers love what we do and love the people we partner with.
In order to succeed, 21st century organizations that want to thrive must embrace innovation and purpose. They need an operation system and governance structure that responds quickly to input while supporting agile decision making, and facilitates a network of stakeholders who are motivated by a shared purpose.  
That's where WonderWorks comes in. With a track record of Operationalizing Transformation, WonderWorks supports organizations in producing results that are profitable, scalable, and sustainable, while supporting the people who make it all happen.