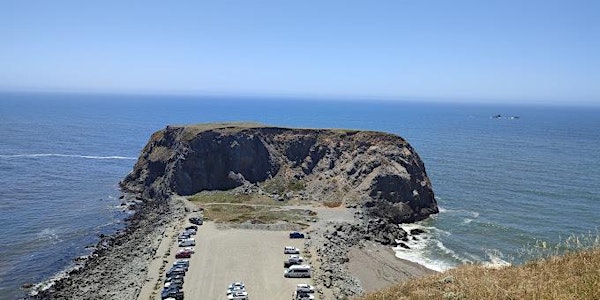 Wonders of Mélange Field Trip: Blind Beach and North Shell Beach
Wonders of Mélange Field Trip: Blind Beach and North Shell Beach, northern Sonoma County Coastline.
Date and time
Saturday, April 22 · 8:30am - 5:30pm PDT
Location
Blind Beach-Goat Rock, Jenner, CA Goat Rock Jenner, CA 95450
Refund Policy
Contact the organizer to request a refund.
Eventbrite's fee is nonrefundable.
Agenda
8:30 AM
Meet at Larkspur Landing SW parking lot and carpool
10:30 AM
Meet at trailhead for N. Shell Beach
10:30 AM - 4:00 PM
Field Trip lead by Dr. Wakabayashi
4:00 PM - 5:30 PM
Carpool to Larkspur Landing SW parking lot
About this event
Join AEG for a field trip with Dr. John Wakabayashi of Fresno State University. Please bring plenty of water and lunch!
Mélanges, characterized by blocks in a finer-grained matrix are a common component of Subduction complexes form as a result of the subduction fault (megathrust) periodically cutting into the down going plate, resulting in the coupling of a slice of the down going plate to the upper plate by a process called subduction-accretion (accretion for short). Accordingly, subduction complexes allow us to examine the subduction interface at depths far below where we can physically sample along modern subduction zones. Mélanges, characterized by blocks in finer grained matrix are a common component of subduction complexes. Exotic blocks found in mélanges do not match either the matrix or the rocks on either side of the mélange horizon. Since the recognition of mélange textures, as well as the advent of plate tectonic theory, geologists have debated how exotic blocks mix into matrix. The most popular idea is that they are mixed by very large-scale flow along the subduction interface in which the subduction interface is a broad (several km thick or more) shear zone accommodating both subduction and exhumation of the blocks and matrix (called the 'subduction channel'). The other model, based on more detailed field and petrographic study is that exotic blocks were derived from rocks already exhumed to the sea floor that were then shed in submarine landslides (olistostromes) into the trench and then subducted along with the other trench-fill clastic sediments. Good field exposures of mélanges, especially their matrix, are rare. For decades, the sea cliffs at San Simeon, along the central California Coast, have been regarded by many as the world's type example of mélange.
Our field trip to the sea cliffs at Blind Beach and north Shell Beach visits exposures that are comparable to or superior to those of San Simeon. These exposures, particularly those of North Shell Beach have a greater variety of metamorphic rocks (including higher-grade ones) than San Simeon and preserve the original sedimentary block-in-matrix textures better. The features we will see include outcrops that are gradational between conglomerate and mélange matrix, with blueschist and amphibolite clasts and blocks. We will also see a stunning example of a 60-m garnet-amphibolite block that was subducted and exhumed three times. We will also see horizons that are a sedimentary mixture of siliciclastic material and sedimentary serpentinite.
Frequently asked questions