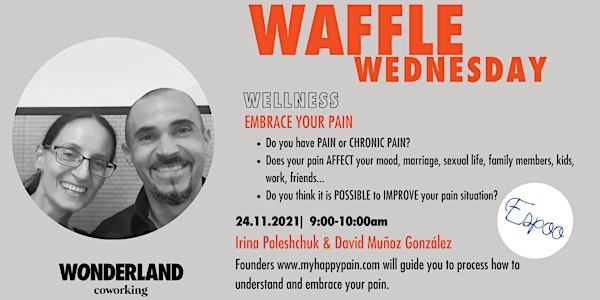 Wonderland Waffle Wednesday: Embrace your pain
Learn how to address stress, anxiety and types of pain through the psychology of pain, movement, coaching & art therapy
When and where
Location
Wonderland Work Leppävaara Linnoitustie 6 A, 1th floor 02600 Espoo Finland
About this event
• Do you have pain or chronic pain?
• Does your pain affect your mood, marriage, sexual life, family members, kids, work or friendships?
• Do you speak about your pain? Do you feel guilt, shame, despair, and/or anxiety because of your pain?
• Are you happy and have you accepted your pain ?
• Are you desperate about existing solutions for your pain? Are you tired of meds being the only way?
• Do you think it's possible to improve your pain situation?
David Munoz Gonzales is an entrepreneur and martial arts instructor at Art Zenter Academy (www.artzenter.fi). In 2009 he suffered a serious back injury. The last 12 years, David developed daily maintenance habits to harmonize body and mind in order to improve his back problems and get a happier life.
Irina Poleshchuk is a researcher at the university of Jyväskylä, her main interest lies in the field of chronic pain, psychology of pain, embodiment, and sociality. She has published several articles and conducted workshops on chronic pain, ethics and the normativity of the pain experience. - - LinkedInfi.linkedin.com › irina-poleshchuk-1002ba164
This event will be held in English.
Help us host a safe event by following these instructions:
- Please arrive to the event only 100% healthy and without symptoms
- You're most welcome to wear a mask if you so choose!
- Remember to keep a safe distance between other participants and disinfect regularly
===================================
• Onko sinulla kipuja tai koetko kroonista kipua?
• Vaikuttaako kipu mielialaasi, avioliittoosi, seksielämääsi, perheenjäseniin, työhön tai ystävyyssuhteisiin?
• Puhutko kivustasi? Tunnetko syyllisyyttä, häpeää, epätoivoa tai ahdistusta sen johdosta?
• Oletko onnellinen ja oletko hyväksynyt kipusi?
• Oletko epätoivoinen kivunlievityksen keinoihin? Kaipaatko muuta apua kipulääkityksen ohella?
• Uskotko, että kiputilanteesi voi parantua?
David Munoz Gonzales on yrittäjä ja kamppailulajien ohjaaja Art Zenter Academyssa (www.artzenter.fi). Vuonna 2019 hän sai vakavan selkävamman. Kuluneiden 12 vuoden ajan David on kehittänyt päivittäisiä ylläpitotapoja, jotka auttavat häntä saavuttamaan kehon ja mielen harmonian ja lieventävät selkäongelmia, johtaen onnellisempaan elämään.
Irina Poleshchuk on tutkijatohtori Jyväskylän yliopistosta, hänen tutkimusaiheitaan ovat krooninen kipu, kivun psykologia ja kipukokemukset. Hän on julkaissut useita artikkeleita ja järjestää työpajoja krooniseen kipuun ja kipukokemuksiin liittyen. LinkedInfi.linkedin.com › irina-poleshchuk-1002ba164
Tämä tapahtuma tullaan pitämään englanniksi.
Auta meitä järjestämään turvallinen tapahtuma huolehtimalla seuraavista ohjeista:
-Tulethan paikalle vain 100% terveenä ja oireettomana
-Jos haluat käyttää maskia, se on ehdottomasti ok!
-Muista pitää turvallinen etäisyys muihin osallistujiin ja noudattaa huolellista käsihygieniaa