About this Event
Doors open at 6:15p, with light refreshments served prior to curtain.
It's the holiday season at The Homestead in Amherst, Massachusetts as Emily Dickinson bakes and anticipates guests on her birthday. In this compilation by Yvonne Hudson, the Pittsburgh writer-actor reveals the poet's sly wit, resilience, and passion for publishing through Emily's own words and correspondence about the writing life.
Drawn from Emily's letters and works, and the observations of those who knew the prolific and reclusive poet, this solo presentation features a replica of the writer's white dress, designed by University of Pittsburgh's costumer Cindy Albert.
Explore the venue where there is ample free parking and historic exhibits to enjoy before the show: https://sewickleyheightshistory.org
About the Artist
Yvonne Hudson is an actress, writer and singer who has appeared in numerous solo theater and other productions. She self-produces her play Mrs Shakespeare, Will's first & last love. She has performed it more than 100 times from Off-off-Broadway to the Tower of London to (most recently) the historic Pump House in Homestead and the English Nationality Room at Pitt. Yvonne has also presented at the Folger Shakespeare Library, Prime Stage Theatre's 2nd Stage, Phipps Conservatory, a restored prairie music hall in South Dakota, among many others.
Hudson first performed as Emily in William Luce's two-act play The Belle of Amherst. Yvonne's original 50-minute presentations, based on the poet's correspondences and poetry, has been seen in community settings in Washington, DC and Pennsylvania. She holds an MA in theatre arts from the University of Pittsburgh and minored in voice with the late Claudia Pinza. Yvonne has studied text at Shakespeare & Company and with Royal Shakespeare Company actor Barry Ingham.
Her other roles have included character leads in Gilbert and Sullivan with Pittsburgh Savoyards, Lenny in Crimes of the Heart, Grace in Annie, and Irene Molloy in The Matchmaker.
Follow Yvonne on Facebook at Mrs Shakespeare and Twitter @msshakespeareUS.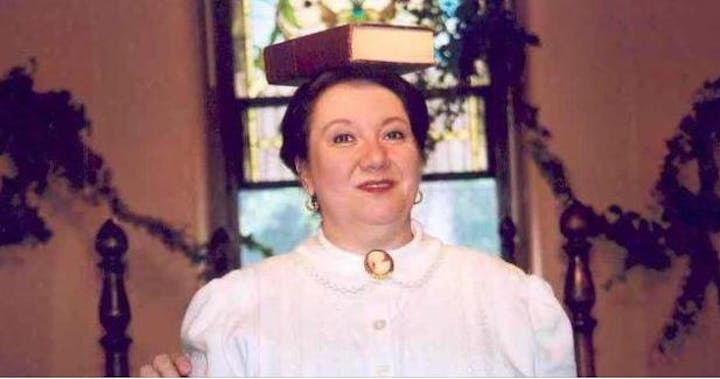 Before the ice is in the pools --
Before the skaters go,
Or any check at nightfall
Is tarnished by the snow --
Before the fields have finished,
Before the Christmas tree,
Wonder upon wonder
Will arrive to me!
What we touch the hems of
On a summer's day --
What is only walking
Just a bridge away --
That which sings so -- speaks so --
When there's no one here --
Will the frock I wept in
Answer me to wear?
~~Emily Dickinson