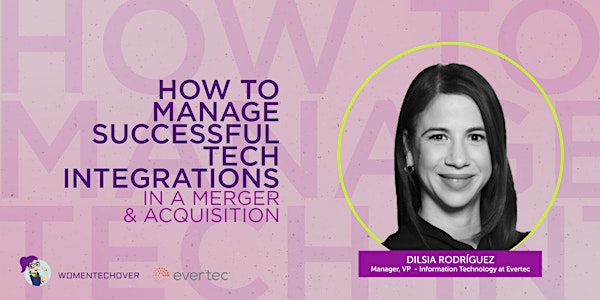 Womentechover Meetup: How To Manage Successful Tech Integrations
When and where
Location
Piloto 151 1413 Ave Ponce De Leon 4th Floor San Juan, Puerto Rico 00907 Puerto Rico
Refund Policy
Contact the organizer to request a refund.
Description
Up next in our Womentechover Meetup Series with Evertec, let's hear it from Dilsia Rodríguez.
Dilsia Rodríguez is the Manager VP of Information Technology at Evertec.
(Hey guys! You're more than welcome to join us too.)
--
Sobre Dilsia
Bachillerato en Ciencias de Computadoras, Concentración en Sistema de Información de UPR Ponce. Magna Cum Laude.

Maestría en Sistemas de Información Gerencial de la Universidad de Phoenix.

Information Technology Service Management (ITSM) Certified

En el 2000 comencé mi jornada en Tecnología en Popular Finance como Computer Clerk. En una reorganización interna en el 2002, paso a ser Supervisora con 5 empleados a cargo.

En el 2004 se une todos las unidades de IT de las subsidiarias de Popular y se forma Evertec. En esta fusión, paso a ser Supervisora de Apoyo Técnico de la Región Suroeste. Eventualmente me asignaron la región de Caguas, finalmente toda la Isla, incluyendo Islas Vírgenes.

En el 2005 obtuve el premio de "Mejores Prácticas de Liderazgo 2004" en base a los resultados de la Encuesta "Tu Opinión" completada por empleados de la compañía.

En el 2015 fui nombrada Gerente del área de Field Services apoyando los servicios técnicos de clientes externos, internos y de Gobierno.

Durante todos estos años he apoyado en las migraciones de Westernbank, Doral, Reliable. Además de proyectos internos que impactan directo a los empleados tales como migración a Office365, cambio de PC's por obsolescencia, y ahora la integración de inteligencia artificial.

Hoy día manejo la unidad de "End User Support" donde el enfoque principal es la experiencia del usuario con servicios de Evertec para nuestros clientes internos y externos incluyendo edificios corporativos de Popular Inc y sucursales con 45 empleados bajo en total.