Womensphere Global Summit & Awards 2012 | CREATING THE FUTURE: EVOLUTION

Thursday, September 27, 2012 at 8:00 AM

-

Friday, September 28, 2012 at 7:00 PM
Event Details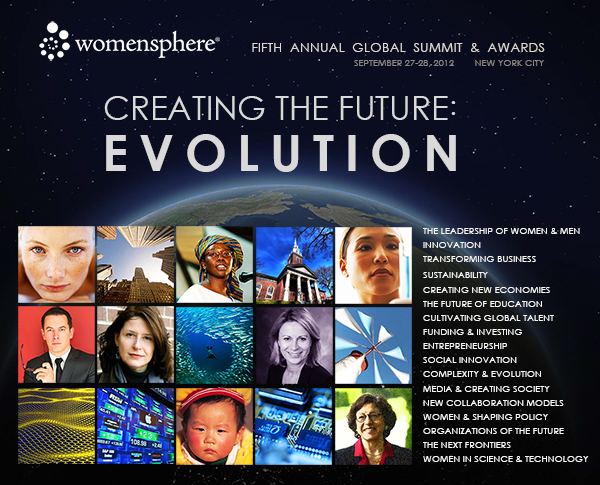 WOMENSPHERE FIFTH ANNUAL GLOBAL SUMMIT & AWARDS
CREATING THE FUTURE: EVOLUTION
September 27-28, 2012  *  New York City  (Columbia University and various locations)
Please RSVP on this site to secure and confirm your place.
About the Global Summit - www.womensphere2012.com
About Womensphere - www.womensphere.org 

The Fifth Annual Womensphere Global Summit will convene leaders across institutions, industries, disciplines, and sectors, who are focused on advancing the evolution of women as leaders, innovators, and creators in the world, and who are focused on important work driving the evolution of our global society.

Womensphere will convene leaders and innovators to build community, forge enduring connections, enable collaborations to create impact, and work together on an actionable global agenda for CREATING THE FUTURE. We aim to to foster the necessary education, exchanges, partnerships, collaborations and initiatives to drive our evolution as a global society, and with women playing an increasing role in driving that evolution.

Womensphere Global Summits aim to create inspiration, education, and connections for leaders, innovators, and entrepreneurs, in line with Womensphere's purpose of unleashing potential, creating opportunity, inspiring impact, and transforming the world.

This year's additional goals are around community, collaboration, impact, and creating a platform that enables participants to collaborate on working together on an actionable agenda for the evolution of our global society, and the evolution of women's leadership and innovation globally.

In addition to inviting women leaders and innovators, we are actively inviting male leaders and innovators to join us in partnership and collaboration. 
We will discuss a number of central questions, share case studies of models that work, reflect on learnings from failures, exchange insights, and build a community of leaders and innovators collaborating to create the future. 
Some of the themes we will cover include:
The Leadership of Women and Men   |   Innovation   |   Transforming Business   |  Sustainability   |   Creating New Ecoomies  |    The Future of Education  |  Cultivating Global Talent  |  Funding & Investing  |  Entrepreneurship   |   Social Innovation   |   Complexity & Evolution   |   Media & Creating Society  |   New Collaboration Models  |    Women & Shaping Policy  |  Organizations of the Future   |   The Next Frontiers  | Women in Science & Technology
Some of the topics we will tackle include:  

New models of leadership * Leadership and problem-solving in complex dynamic systems * Transforming business * Women's leadership & innovation * The future of education and global talent * Neuropsychology &  gender * The inspired workplaces of the future * How successful women lead – lessons from great CEOs * Educating women & girls * Women & girls in STEM * Accelerating women's leadership in corporations & public office *  Funding women entrepreneurs * Technology for social good * Building entrepreneurial ecosystems * Driving innovation in the enterprise * Funding social innovation * Scaling growth & enabling hypergrowth * Sustainability models that work * Women & the economy * Marketing & product development for women * Insights from neuroscience & behavioral economics * The most challenging issues in the planet * Directing evolution *


SPEAKERS AND AWARD HONOREES AT THE SUMMIT

We bring together a select global group of over 80 distinguished leaders across disciplines and industries, from CEOs to social entrepreneurs, and heads of some of the most influential NGOs, who are actively involved in influencing and driving the evolution of our global society, and the evolution of women's role as leaders and innovators in the world.
Some of the Womensphere Global Award Honorees participating at the Summit are:
Helene Gayle – CEO & President, CARE
Ilene Lang - CEO & President, Catalyst
Dr. Joanna Rubinstein - Director, Center for Global Health & Economic Development; Chief of Staff; Earth Institute, Columbia University
Katherine Chon - President & Co-Founder, Polaris Project
Kennedy Odede & Jessica Posner - Co-Founders, Shining Hope for Communities
Linda Basch - CEO & President, National Council for Research on Women (NCRW)
Linda Cureton - CIO, NASA; Author, The Leadership Muse (Womensphere Award Honoree 2011)
Linda Rottenberg - CEO & Founder, Endeavor
Shelly Lazarus - Global Chairman Emeritus, Ogilvy & Mather Worldwide
Distinguished Speakers participating at the Summit are:
Beverly Neufeld - President, New York Women's Agenda
Dr. Carter Ingram - Lead, Ecosystem Services, Wildlife Conservation Society
David Teten - Director and Head, Lester Pearson United World College of the Pacific
Denise Shull - Founder, The ReThink Group; Author, Market Mind Games - A Radical New Psychology for Investing, Trading and Risk
Edith Hunt - Chief Diversity Officer, Goldman Sachs
Elisa Camahort - President & Co-Founder, BlogHer
Dr. Heather Berlin - Cognitive Neuroscientist, Faculty, Mount Sinai Medical Center
Heather Ibrahim Leathers - President, Global Fund for Widows
Dr. Iris Bohnet - Director, Women in Public Policy Program; Academic Dean, Harvard Kennedy School of Government
Jamie Nack - President, Three Squares Inc. (sustainability consulting); Convenor, Women in Green Forum
Janet Hanson - CEO & Founder, 85 Broads
Jeanne Sullivan - General Partner, Starvest Partners LP
Kathleen Rogers - President, Earth Day Network

Kathleen Warner

- COO, Startup America
Kim Slicklein - President, OgilvyEarth
Lorna Solis - CEO & Founder, Blue Rose Compass
Lydia Alpizar - President, Association of Women in Development (AWID)
Margaret Wheeler Johnson - Editor, Women's Section, The Huffington Post
Matthew Bishop - New York Bureau Chief, The Economist; Co-Author, Philanthrocapitalism
Melissa Krinzman - CEO & Founder, Venture Architects
Michele Wucker - President, World Policy Institute
Dr. Monica Beltrametti - Chief Services Research Officer, Xerox; Vice President and Centre Manager, Xerox Research Centre Europe
Musimbi Kanyoro - President, Global Fund for Women
Olivier Oullier - Full Professor, Aix-Marseille University; Adviser, Centre d'analyse strategique
Renata Mutis Black - Chairwoman, Seven Bar Foundation
Rosario Perez - CEO & President, Pro Mujer
Sarah Symons - Executive Director & Founder, Made by Survivors
Sarah Costa - Executive Director, Women's Refugee Commission
Vanessa Colella - Head of North America Brand and Marketing, Citibank
GOALS OF THE SUMMIT

Womensphere Global Summits all have the goals of inspiring, educating, and creating connections for women leaders, innovators, and entrepreneeurs.

This year, we have four additional goals - and bringing men into partnership and collaboration is a very important part of this year's process. 
This year's goals are around community, collaboration, impact, and creating an actionable agenda for the evolution of women's leadership and innovation globally. 

Building Community: 
This Summit will be about building a community of leaders across sectors – global leaders, international organizations, companies, academic institutions, entrepreneurial ventures, social enterprises, BCorps, non-profits, and NGOs.  And unlike our past Summits, this year, we will begin building community BEFORE the Global Summit – via online collaborations and social media.  This way, we are not strangers when we come together live.

Enabling Collaboration:
This Summit will enable collaboration between leaders across these sectors – so that we can help each other create greater impact. Participants should either bring projects/initiatives/innovations/programs/disruptions/new ventures that they want to share with the community – or be interested in supporting one of these.

Creating Impact: 
At Womensphere, we believe that talk is cheap.  Anyone can wax poetic about investing in women. We want to inspire and enable constructive action, results, and continuous learning from successes and failures.  This year, we want to inspire and enable commitments, investments, and collaborations – and by next year, be able to start measuring and learning from the impact of initiatives by participants and speakers.

Creating Actionable Global Agenda for the Evolution of Women's Leadership & Innovation: 
This is self-explanatory. We don't have this, and we need this. As social innovators wanting to embody the change we want to see, Womensphere is creating the platform that enables us to have this.

Thus, if you are a leader – from any sector – woman or man – interested in being a part of these,
join us!
GLOBAL AWARDS

We give the Womensphere Global Awards to leaders and innovators who create inspiration and transformation, impacting the lives of millions in America and the world.  In 2011, we honored over 20 outstanding women leaders, innovators, and trailblazers.
Womensphere Global Awards are given in the areas of Advancement of Women, Economics, Education, Entrepreneurship, Innovation, Inspiration, Public Service, Science, Social Entrepreneurship/Social Innovation, and Sustainability.

This year, for the first time, we are also giving Womensphere Global Awards to great MEN who are pioneering transformation in society, who are actively creating the future by redesigning their organizations and companies, and who are actively investing in cultivating women leaders and women innovators.
Some of the male nominees to date have included Howard Schultz (CEO, Starbucks), Pete Cashmore (Founder and CEO, Mashable), Jamie Dimon (CEO, JPMorgan Chase), and Jeffrey Sachs (Head, Earth Institute, Columbia University.

We invite you to submit nominations for the Womensphere Global Awards via email to ceo@womensphere.com by May 25, 2012.
In your nomination, please include
1) what area you wish to nominate her/him
2) why you think the nominee deserves the recognition/honor
3) evidence of impact of the nominee's leadership and innovation (e.g. online links to articles, accomplishments, awards, etc.); and
4) your relationship with the nominee (e.g. Are you an employee of the company the nominee leads? Did you have a chance to personally work together? Are you an admirer from afar who simply believes the nominee should be recognized for great work?)
QUESTIONS FOR DISCUSSION
The questions that we pose, and will discuss and seek to answer through the Summit, are at two levels:

At one level –
How are we evolving as leaders? As companies? As institutions? As a nation? As a global society?
More importantly -- how are we influencing or driving that evolution?
How do we disrupt evolutionary momentum when it is guiding us in the wrong direction?
How do we create disruptions and interventions to steer the evolution - of systems, of companies, of people - towards more optimal future states?
How do we define and determine what outcomes are optimal?
What initiatives/disruptions/programs/innovations can we support and collaborate with that will enable us to create/co-create the future we envision?

At a second equally important level –
How are we enabling the evolution of women as leaders and innovators in America and around the world? 
How are we creating the environments, experiences, education, and conditions to unleash the potential of women and girls, so that they can evolve to be effective, successful leaders and innovators, and so that they can be actively involved in influencing evolution and shaping the future? 
Who are the great women today who are actively involved in creating the future?
What are they doing, and what can we learn from them?
What are the great institutions – companies, educational institutions, government/NGO organizations – that are actively investing in this, and what can we learn from them?
How are men actively involved as partners and investors of this evolution?
What initiatives/disruptions/programs/innovations can we support and collaborate with, that are actively investing in women?

While the Summit will feature over 50 world-changing leaders as speakers – we expect that the participants and delegates at the Summit will also have answers, and will also be among the pioneers who are actively involved (or seeking to be involved) in answering these questions.
Net proceeds from the Summit will be used to seed the Womensphere Foundation, our foundation that will drive forward the agenda of advancing women's leadership and opportunities around the world.
TO SECURE YOUR PLACE AT THE SUMMIT:

We now have 40 places at the Summit available for open registration, on a first come, first served basis, as well as 50 places for select members of special network partners (such as SEO, 85 Broads, ASCEND, ALPFA, Manhattan Chamber of Commerce, and other leading professional networks). 

To everyone for whom the goals and agenda of the Summit resonate – please secure your place at the Summit before the deadline by registering here.   The Summit is open to both women and men.
There are four reasons to secure your place at the Summit via Open Registration here:

1.    Discounted pricing (50%) is in effect for these open places.  (The regular registration pricing is 2X what you see here.) If you are a business leader/manager, academic leader, entrepreneur, social entrepreneur, NGO leader, or work for the government, you can personally take advantage of the 50% discounted registration and secure your place.
2.    It will become harder to register and participate after these places are filled. After these limited places are secured, the rest of the places at the Summit will only be accessible by invitation or by application. Due to very limited capacity at our venues, applications will have to be reviewed on a competitive basis.
The rest of the 300 places at the Summit are reserved for an invitation list of delegates that includes Deans and Heads from the leading 50 academic institutions around the world, First Ladies/heads of states/international ministers, leading social entrepreneurs/social innovators, leaders in the private sector - CEOs, CMOs, Chief Diversity Officers, Heads of Sustainability, Heads of Corporate Social Responsibility, Heads of Women's Networks, Directors at international organizations and multilateral agencies, investors, and funding institutions/funding networks focused on innovation, sustainability, education, women entrepreneurs, and women's advancement. 
3.    We want diversity of representation and participation at the Summit, so we are imposing limits of delegates per company/institution. Except for corporate sponsors, due to capacity constraints, we will have a limit of 3 delegates per company/organization/academic institution. If you're not sure that you will be chosen as a delegate by your institution to participate in this Summit, we recommend that you join us via Open Registration to secure your place. 
4. We are starting to build and connect the community this summer. The sooner you join, the sooner you can be part of the community, and the sooner we can hear about any of the programs/enterprises/projects/innovations/disruptions that you are creating - or that you want to support and be a part of!
Have questions about Womensphere Global Summit & Awards 2012 | CREATING THE FUTURE: EVOLUTION ?
Contact WOMENSPHERE®
When & Where

Columbia University
Lerner Hall and Faculty Club



Thursday, September 27, 2012 at 8:00 AM

-

Friday, September 28, 2012 at 7:00 PM
Add to my calendar
Organizer
Womensphere is a unique global leadership community and global social enterprise that brings together people, networks, companies, and institutions around the shared purpose of unleashing women's potential.  We build ventures and collaborations dedicated to advancing women's evolution as leaders, innovators, entrepreneurs, and creators in our global society.

Since launching in February 2008, we have produced over 20 conferences, forums, and major events, convening over 3,500 leaders and emerging leaders around the themes of women's innovation, leadership, entrepreneurship, sustainability, economics, policy, and social innovation. We have also promoted and supported over 25 outstanding NGOs and social enterprises that are benefiting women or are led by extraordinary women.

Currently, some of our major initiatives include:

Womensphere Global Summit series and Womensphere Emerging Leaders Summit series, on the theme of CREATING THE FUTURE: EVOLUTION - in the United States, Europe, and Asia.  Our Global Summits  convene leaders across disciplines, industries and institutions, with the primary objective of advancing the evolution of women as leaders, innovators, entrepreneurs, and creators in our global society.

Womensphere's educational programs for women - including the Womensphere Academy of CEOs (training the next generation women CEOs) and Womensphere Venture Investors Program (training the next generation of women investors in the venture capital and private equity spaces).
About Womensphere
http://www.womensphere.org

Womensphere Academy of CEOs:
http://www.womensphereceo.com