Sales Have Ended
Registrations are closed
Registration has ended. Please contact Organizer directly with any questions.
Sales Have Ended
Registrations are closed
Registration has ended. Please contact Organizer directly with any questions.
Description
Approach your writing from a fresh perspective! Get Into Character for 2019 will explore fictional character development through the eyes of Cosplay. Speakers will discuss:
Character Selection
Delving deeply into Character Development
Understanding what you portray
The Art of Becoming (personally and in our writing)
Simple ways to craft characters you can be proud of on and off the page
Attendees are invited to read the passage from their recent/current WiP (work-in-progress) that best showcases a character from their book (no more than two paragraphs). To have yours read, submit the passage to Organizaer no later than March 27th. As always, no gore or erotic material.
New with this Workshop: There will be space for five (5) indie authors to retail their books. To secure your space, select RSVP+Book Display ($35 ticket). And forward a link to your book's excerpt and description. If your book is not selected, $5 will be immediately refunded.
Light refreshments.
Advanced tickets only. No registration at the door.
PRESENTERS: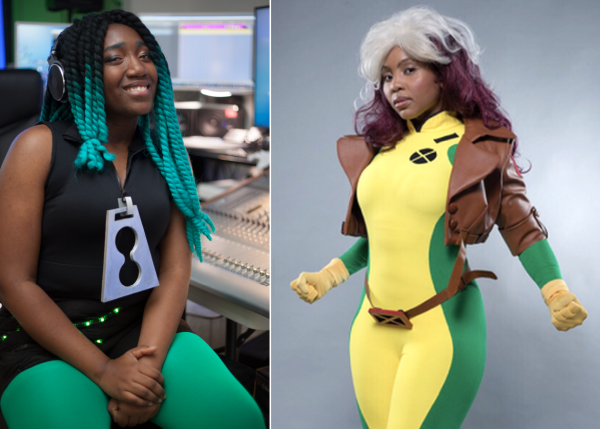 Kellie Ann Fowler (left) is enthusiastically resourceful and easily finds outlets to set her creativity loose. And attributes her unconventional upbringing, and increasing involvement in American Technologies, her family's technology and media production firm, with developing her artistic abilities.
From sketching her favorite cartoons, designing clothes, and fine art, Kellie became enchanted with the artistic clothing worn by the characters in her favorite anime and video games. After attending MomoCon 2017, and seeing people of all shapes and sizes unabashedly dressed as their favorite characters, Kellie actively explored the idea of cosplay to experience that same energy for herself.
Kellie understands what is to carefully plan and craft a character. Designing her first costume – Marina from the video game, Splatoon 2 – a costume that included LED lighting, custom wig, and makeup, led her to learn about electronics, sewing methods, and the importance of material weight and flexibility, and nspired her to create others.
While Kellie spends her free time illustrating character reference sheets, and creating fine art pieces for exhibition, she remains dedicated to her new passion of costume designing, and staying relative in her day-to-day life.
-----
Sherita 'Ree' Dunbar (right) burst onto the cosplay scene in 2008 and became an instant favorite among con-goers. She regularly participates n cosplay-themed charities such as Hero Alliance, in addition to being a fitness enthusiast, and the founder of Super Fit With Ree Cosplay.
Ree has been featured in Rolling Out Magazine, and other media celebrating the art of cosplay. Her rendition of Red She-Hulk earned her the Ms. January spot in the Girls Of The Con calendar, as well as a video feature in the In & Out series by photographer, Andrew Michael Phillips of AMP Cosplay. Because of Ree's impact in the world of cosplay, she was handpicked by the legendary George Pérez, who created a character in her likeness (Interface) for his comic book, Sirens, forever immortalizing her in comics.
Ree uses her social media platform to incorporate fitness into cosplay. She hopes to inspire others to healthier lifestyles and to enjoy the skin they are in, #CosplayYourWay.
URL: https://www.youtube.com/user/mistressree007
Photo credit: Andrew Michael Phillips, AMP Cosplay
-------------
FAQs
What are my parking options?
Free parking. Enter on the J. Christopher side.
What's the refund policy?
Tickets are not refundable, but can be transferred to another woman. Contact Organizer with the person's full name and email address in order to do so and update the registration.
#WritingFiction #StrongFemaleCharacters #FemaleAuthors #WomenWriters #BooksByWomen #WomenWhoWrite #Cosplay #CharacterDevelopment #AmWriting #AmEditing #WritingWorkshop