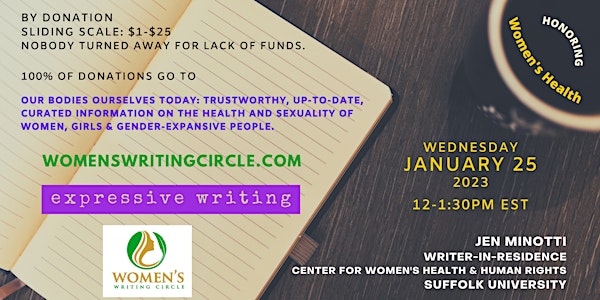 Women's Writing Circle (WWC) - January 25, 2023
Women's Writing Circles at Suffolk University's Center for Women's Health & Human Rights are virtual for 2022-23!
About this event
The Women's Writing Circle (WWC) uses expressive writing in sacred circle as a way for women to deepen their understanding of themselves and others; share written stories that honor and support the diverse voices of all women; provide a safe and nurturing place for discussing truths, sharing vulnerabilities, and bearing witness with compassion and gratitude; and to encourage women to embrace their authenticity and become global organizers of change and peace through personal and social transformation, community, and escaping the oppression of silence through our words.
Gathering virtually in circle, we will write from a series of prompts as an entry point to explore emotions, themes, personal histories, shared truths, joy, grief, shame, and those things that matter most to us in our hearts. We will then share and listen deeply, inviting participants to be courageous, vulnerable and compassionate truth-tellers and witnesses to others' personal stories. We do not offer oral feedback or craft critique of any kind. We simply thank one another for sharing. This type of no-pressure, expressive writing process holds many benefits for the individual and the group.
When we are in person, I limit the size of the circle to 8-10 women. However, given the added opportunity to reach more women from across the globe, I will not be limiting the number of participants.
Please join me (read my bio below)! The Women's Writing Circles are for:
women, trans, intersex and cis women, trans men, nonbinary, and gender-nonconforming writers.
writers of ALL levels including first timers and all those who say, "I am not a writer."
individuals with an open, generous and compassionate heart.
No preparation necessary. Come as you are, but bring a notebook or laptop! And download Zoom beforehand.
This event is BY DONATION following a Gift Economy philosophy, whereby 100% OF DONATIONS GO TO ROTATING ORGANIZATIONS WHOSE MISSION I WANT TO SUPPORT.
SLIDING SCALE: $1-25.00+. Please give an amount you can. If you are able, give more. If you are not, give less. Never a judgment on the amount you donate.
NOBODY TURNED AWAY FOR LACK OF FUNDS. Email: jminotti@suffolk.edu if you would like to register for free. Your presence is always a gift (to yourself and the others in the circle).
PRE-REGISTRATION ahead of time is REQUIRED.
THIS MONTH'S CIRCLE will support Our Bodies Ourselves Today, an initiative of the Center for Women's Health and Human Rights at Suffolk University. Our Bodies Ourselves is a nonprofit organization that has been active in the feminist health movement since 1969. Together, we educate and advocate for health and reproductive justice for women, girls, and gender-expansive people.
Please check your email after you register to receive the Zoom link (and make sure to scroll to read the entire email).
* * * * *
The Center for Women's Health and Human Rights (CWHHR) is the first academic institute in the United States to focus on women's health and human rights in the social sciences, arts and humanities, and public policy.
The Women's Writing Circle is proud to be partnering with the Center for Women's Health and Human Rights.