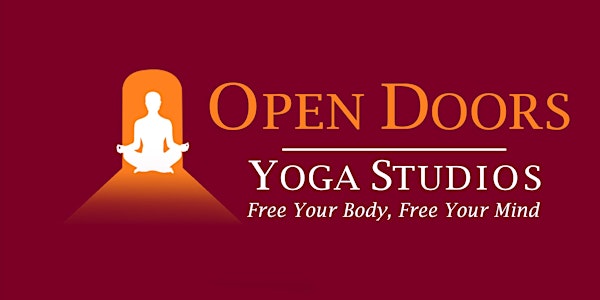 Women's Wellness Workshop - Meditation Mixer
When and where
Location
Open Doors Yoga Studios 400 Lincoln Street Hingham, MA 02043
Refund Policy
Contact the organizer to request a refund.
Description
What Makes You Move, Mama? is excited to partner with Open Doors Yoga Studios for our January Wellness Workshop, a Ladies' Night Out Meditation Mixer for New Mamas & ALL LOCAL WOMEN!
We are hosting our new Wellness Workshop series to bring the idea of "ME Time" to life: An opportunity for Movin' Mamas (and ALL other women too!) to take a well-deserved break, get a kick-butt workout, and socialize with other gals who are also embracing health and fitness amidst a crazy schedule.
15-Minute Introduction: Learn about the What Makes You Move, Mama? project and have a quick intro your workout session from Studio Owner, Jodi Ashbrook
40-Minute Relax & Restore Yoga Session:

Find balance and bliss during this express reTreat.

The first half of class will be dedicated to warming up yang energy. Move through a blissful vinyasa flow, taking time to understand the relationship between breath and movement. This will help ease anxiety and depression, increase circulation, and reduce stagnation in the lymphatic system. The second half of class will be dedicated to yin energy. Learning how to use breath to help calm both body and mind during this gentle sequence all while receiving healing reiki and light massage (optional). Yin based yoga will target the connective tissue around the joints, helping to increase mobility and decrease inflammation. Blended with elements of restorative yoga this portion of class will promote deep relaxation and reduce stress. Combined Yang and Yin yoga are perfect compliments to one another. Leave class feeling ready to take on the world from atop cloud nine.



35-Minute Mixer: Enjoy your ladies' night out and socialize amidst local spa and jewelry vendors, over a well-deserved, complimentary glass of wine with light sweets--you earned it!
REGISTER Today to catch the Early Bird Special!