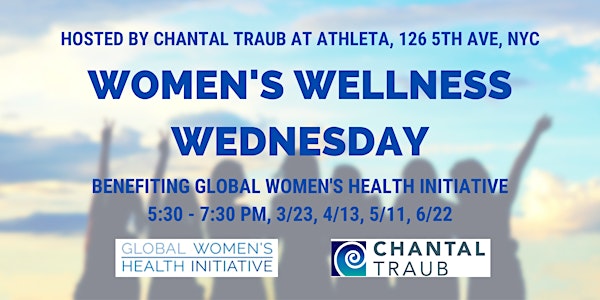 Women's Wellness Wednesday
Embrace your health through all stages of life with the Women's Wellness Wednesday hosted by Chantal Traub. 100% of proceeds benefit GWHI.
About this event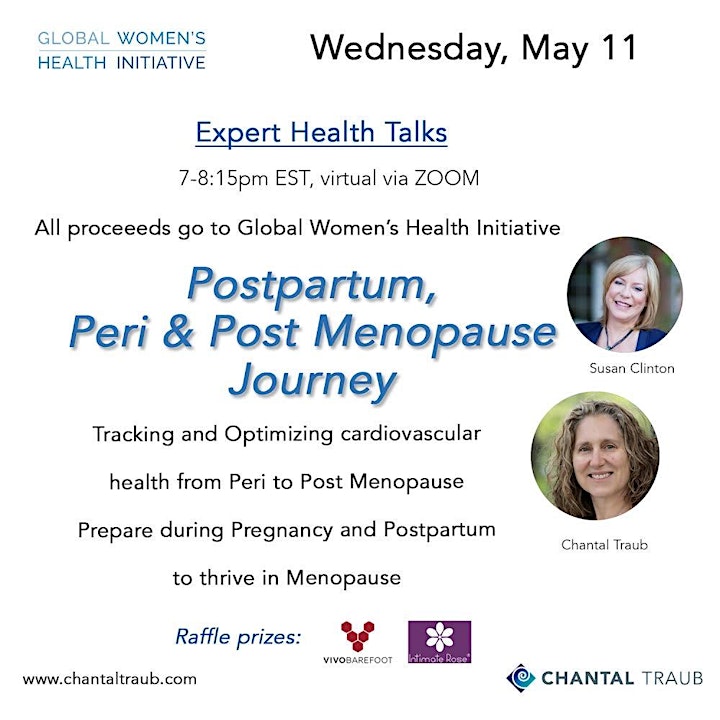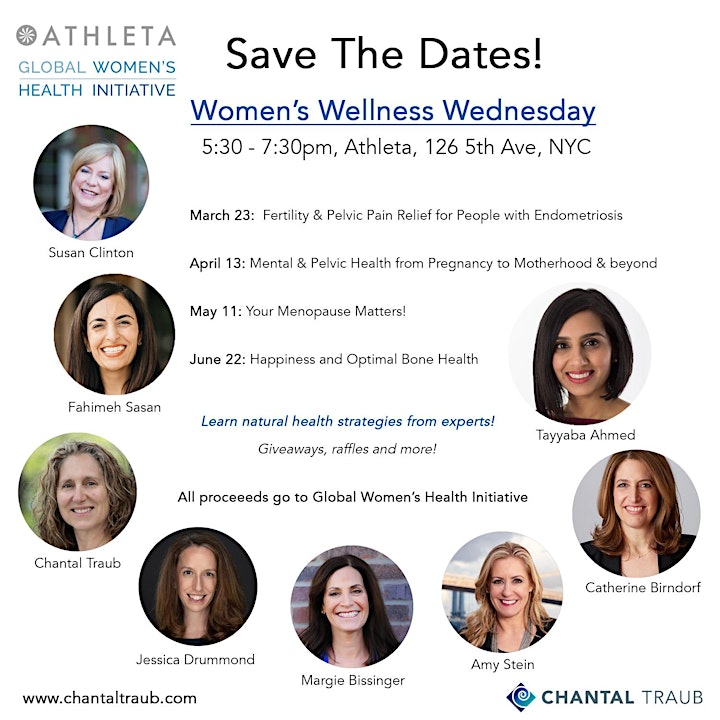 Embrace your health through all stages of life with the Women's Wellness Wednesday events at Athleta in NYC. Join us for monthly events discussing women's health throughout the various stages of life with an incredible lineup of speakers and women's health experts. Hosted by Chantal Traub and co-Hosted by Athleta in NYC, This is a 4-part ticketed event with 100% of proceeds benefiting Global Women's Health Initiative. All events will take place in person at 126 5th Ave, NYC. A waitlist is available to receive access to the recording once it becomes available.
***PLEASE NOTE, DUE TO THE ONGOING COVID-19 PANDEMIC, THIS EVENT WILL NOW BE OFFERED ONLINE ONLY.***
GWHI is a non-profit organization dedicated to engaging, educating, and empowering women around the world through physical therapy services. To learn more about GWHI and our current initiatives both locally and globally, check out our website at www.gwhi.org.
Ticket sales for each event will open two weeks prior. An early bird discount of $10 is available for individuals who pre-register for the event. Registration will remain open until all tickets sell out. If tickets sell out, a waitlist is available in case a spot opens up and you would like to attend. Access to video recording is $25.
To purchase access to the recording, click the link here: https://chantaltraub.thinkific.com/courses/menopause-journey
Topics (select Wednesdays March - June, 5:30P M -7:30 PM ET):
March 23 - Fertility and pelvic pain relief for people with endometriosis.
April 13 - Mental & Pelvic Health from pregnancy to Motherhood and beyond
May 11 - Postpartum, Peri, and Post Menopause Journey
June 22 - Happiness and Bone Health
Guest Speakers:
March 23: Jessica Drummond, Tayyaba Ahmed, Dr. Fahimeh Sasan & Chantal Traub
April 13: Dr. Catherine Birndorf, Amy Stein & Chantal Traub
May 11: Susan Clinton & Chantal Traub
June 22: Margie Bissinger & Chantal Traub
If you are unable to attend live and would like access to the recording, please purchase a free ticket to be added to the waitlist. Once the recording becomes available, we will reach out with more information on how you can donate and access it.
***These events will be recorded. All participants must read and acknowledge our event waiver before attending. Events are subject to change to a virtual platform pending the ongoing COVID-19 pandemic.***

Event Waiver
EVENT WAIVER - All participants must read and acknowledge the event waiver before purchasing tickets. By completing your order, you recognize that you have read and agreed to the event waiver below.
Welcome to Chantal Traub Women's Health Event Your safety and comfort is of the utmost importance to me. I request that you participate in only those activities that you are physically, mentally, emotionally, and spiritually able to do, and that you notify me of any restrictions you may have regarding any of the Activities, and I will do my best to accommodate them. Please read the following information carefully and let me know if you have any questions before signing and returning it to me.
Release and Waiver
I voluntarily desire to participate in the Chantal Traub Women's Health Event ("Event") organized by Chantal Traub (the "Facilitator"). In exchange for participation in the Event and/or use of the property, facilities, and services provided during the Event, I agree to the following:
1. Voluntary Participation & Assumption of Risk. I take full and sole responsibility for my life and well-being and all decisions made before, during and after the Event. I acknowledge that I am choosing to participate voluntarily in the activities at the Event ("Activities") and I recognize that these Activities, while planned with care and love, may contain certain inherent risks. I agree that I expressly assume the risks of the Event and all Activities in which I participate. I am also aware that if there is any Activity that I am not comfortable participating in, that I may voluntarily decline to participate if I wish.
2. Rules and Warnings. I agree to observe and obey all posted and announced rules and warnings, and further agree to follow any instructions or directions given by the Facilitator, or his/her employees and agents.
3. Not a Substitute for Medical Advice. I understand that the information provided at or in conjunction with the Activities and Event is not intended to be a substitute for professional medical advice, diagnosis or treatment that can be provided by my own physician, therapist, licensed dietitian or nutritionist, or any other licensed or registered mental or physical health care professional. I understand that the Facilitator and his/her employees, representatives and agents are not acting in any capacity as a medical or mental health care provider and they are not giving medical or psychological advice. I understand that they are not providing health care, medical or nutrition therapy services or attempting to diagnose, treat or cure in any manner whatsoever any disease, condition or other physical or mental ailment of the human body during the course of the Event. Rather, they are serving in their capacities as facilitators, coaches, mentors and guides to provide me with education, information, and tools to assist me in my own self-care and healthy living.
4. Seek Medical Advice. I agree to seek the advice of my physician regarding any questions or concerns I have about my specific health situation, including but not limited to possible or actual pregnancy, known or suspected food sensitivities or allergies, dietary restrictions, or any medications I am currently taking. I understand that I am advised to speak with my own physician or mental health provider before implementing any Activities that I learn at the Event. I agree to not disregard or delay seeking professional medical advice or stop taking any medications without speaking to my own physician or mental health care provider.
5. Imminent Harm. At any time before or during the Event, should I know or fear that I may cause imminent harm to myself, other participants, the Facilitator, or any other person, I understand and agree that I am immediately obligated to let the Facilitator know, and to remove myself from the situation in a peaceful and cooperative manner; otherwise, I consent that I may be asked to not attend the Event, leave the Event, and/or have immediate physical or mental health care administered to avoid causing mental or physical harm to myself or others.
6. Intellectual Property Rights. I understand that the Facilitator retains all ownership and intellectual property rights to the Activities and Event content and materials provided to me at or through the Event, including all copyrights and any trademarks belonging to the Facilitator. I understand and agree that the Activities and Event content and materials are being provided to me for my individual use only and with a single-user license which means that I am not allowed or authorized to share, copy, sell, post, distribute, reproduce, duplicate, trade, resell, exploit, or otherwise disseminate any portion of the Activities and Event content or materials, electronically or otherwise, for business or commercial use, or in any other way that earns me money, without the prior written permission of the Facilitator.
7. Media Release. I understand that by participating in the Event, I consenting to photographs, videos, and/or audio recordings that may be made that may contain my image, voice and/or likeness for current and future use, with no compensation to me. Please note that these postings and recordings may or will be shared with potential clients or other clients, in our marketing materials, website, social media or in other promotion or sales for the Facilitator's business use.
8. Limitation of Liability. I waive and release the Facilitator from any and all liability, damages, causes of action, allegations, suits, sums of money, claims and demands whatsoever, in law or equity, which I have ever had, now have or may have in the future against the Facilitator, arising from my past or future participation in, or otherwise with respect to, anything related to and including the Activities and Event, including any transportation to, from and during the Event, unless arising from the gross negligence of the Facilitator.
9. Release of Claims. In no event will the Facilitators be liable to me or to any person for any direct, indirect, special, incidental or consequential damages for any use of, non-use, or reliance on this Event or Activity, its information, programs and/or services, including, without limitation, personal injuries, accidents, misapplication of information, or any other loss, malady, disease, difficulty, injury, or otherwise, even if I am advised of the possibility of such damages, difficulties, or injuries, whether caused by the fault of myself, the Facilitator, other attendees or other third parties. I agree to pay for all damages to the facilities caused by any negligent, reckless, or willful action that I may take.
I have carefully read this document and by signing below I consent to all parts of it. I understand
https://www.chantaltraub.com/