Description
WOMEN'S WELLNESS RETREAT AT ISLANDWOOD, MARCH 22-25, 2018

Renew your vitality and cultivate personal wellness on IslandWood's stunning campus with 4-day, 3-night Women's Wellness Retreat. Focused on the themes of vitality and integrated wellness, local instructors will incorporate nutrition, yoga, meditation, and creative reflection to support your cultivation of a healthier more vibrant You, just in time for spring! Whether you are seeking to create new routines, or just want to take a moment to reconnect to yourself, the Women's Wellness Retreat at IslandWood is a perfect way to escape your busy life and join other like-minded women in this endeavor.
A complete agenda and list of instructors can be found here.
A special thank you to our coordinating Co-Chairs, Gaerda Zeiler & Leigh Stevens
ACCOMMODATIONS AT ISLANDWOOD
Lodging at IslandWood includes comfortable, Northwest-style lodges. The lodge guest rooms are a combination of double occupancy rooms as well as bunk rooms that can accommodate up to 6 guests. All guest rooms have a private bathroom. Our lodges boast a spacious log-beam great room complete with rustic artisan furniture, stone fireplaces and cozy seating areas. In addition, lodges feature a guest closet with laundry facilities and a small refrigerator.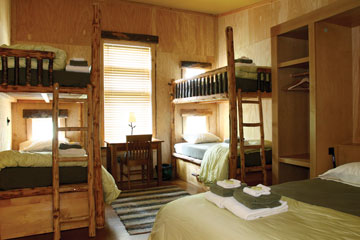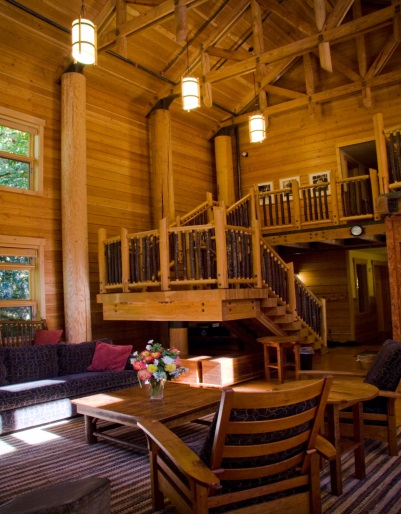 INTERNET & CELL PHONE SERVICE

Free wireless internet is available throughout our campus in our main spaces including our Dining Hall and lodges. No password is needed. Cell phone reception can be spotty. Cell users with AT&T will not have cell service on campus.

SUGGESTED PACKING LIST
Comfortable walking shoes
Layered clothing for indoors and outdoors including a hooded coat
Umbrella
Flashlight
Insect repellent
Hair dryer
Luggage that can be rolled easily or carried backpack-style

Toiletries, including shampoo and conditioner
Yoga Mat
Water bottle
FOOD & BEVERAGE
The meals provided during the retreat will reflect IslandWood's philosophy on healthy, sustainable dining that accommodates sharing meals in community and individual needs. All dietary restrictions and allergies will be accommodated, and meals will be shared family-style in IslandWood's Dining Hall. IslandWood provides all food and beverage and does not allow outside food and beverage to be self-catered in dining or other public areas. Please note IslandWood does not have an on-site cash restaurant and operates as a banquet facility with pre-scheduled group meals.

ABOUT ISLANDWOOD

IslandWood was founded in 1999 as an environmental learning center created to improve access to meaningful, nature-based learning experiences for our region's children. In the nearly two decades since, we have expanded the ways our work is advancing innovative and inclusive education that fosters greater environmental health, a sustainable future, and social and ecological wellbeing for all.

Our place-based, experiential learning programs offered on our 250-acre campus on Bainbridge Island, in Seattle neighborhoods, and at the King County Brightwater Center serve more than 10,000 students every year. We have deepened our impact by co-developing science curriculum for Seattle Public Schools, providing teacher training in Next Generation Science Standards, offering two innovative Master's level graduate programs in education, through policy engagement and authentic community partnerships, and with our Nature Passport app.
We are also a resource and gathering space for community-building and education, offering summer day camps; free and low-cost community programs; and conferences and retreat services for nonprofits and corporations.

IslandWood is a registered 501c3 charitable organization and all proceeds from this event support the organization's mission.

OUR CAMPUS

IslandWood is located on 255 acres that include a pond, bog, and marsh, as well as many field structures (tree house, suspension bridge, canopy tower, and bird blind). Most of our trails are ADA accessible, some include inclines that require moderate physical ability. The trails outside our main campus are open during daylight hours with the exception of periods of high winds when these trails are closed for your safety.
CANCELLATION POLICIES

If you cancel more than 30 days prior to the event, you will receive a full refund minus a $40 administrative fee. Cancellations less than 30 days prior to the event will be charged the full event fee with no refund. Due to a limited capacity for this retreat, the cancellation policy and fees are non-negotiable.
FEES
For each Room Reservation through EventBrite, the buyer is charged an additional fee that covers our credit card and processing charges. Thank you for helping us direct even more support toward IslandWood's educational programs.
QUESTIONS?
Call IslandWood's front desk at 206-855-4300 or email specialevents@islandwood.org

For more information about IslandWood please visit our website at www.islandwood.org
---