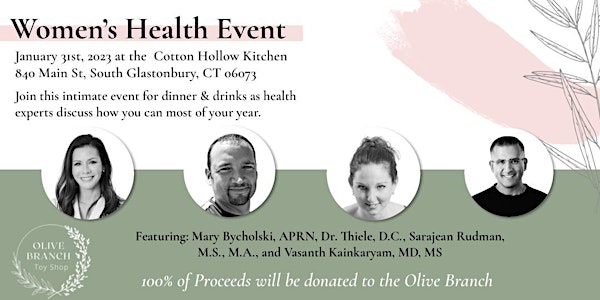 Women's Wellness Event 2023
Start 2023 off right with a night focused on wellness -body and soul
When and where
Location
Cotton Hollow 840 Main Street South Glastonbury, CT 06073
About this event
It's no secret that the world changed forever a few short years ago with horrific introduction of the Covid-19 virus. A national pandemic changed the lives of almost everyone in the world at that time. The impact and aftermath of this devastating time for us, all left so many of us with residual effects such as depression, anxiety, panic attacks and a plethora of negativity in a time when we all so desperately needed to see light at the end of the tunnel.
Mary Bycholski, a Nurse Practitioner & owner of Touch of Glamour Medical Spa in Glastonbury CT not only worked in the hospital setting taking care of at the bedside Covid-19 patients but, also saw another perspective from the patient/family side of things within her private practice doing medical aesthetics. She first hand experienced as a medical provider what the virus was doing physically and mentally to those patient's and families in the hospital setting and, she also personally experienced her Grandmother being among the first round of those affected in 2020 at the age of 99 years old. Watching how sickness, fear and devastation affected her in her own life, she decided to devote herself 100% to her private practice of aesthetics and focused her own mental health as well as continuing to bring people positivity and a smile when they would come to see her as a client.
What she realized, was that the extent of the mental health toll it took on everyone (in their own way) who were scarred from those experiences of not only loss of life but, also their livelihood and positivity. She heard from patients and clients of her practice things in their lives following the pandemic, which added insult to injury. Such things as loss of children by their parents, unfortunate drug overdoses, devastating divorces, panic disorders that were at all time high and more severe than before, new and recurring diagnoses of cancer and more.
Mary is determined to bring some positivity and mental health wellness back to our day to day lives and shift the focus back to taking care of ourselves from the inside out. This is why our collaboration welcomes this first Women's Wellness Event for 2023!
This night is dedicated to help uplift and support one another that have been affected by Covid-19 by any degree and to let people know that there are resources within our community that we all can turn to.
Our speakers are local to Glastonbury and they are here to educate and encourage our guests of the evening on ways to best take care of themselves when it comes to our health and wellness.
Hosted at the Cotton Hollow Kitchen, each guest will have a choice of an entree and a beverage from the selected menu for the evening.
A portion of the ticket and silent auction proceeds will be donated to the Olive Branch Foundation. The Olive Branch is a community space which extends goodwill to children and teens, as well as families who are receiving support from the Department of Children and Families.
Please join us this night with some of the finest food from our local Cotton Hollow Kitchen restaurant in Glastonbury and learn about how we can get ourselves back on track, centered and have a positive path to dealing with stress and the ongoing impacts it may have.
If you or a business that you know is looking to participate in our silent auction or donate to the Olive Branch please reach out to me - admin@touchofglamourct.com