Women's Wednesday featuring READ USA Co-Founder & President Ellen Wiss and Board Member & Assistant Chief of Police Lakesha Burton.
About this event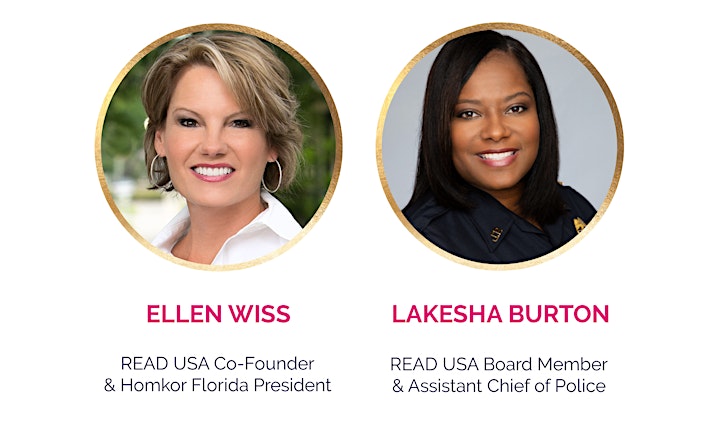 Women's Wednesday is BACK!
Join us live for an evening of Cocktails, Connections & Inspiration celebrating women who have gone above and beyond in the service of community!
The event will explore what it means to "Live on Purpose" and how both community and acts of service can elevate our lives.
Our truly inspiring featured speakers are READ USA Co-Founder & President Ellen Wiss and READ USA Board Member & Assistant Chief of Police Lakesha Burton.
We'll also celebrate local community service leaders, medical personnel and first responders!
About Ellen Wiss
In addition to being the co-founder of READ USA, Ellen is the President of Homkor Florida, a real estate investment company.
She has led several nonprofit efforts in the areas of education and social justice. She currently serves as Founder/Board Chair of READ USA, Inc., and serves the boards of City Year, Jacksonville Public Education Fund, Teach For America, Hubbard House Foundation, World Affairs Council, serves the Steering Committees for Beaches Community Fund, Jacksonville Women's Leadership Initiative, Mayor's Youth at Work Partnership, the Kids Hope Alliance Literacy Task Force, President Emeritus of the Women's Giving Alliance, and as a trustee member of Jacksonville Chamber of Commerce.
She is a leader for Lift Jax (formerly #nopovertyjax), an all sector movement aligned with global, national and state 2030 agendas around the common agenda for eradicating poverty in all of its forms. Ellen collaborates with other nonprofits working to improve literacy, education and health opportunities for low-income youth and families, women and girls. Ellen, is married to husband Jim and has three children.
About Lakesha Burton
An extraordinary leader, Assistant Chief Lakesha Burton is a 20+ year veteran of the Jacksonville Sheriff's Office (JSO) and a READ USA Board Member.
As the 1st Female Executive Director of the Police Athletic League of Jacksonville (PAL), Lakesha came full circle, having attended PAL at age 15, a troubled teen mom with her one-year-old by her side. Playing basketball at PAL was her catalyst to receiving a full college basketball scholarship from the University of Central Florida, where she graduated with a bachelor's degree in Criminology, later earning her Master's in Criminology from Florida Metropolitan University.
She likes to say that her courage comes from her deep faith in God; her conviction is reflected in her determination to consistently do the next right thing; and her character has been built by a lifetime of facing insurmountable challenges and overcoming them.
Lakesha has served in nearly every aspect of police work during her career. She now serves as the 4th African American female police Assistant Chief in over 190 years of law enforcement in Duval County. Having served as Assistant Chief of the Community Engagement Section of JSO for two years, she now serves as a zone commander in the Division of Patrol and Enforcement.
Beyond the badge, Lakesha Burton is widely known for audaciously sharing her life's story of resilience, tenacity and determination, with the purpose of empowering other girls and women with hope for the future. Her heart is in helping others in need, especially children, which is the basis for establishing "Tesha's Hands," a 501 c(3) nonprofit that she created in memory of her twin sister. Lakesha has used her powerful voice to advocate for good on local, national and international platforms, having been a Leading Lady Honoree on the Harry Connick Jr. TV Show, HARRY, a nominee for the Jacksonville Image Awards, a Lifetime Achievement Awardee – Resolution 2017-363-A from the City of Jacksonville, and a Citizen Diplomat of the year – Global Jax. She has received the Officer of HOPE Award from American Civility Association, Victim's Advocate of the Year, served as Grand Marshal of the Puerto Rican & Hispanic Parade, been a Woman of Distinction – Girl Scouts of Gateway Council, a 2017 EVE Finalist, 2020 Officer of the Quarter from Rotary Club of West Jacksonville, 2020 Spirit of Community Award -Florida Commission on the Status of Women, a 2021 Volunteers in Medicine (VIM) Woman of Heart recipient, and more.
Lakesha's commitment to the community is demonstrated daily by her board membership and volunteer service to organizations such as the Delores Barr Weaver Policy Center Leadership Council, City of Jacksonville Safety & Crime Reduction Committee, Firehouse Subs Public Safety Foundation, Police Athletic League of Jacksonville, Read USA Incorporated, Rethreaded Advisory Board and the American Heart Association First Coast Health Equity Committee.
A Jacksonville native and a lifetime member of Hopewell Church, Lakesha is married to Assistant Chief Gregory Burton (retired), with whom she shares a beautiful blended family of five children and five grandchildren.
About READ USA
The goal of READ USA is to put books in the hands of every low-income child, employ teens as tutor leaders, promote the love of reading, encourage a culture of literacy for lifelong learning, social justice, and to end the cycle of poverty.
READ USA began as a voluntary project created by Ellen Wiss and teacher Vanessa Tussey at George Washington Carver Elementary School. As a tutor in Vanessa's classroom, Ellen witnessed the gains from some of the most struggling students and became hopeful and passionate about expanding the impact for transformational change in one severely impoverished neighborhood.
Asking Vanessa what was needed most, her response was "this school has never had a book fair and kids need books. Parents care about their kids, but they don't have the resources to organize and run a book fair like traditional PTA's in more affluent schools. Even if they could organize the fair, the kids don't have the resources to buy the books. Think about it, when you're faced with keeping a roof over your family or putting food on the table, books don't rank. Our kids don't have books of their own. And, book ownership is key. When kids can read, they can succeed."
Together, they successfully carried the project out with funds they raised from private donors and additional volunteers they recruited from established education organizations, non-profits and several corporate sponsors.
Partnerships with Duval County Public Schools, City Year Jacksonville, Scholastic, Jacksonville Public Education Fund, The Community Foundation for NEFL Teach for America, Seniors on a Mission, corporations, community volunteers and many others make it possible to keep costs low with almost 100% of funds going toward new books.
A new partnership in 2019 with Jacksonville's Kids Hope Alliance allowed READ USA to provide jobs to teens with training, supervision and successful implementation of a research based Peer to Peer tutoring program for positive impact on both the teen tutors and the younger students they lead. Another partner, Jacksonville University, analyzed and verified the reading gains for the 88 teen tutors and the over 300 younger students they led. Expanding the board with committed leaders, and the continued collaboration with many more partners, READ USA is now serving most all of Duval County's highest need elementary schools and many community centers. The vision is to scale the model throughout the country.
Nominate: INSPIRING COMMUNITY SERVANTS
We are proud to partner with Bozard Lincoln Black Label and Flagler Health+ to present a special opportunity to honor
YOU can nominate a member of the local North Florida community to be honored at this event!
Do you know someone who has gone above and beyond for others over the last year? They might be a local leaders, a doctor, nurse or first responders... or they might be your child's teacher or a neighbor who has helped others in need. Nominate them to be honored and receive a free ticket to this event by emailing us directly at info@sheisfiercehq.com.