Description
Come meet fellow women in tech at our 7th Women's Voice in Tech happy hour event!
Thank you ChowNow for being this month's Women's Voices in Tech Networking Happy Hour host.
***scroll down for parking details***

Attend this special Women's Voices in Tech Networking Mixer at the headquarters of ChowNow, a fast-growing technology company on a mission to give restaurants a competitive edge with first class mobile and online ordering technology.


About ChowNow
ChowNow is where the best local restaurants connect with curious eaters. Since 2011, ChowNow has built custom ordering and marketing systems for its 10,000 restaurant customers throughout North America. With the launch of the ChowNow iOS app in 2017, ChowNow put those restaurants directly at the fingertips of consumers looking for their next favorite meal — creating an unparalleled experience for restaurants and the people who love their food.
ChowNow believes that balanced gender representation is vital to their company culture as it empowers diverse ideas, high engagement cross-functionally and drives results. "We still have work to do but we take great pride that our current workforce is 50% female, our leadership team is 60% female and our engineering team is 40% female."


Meet Awesome Women in Tech at ChowNow!



Stephanie Sullivan heads up Client Operations at ChowNow and ensures smooth product onboarding and implementation for restaurant partners. She is passionate about advocating for women and the LGBTQ community in the workplace and hosts ChowNow's annual Women's Empowerment Summit.
Michelle Brenner is a Senior Backend Engineer at ChowNow and has previously worked as both an engineer and a manager for the last 8 years in entertainment technology. In her spare time she works with various organizations with the goal of increasing engagement in tech for historically underrepresented groups.
Emmy Yardley is the Chief Product Officer at ChowNow, leading the Product, Design, and Engineering teams. Emmy is passionate about product development, people management, and organizational design, with a focus on diversity and innovation. She believes that by connecting women to share their stories and unique feelings, insights, and experiences, we can spark innovation.


Who is This Event For?
This mixer will bring together some of the most successful, influential, and inspiring women entrepreneurs, investors, and tech executives in Los Angeles. Expand your professional network!
Enjoy networking in a fun, relaxed atmosphere

Mingle with highly successful women and allies in the entrepreneur, startup, and tech space

Connect with fellow techies that can help you advance your career or business

Meet developers to recruit for projects

Maybe find your next client, employee, business partner or co-founder!


PARKING DETAILS
Address: 12181 Bluff Creek Drive Los Angeles, CA 90094
PAID GARAGE PARKING
From the 405, head west on Jefferson Blvd. Waterfront Dr Turn left on Campus Center Dr. then turn left on Bluff Creek Dr.
Turn right at the Fox sign and enter the parking garage after the roundabout and pull a parking garage ticket.
FREE PARKING
Free parking is available on S. Campus Center Drive and the adjacent street on Waterfront Drive.

ARRIVAL & CHECK-IN
Walk to building 12181 and check in with lobby security.
Take the elevators up to the 2nd floor and ChowNow (Suite 200) will be on the right.
**Please note** Do not turn on Bluff Creek Dr. from Lincoln Blvd, as you'll run into a dead end. It's best to enter from Jefferson Blvd.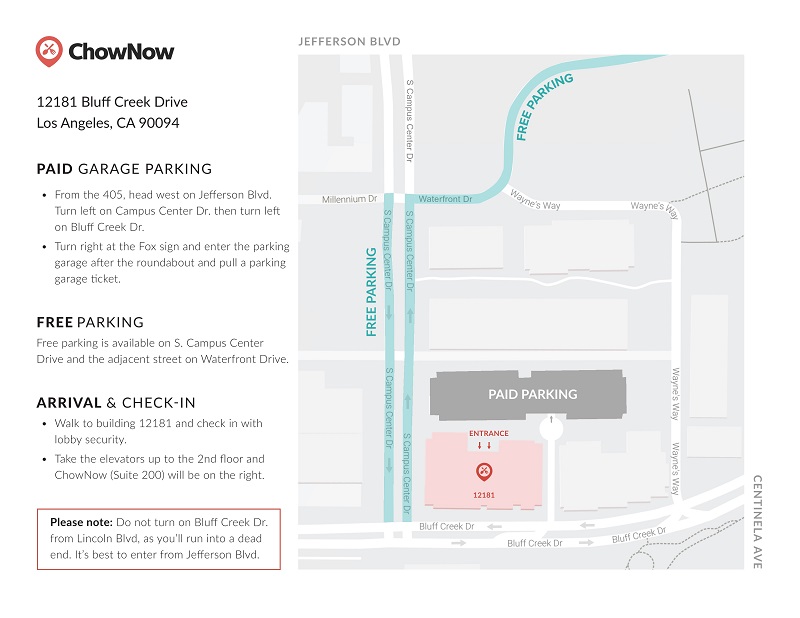 About Women's Voices in Tech
Women's Voices in Tech is a organized by Code District School of Web Development and Repurpose Your Purpose. Our purpose is to help women in the technology field and those aspiring to begin careers in the field, to forge strong, lasting relationships within the community. We're creating unique opportunities & connections to help you grow your business and career.