Description
in collaboration with

Robert Browning Associates

presents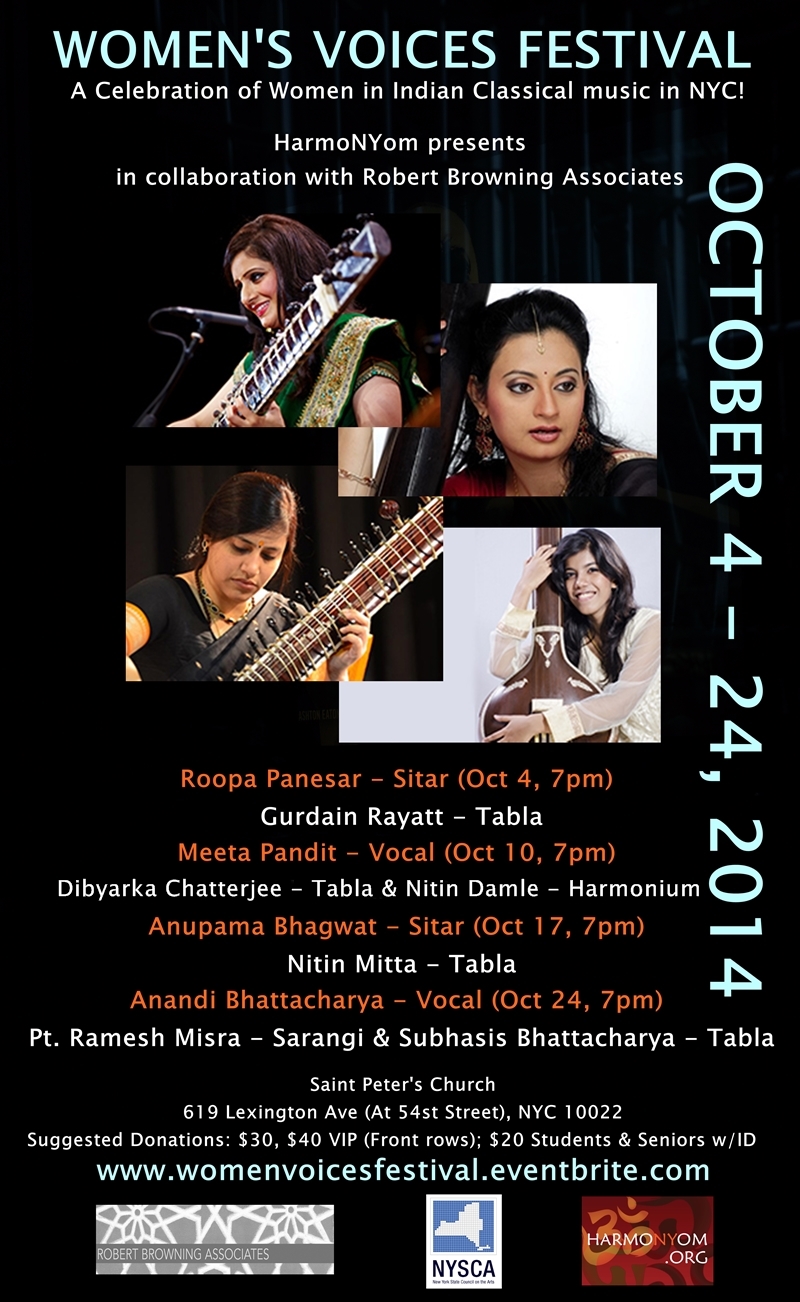 Saint Peter's Church (Doors open at 6:30pm/Light Snacks will be served)
619 Lexington Ave (Entrance on 54th St. between Lex. & 3 Ave)
New York, NY 10022 www.saintpeters.org
Admissions:

$30, $40 VIP (Front rows); $20 Students & Seniors w/ID (Cash only at doors)
www.womenvoicesfestival.eventbrite.com
********************
Women's Voices Festival,
A Celebration of Women in Indian Classical Music
taking place in October at the intimate Saint Peter's Church, is an innovative new series that celebrates the current role of women in classical Indian music - an illuminating art that has been male-dominated for centuries. The music ranges from diverse gharanas (traditions) in Hindustani (North Indian) vocal and sitar music.

+ 7PM pre-concert talk

. Each concert is preceded by a talk with Indian music specialists curated by author

Kavita Das

about the evolution of female artists in Indian music.
Soulful Roopa Panesar (Oct 4) rising young sitar star in the UK's Indian music scene who will be making her New York debut; Accompagnied by Gurdain Rayatt on tabla.
Invited Guest: Yogi Trivedi - Adjunct Professor in the Graduate School of Journalism and a doctoral student in the Department of Religion at Columbia University

Hindustani vocal master Meeta Pandit (Oct 10) who has the distinction of being the first female musician in her famous musical family; Accompanied by Dibyarka Chatterjee - Tabla & Nitin Damle - Harmonium. Invited Guest: Dr. Francesca Cassio - PHD - Sardarni Harbans Kaur Chair in Sikh Musicology, Associate Professor Music Department of Hofstra University
Versatile sitarist Anupama Bhagwat (Oct 17), one of the worldwide leading female instrumentalists in the gayaki (vocal) style; Accompanied by Nitin Mitta on tabla -
Invited Guest: Kiran Alhuwalia, Singer

And the brilliant teenage vocalist Anandi Bhattacharya (Oct 24) daughter of slide guitar maestro Debashish Bhattacharya, who will be making her New York debut.
Accompanied by
Pt. Ramesh Misra on sarangi & Subhasis Bhattacharya on tabla.
Invited Guests:
Pta. Tripti Mukherjee

(Vocalist & disciple of Pandit Jasraj)

& Suphala Patankar
(Tabla musician, disciple of late Ustad Allarakha and Ustad Zakir Hussain).
****************
This series also marks the first collaboration between HarmoNYom, a leading organization that supports and promotes classical Indian music in the metropolitan area, and Robert Browning Associates, the new organization led by Mr. Browning who has been involved in presenting more than 2000 artists in New York since 1976, including over 200 Indian musicians and dancers.
South Asia Institute - Columbia University, WKCR 89.9FM NY, Chandrika Tandon, Gaialights, IAPA, SAWCC, Keshav Das, Taalim School of Music, Sunny Thakkar, Rageshree Music Institute, Chhandayan Center for Indian Music, IAAC, Brooklyn Raga Massive, AID NYC, DooBeeDooBeeDoo, Pandit Jasraj Institute, Desi Talk,
TV Asia, Suphala, ITV, LiveSounds, SAMAA, SAIFF, The Metropolitan Museum of Art

This series is made possible in part with public support provided by the

New York State Council on the Arts

with the support of Governor Andrew Cuomo and the New York State Legislature (www.NYSCA.org)
HarmoNYom is an all-volunteer, emerging non-profit organization, a sponsored project of the New York Foundation for the Arts (www.NYFA.org)
Organizer of "Women's Voices Festival"... A Celebration of Women in Indian Classical Music in NYC! October 4 to 24, 2014
HarmoNYom "A Voice for Indian Classical Music"
HarmoNYom, exploring innovative ways of providing high quality experiences, through Indian Classical Music, as way of engaging, inspiring and challenging communities locally, nationally and internationally. Targeting music lovers of all ages, races and backgrounds!
For all Concerts and Events in New York!
www.HarmoNYom.org