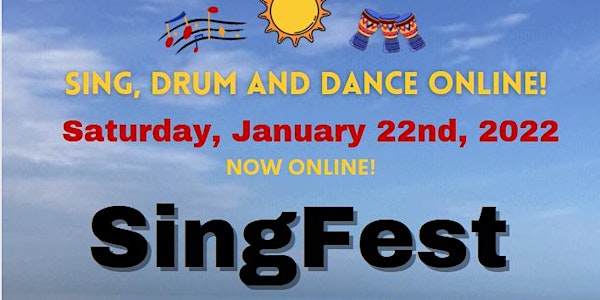 Women's Virtual SingFest 2022 Afternoon Workshops & Evening Concert!
SingFest 2022! January 22, 2022 Join women from all over the country for singing, drumming, dancing & poetry with Guest Facilitators!
About this event
Women's Virtual SingFest, Janunary 22, 2022
Feel free to attend every session or only those sessions that fit your schedule! A detailed schedule will be shared when we are closer to the event!
Saturday: January 22nd, 2022
Workshops 12 PM - 5:10 PM (EST)
Concert: 7:00 PM - 9:15 PM (EST)
A ZOOM LINK for SingFest, 2022 will be emailed to you the DAY BEFORE THE EVENT!
Special Guest Facilitators
Natalie Jackson of KUUMBA
Shelley Graff
Linda Smith Koehler and Rissa Moore
Barbara Gail
Albie Johnson
*Suggested Donation ~ Sliding Scale: $15-$60
A portion of donations will be used for scholarships for SINGFEST 2023!
*No woman turned away due to lack of funds.
Questions? Shelley: singfestfl@gmail.com
Please visit: http://singfestfl.com for additional information