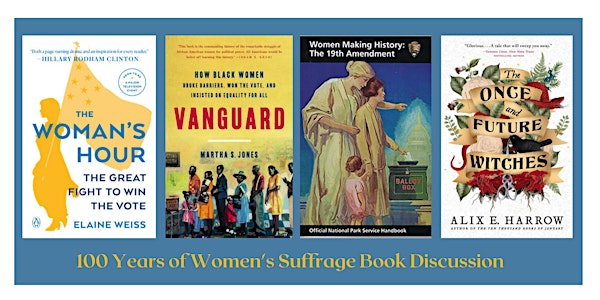 Women's Suffrage Book Discussion September
A special 4-part discussion series facilitated by Emmy Award winner, author, and Penn State Abington professor Dr. Sharon Ann Holt
When and where
Location
Wissahickon Valley Public Library Ambler Branch 209 Race Street Ambler, PA 19002
About this event
This month we will read and discuss selected articles from Women Making History: the 19th amendment. These articles are available to read at https://www.nps.gov/articles/series.htm?id=D908AE3C-A627-E454-A77BA5334A954A83
We will also photocopy these articles so participants can pick them up at either Upper Dublin or Ambler libraries.
Article 2: The Prequel (brings in the question of the white churches and the struggle for "speaking rights" in those organizations before 1848, also includes the 30 year enfranchisement of NJ women of modest property (£ 50) until 1808, and other preparatory struggles.
Article 5: Mormon Women, as one of the first states to fully enfranchise women, Utah deserves a larger place in suffrage history. The issue of polygamy divided suffragists in NWSA and AWSA. Mormon women brought immense organizational and speaking skill, honed in their fight for religious liberty.
Article 7: Matilda Joslyn Gage and the Haudenosaunee. This article (from a book) argues that what Mott and Cady Stanton experienced by their interactions with Iroquois (Haudenosauness) women and men helped them to imagine a world they had NO experience of, in which women had respected public influence.
Article 9: Mabel Ping-Hua Lee, engages with the suffrage movement in 1910s as a young Chinese girl. She does so in part representing progressive forces in China (Sun Yat-Sen's revolution of 1911 is key here) and also as an advocate for liberalization of racist American laws against Chinese immigration and citizenship. This one offers a powerful perspective about the international nature of progressivism, and is also another example of American white women including non-white women but ultimately betraying them by abandoning their cause after 1920.
Article 21: Zitkala-Sa, a highly educated, widely published and powerful advocate for Native citizenship as well as women's suffrage. This article, like the others, links the women suffrage cause to so many other important movements in the US of the time. It includes a look at why Zitkala-Sa's position was controversial within Native communities, but makes the case for her commitment to the dual identity as a Dakota and a US citizen
Article 24: A Centennial Reflection, by Michelle Duster. Michelle is the great-granddaughter of Ida B. Wells, so her article brings us around full circle. Her reflections on how all these different groups contributed to the success of suffrage and the meaning of woman suffrage in our own day will, I think, provide a nice wrap to the historical piece.
May 14: The Woman's Hour by Elaine Weiss
June 18: Vanguard: How Black Women Broke Barriers, Won the Vote, and Insisted on Equality for All by Martha S. Jones
September 10: Articles on Women Making History - the 19th Amendment
October 8: The Once and Future Witches by Alix E. Harrow
About the Series: With 100 years of hindsight, it could seem that ever prohibiting women from voting was simply absurd, an error easily put right. Americans today speak casually of women being "given" the suffrage, but this was no gift. Winning the vote required a fierce, long struggle that women and their allies sustained over generations. It was international, violent, painful, racist, and frustrating.
Suffrage fractured friendships, families, and communities, as it failed and failed and failed. And then, at last, it didn't fail — we succeeded by one vote…just one. In this grant funded series, we will plunge into this thrilling story of tensions and challenges, of endurance and change, of women working together and against each other. Join us on the journey to see how American suffragists rewrote womanhood itself on the journey to universal humanity and citizenship.
Instructor: Dr. Sharon Ann Holt earned a Ph.D in American history in from the University of Pennsylvania. Author of Making Freedom Pay: North Carolina freed people working for themselves, 1865-1900, she has divided her career between academic teaching and public history, serving museums and historical organizations. Since 2014 Holt has taught History and American Studies at Pennsylvania State University's Abington College, where she also directs the public history minor. She recently received an Emmy award for her work as a historical commentator on Philadelphia: The Great Experiment (History Making Productions).