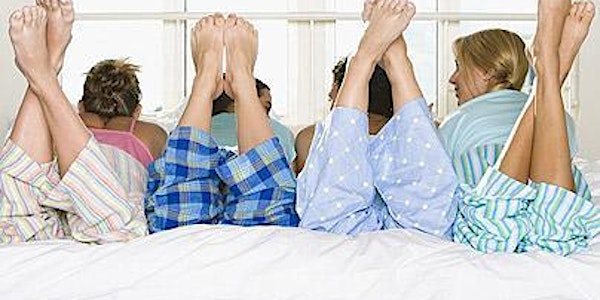 Women's Successful Living Overcome Your Fears PJ Retreat
When and where
Location
815 2nd Ave NW Ruskin, FL 33570
Refund Policy
Refunds up to 30 days before event
Description
Are You Afraid to Make A Change In Your Life?
Are you afraid to make a change in your life?

Are you sitting on the couch and letting life go by?

Do you have a vision set and afraid to take the big step to put it in motion?

Are you tired of going to workshops where you are motivated, but want to learn how to transform?

Are you afraid to put yourself first?

I will never forget when someone asked me those exact questions and my answers were a resounding "YES!"

I felt like I needed to stay on the couch and not make that bold first step to admit my shortfalls, ask for help and go for my vision.

I felt like if I did I would fail and be ashamed of my not achieving my goals. I knew God would have me along the way, but lacked the confidence to take that first step.

I felt that the only way to break free from my circumstances was with massive action, but my next steps were unknown.

I have a feeling that if you have been invited to this page, or you found it on your own, that you might feel the exact same way.

Maybe you are a wife or mother taking care of everyone else and wanting to start taking care of you, but are afraid to take the first step.
Maybe you are in college and unsure of your next step.
Maybe you are afraid to make a career move.
Maybe your afraid to make a change in your relationship.
Maybe your afraid of taking steps to betting your health.

I am not sure of your situation exactly, but all I do know is that the only way to make a difference in your present to get off the couch so you can start Over Coming Your Fears Now!

This is your chance to challenge yourself to truly get off that couch and overcome your fears that are deep with in you. We have some amazing speakers that have personally worked with hundreds (and possibly even thousands) of people many women who once felt stuck and now they are a model of being FEARLESS!

Who is this event for?
Women's Successful Living Overcome Your Fears PJ Retreat is for anyone looking to make a change in their lives.

You can be a college student who is eager to create a more meaningful existence, you can be a stay at home mom who wants to do something impactful with their life, or you can be a corporate executive who yearns for something exciting.

This event is for you to come and be motivated to become fearless to what is deep within your heart and start taking action. Our speakers will inspire you to get off the couch, embrace the suck and be fearless in achieving your vision for yourself.


FAQs

How do I buy my ticket:

Click on this link here: https://wslpjretreat2018.eventbrite.com/

How many women will be attending?

We are keeping this to only 20 guests so grab your ticket today!

Are there any discounts:

Yes:
Tribe Member Early Bird: $297 Code will be emailed to you.
Early Bird: $322

How Do I become a tribe member?
Click this link and choose the WSL Tribe Member Only. Once you become a member you will receive a discount code.

https://wslpjretreat2018.eventbrite.com/

What does the price of the weekend include?
Your, ticket includes roomming in a rustic atmosphere with other ladies attending. You may be sharing a room/bed with other women attendees so if that is not comfortable bring your friend, sister or mom to share. Check in will be at 5 pm on 4/6 and check out will be 1pm on 4/8, all meals, entrance to the retreat events, break out sessions and so much more are included in your price.

Are there ID or minimum age and gender requirements to enter the event?

Min age required is 16 years and only women will be attending.

What can I bring into the event?

Favorite PJ's or yoga outfit. Pillow for PJ Party Saturday Evening.

Can I invite a friend?

Yes, the attendee that has the most paid attendees will receive their weekend free!