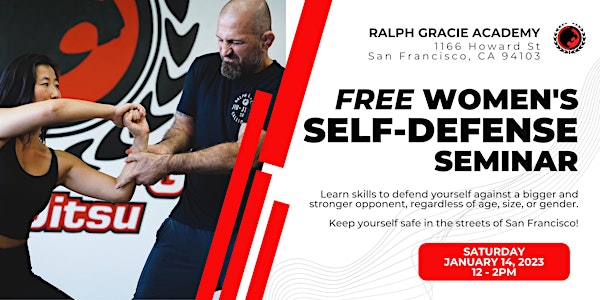 Women's Self-Defense Seminar (FREE)
IN-PERSON Women's self-defense seminar. Keep yourself safe in the streets of San Francisco!
When and where
Location
Ralph Gracie Academy, SF HQ 1166 Howard Street San Francisco, CA 94103
About this event
FREE 2 hour Women's Self-Defense Seminar at Ralph Gracie Academy
This is a free seminar covering an overview of self-defense techniques for the street and in real life for women of any age or background taught by Master Ralph Gracie and Ralph Gracie San Francisco HQ instructors. Come join us in community to learn fundamental skills to protect and empower yourself and loved ones. Please bring your friends, sisters, mothers, wives, daughters . . . etc.
Save your spot and make sure you sign up for yourself. Share this event to your loved ones so they may sign up as well for this rare seminar from top teachers.
* No experience necessary, open to everyone of all ages
_____________________________________________
Women's 2 Month (8 weeks) Self-Defense Program :
* January 24, 2023 to March 16, 2023 - Tuesdays + Thursdays 6:15pm to 7:30pm *
If you would like to expand and deepen your skills in self-defense, we will offer a two-month program to start January 24th. This will be a one of a kind two month Women's Self-Defense Program for the streets and in real life. You will learn about self-defense psychology, awareness, de-escalation, distance management, standing and ground mixed martial art techniques from a pioneer world class MMA fighter himself, Master Ralph Gracie and team. In this program, you will connect with fellow women, make friendships, get in shape, learn self-defense, have fun, and empower yourself in a safe training environment.
*Email: info@ralphgracie.com for questions and registrations about the program.
A seperate link will be sent for the two month program when registration opens.
(Photo and video credit: Calder Powers)