Women's Sacred Circle Retreat 2015 in Yelapa, MX with Linda Wolf, Heather Wolf and Kellie Shannon Elliott
When and where
Location
El Jardin Eco Retreat - yelapagardenretreat.com Yelapa Mexico El Jardin Yelapa, Jalisco (near Puerto Vallarta), Mexico 00000 Mexico
Refund Policy
Contact the organizer to request a refund.
Description
Daughters Sisters Project Presents:
Women's Circle Retreat
in Yelapa Mexico
with Linda Wolf, founder of Daughters Sisters Project
Kellie Shannon Elliott, 5Rhythms certified teacher
Heather Wolf, chakra energy healing & medicinal brews

9 Days/8 Nights Eco Lodging at El JardinEco Retreat
(http://yelapagardenretreat.com)
"Being part of the Yelapa women's retreat is an immense gift to ourselves and everyone in our lives. To have the spaciousness of being alone as a group in our own private retreat space home for 9 days where we circle together to explore ourselves and support each other; to experience being in harmony with nature; to let lose, laugh, unwind, and unlock from the stress and structure of our daily lives, and to have the space to heal our hearts and renew our spirits -- to dance, swim, sing, chant, vibrate with the rhythm of the waves and nourish ourselves from the inside out -- well what more could anyone really want?" 2014 participant.
At our retreat, here is what you will receive:

W

hole-foods meals, prepared by our on-site chef, Eric Kuhner

(vegan, gluten free options available)
Women's Circle, facilitated by Linda Wolf


5Rhythms movement dancing

Off the charts music (live and amplified)


Chakra Chanting & Meditation

Insight into medicinal herbal brews

Photographic opportunities

Cultural immersion

Wild Adventures


A day trip to the Marietta Islands- the uninhabited wildlife refuge, snorkling and swimming beach, home of the Blue-Footed Boobie Birds, with a fresh ceviche lunch prepared by our boatman Severino

A day trip with a short hike to swim in an insolated jungle waterfall, drink fresh coconut milk, sip moonshine, and on the way home stop for

a feast with a Mexican family (fresh caught fish, handmade corn tortillas, homemade guacamole & salsa, and flan)

Evening story-telling, singing, music, and laughter.

Bodywork, rest, swimming, snorkeling, hiking

Time off from cell phones, ipads, computers.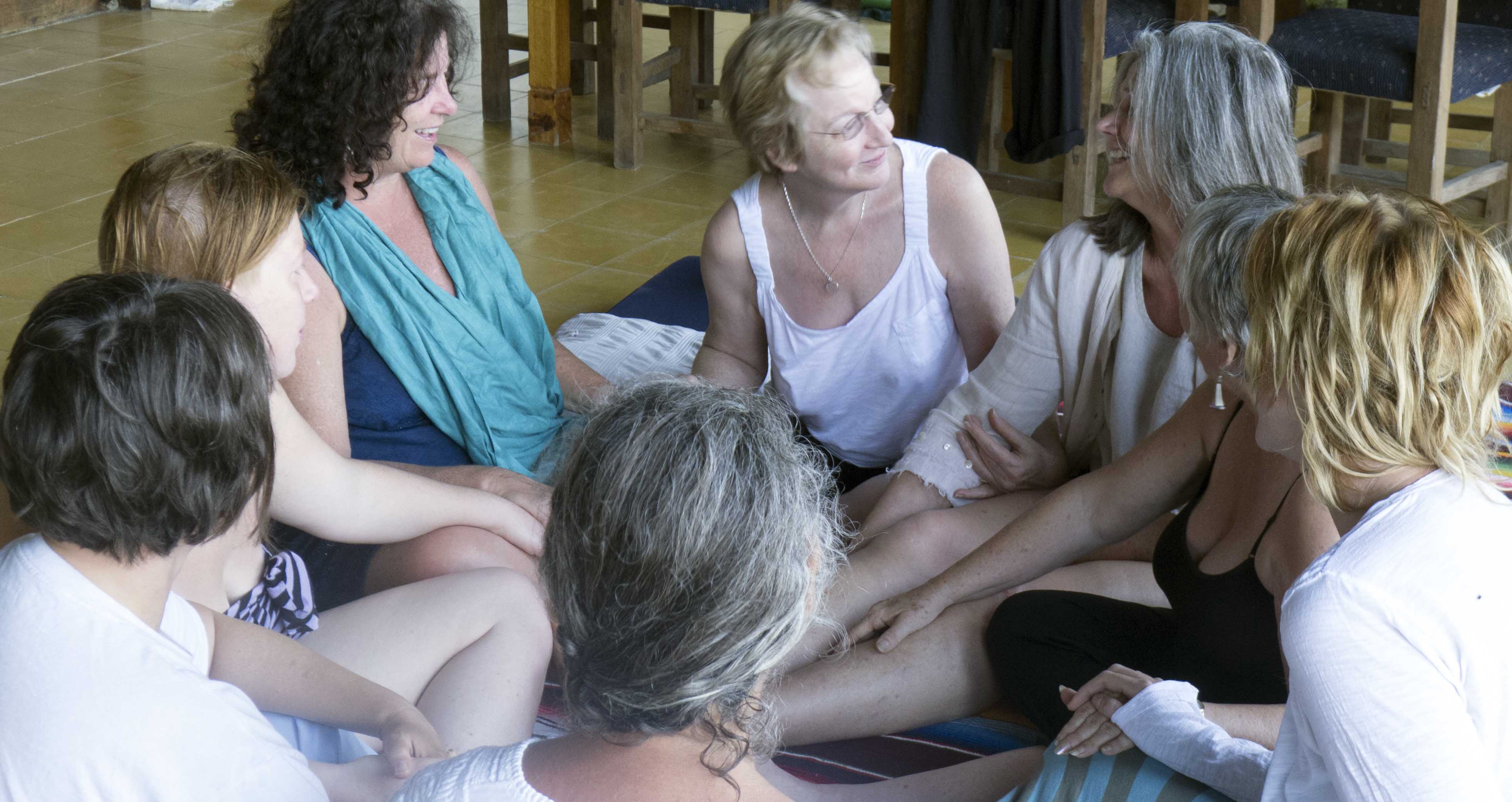 Women's Circle: Shared brilliance - Each person brings to circle their gifts, grief, inspiration and kindness and support. Circles of women are powerful, transformational and healing. They can help us liberate ourselves, break our stories apart and reweave them. In circle we offer ourselves the beauty of truth telling, without fear of judgment, betrayal, or rejection. Listening Circles slow us down, bond us in an intimacy and trust that affects us deeply. We are fully present with each other and ourselves, just as we are. More than good enough. In the silence of our tuth, insights and inner wisdom blossoms. In this field of loving kindness for ourselves and each other, we realize our power to perceive our reality, see the gifts in ourselves and our lives, and confirm that we can manifest the possibilities that abound for each of us. Women's Circle is ancient healing community. We tap into that field together.
Compassionate Listening™ Compassionate Listening is the basis of our listening skill in circle. It fosters a sense of openness, spaceousness for each other and ourselves, allowing us to listen deeply and resonate a fullness by holding multiple perspectives with respect. This inner peace building skill is desperately needed in the world. It gives us the capacity to create thriving relationships, lifts our vibration, causing our spirits to become magnetic.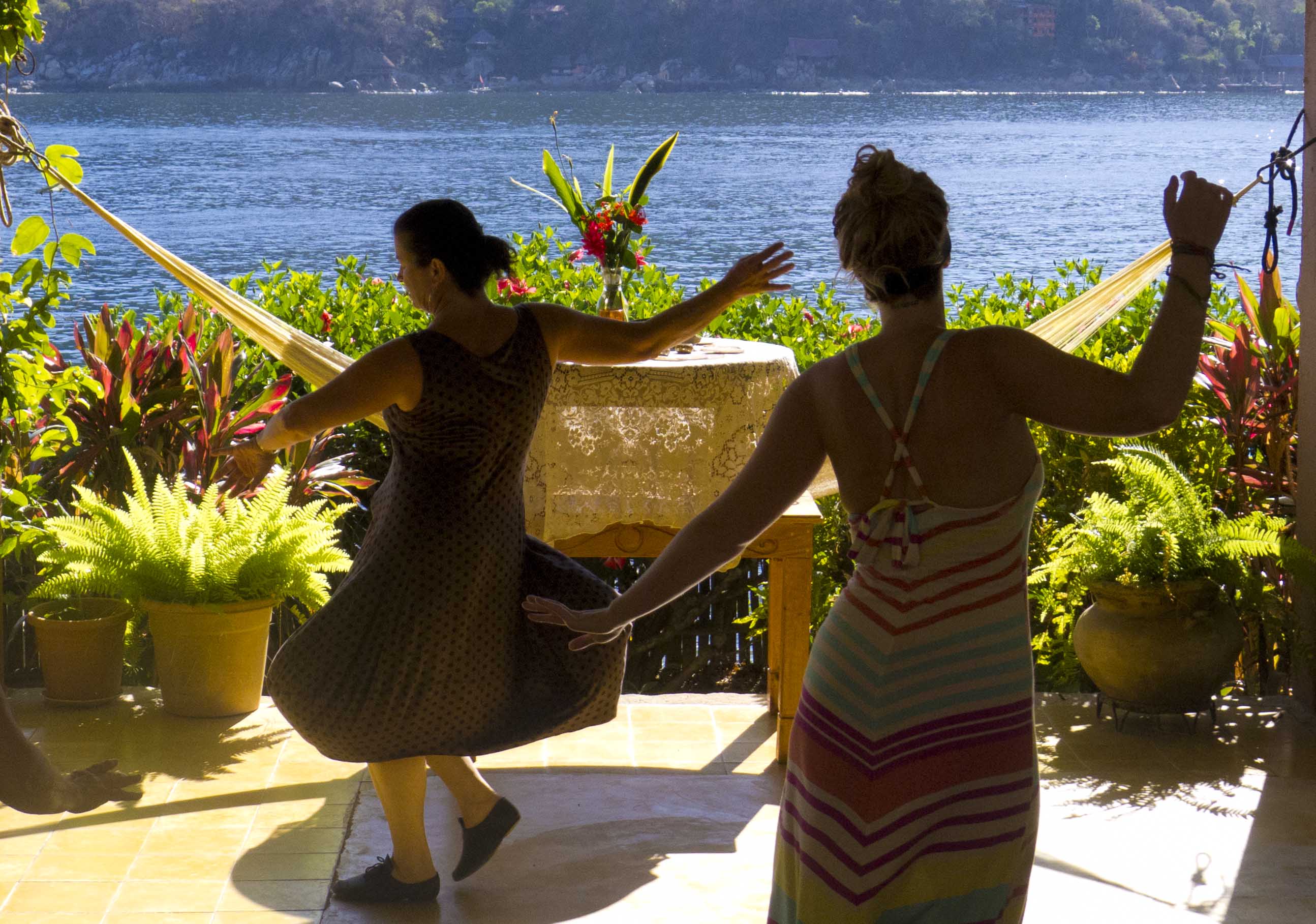 5Rhythms: Check out where we dance. Right at the water's edge. Kellie Shannon Elliott is a mistress magic maker. Her leadership is extraordinary. She studied 5Rhythms from Gabrielle herself and takes us on a morning journey, opening our day to the rhythm of Yelapa and shaking down our inhibitions. 5Rhythms wakes us up - moves the energy - is a healing self-directed movement practice, devised by the late Gabrielle Roth. It draws from indigenous and world traditions, Gestalt therapy, the human potential movement, and transpersonal psychology. 5Rhythms is a soul journey. We move our bodies to the muse, the music that turns us on, releasing our minds, fireing up our hearts and freeing our spirits. We connect to the essence of the soul, the source of inspiration in which an individual has unlimited possibility and potential.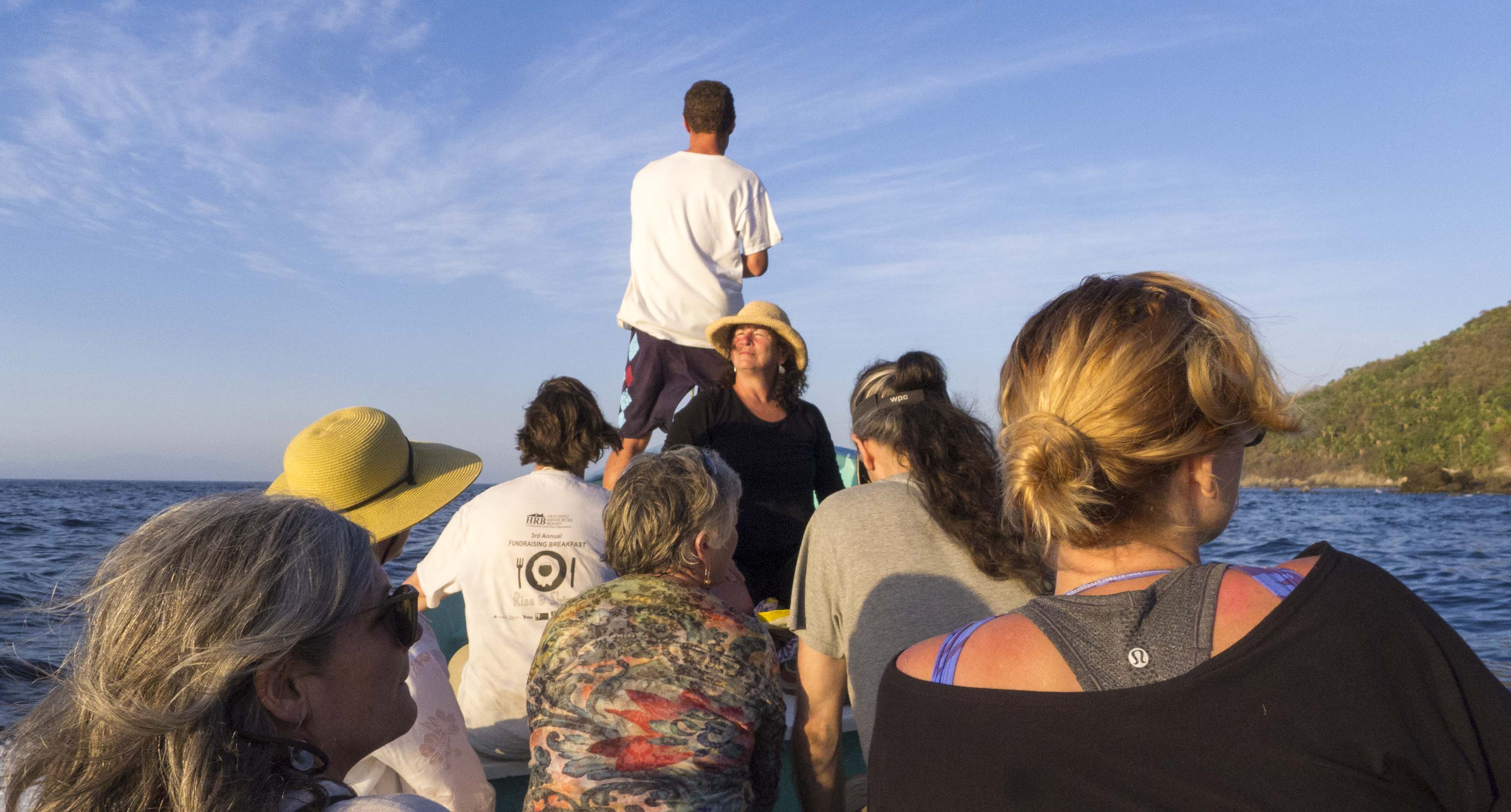 Day-trip to Pizota: Where? Huh? Pizota is where Mateo joins us and takes us on a wild and wonderful trip into the jungle. We hand him our bags walk freely through the river and trails marvelling at nature.
We'll visit the neighboring village of Pizota, which is an even smaller fishing village (only 26 families) just around the southern point of Yelapa, 10 minutes by boat. There we'll be treated to a delicious lunch, but only after a most enjoyable hike on a trail in the jungle, where we can swim naked (or not!) in a secluded waterfall.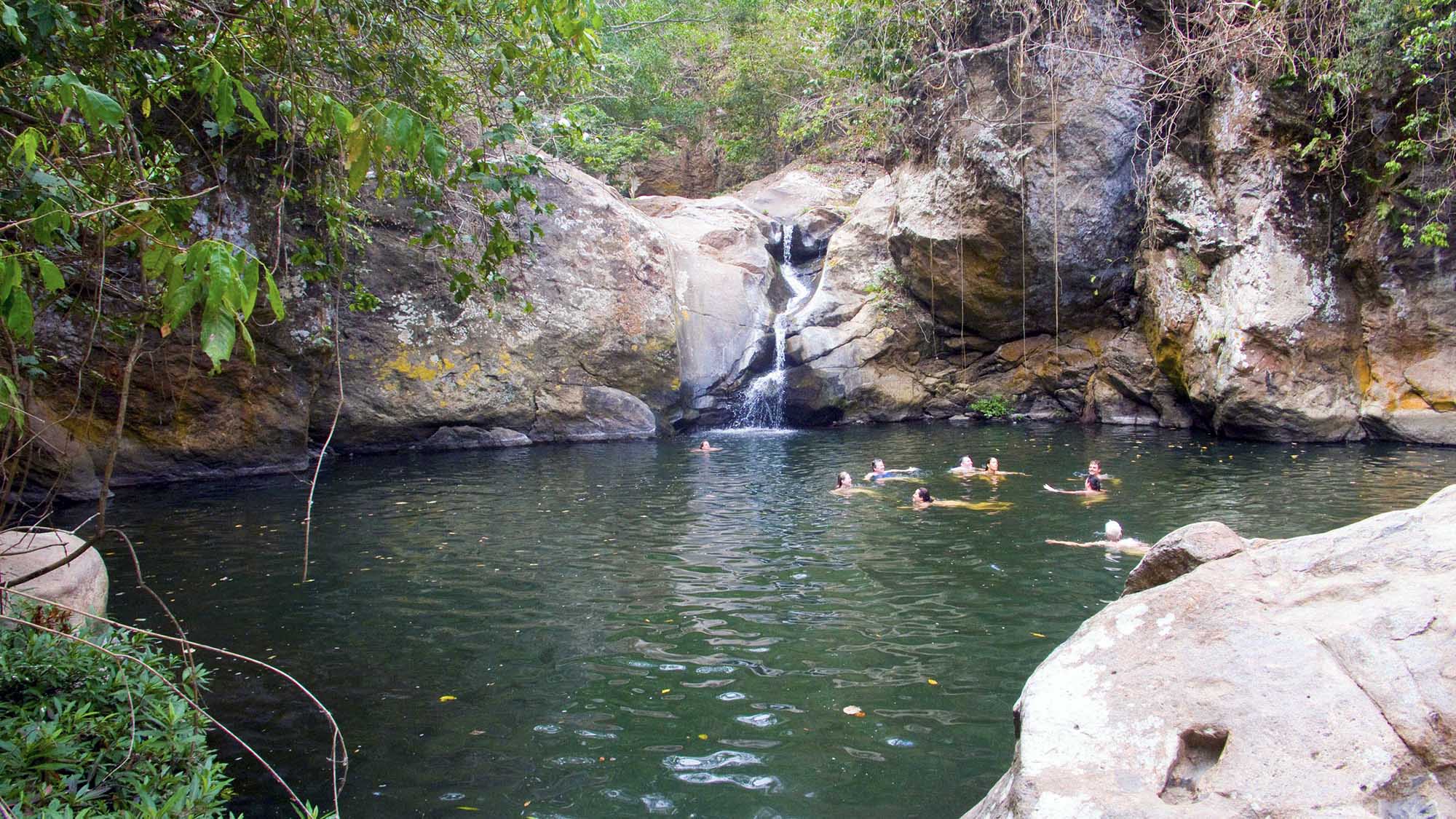 The secret waterfall: Naked or not, this is it! A day to remember yourself as a child, free, unencombered, alive, vital, laughing and enjoying life in all it's beauty. Mateo guides us here, brings us fresh fruit and libations fit for the Goddess and merriment reigns. The water feels like silk on skin. Emoto would find this water crystalizes into shapes that glorify nature, I'm sure. Because, rarely do we get an opportunity to be in truly clean water that has no villages up river to pollute it. The secret waterfall is a true paradise. This day replenishes our souls. Please, divineness, don't ever let Hollywood discover this!

Day-trip to the Marietta Islands: (Included in fee)
Give it up - this is the 2nd most amazing adventure during our week. The Mariettta Islands. Our boatman, Seferino will drop us off on one of the uninhabited beaches and later give us a tour of the islands by boat, stopping if possible to let us swim into the womb cave, which must one be listed as one of the world's wonders. The Mariettas are one of the last two nesting grounds of the Blue-Footed Booby. (Bring your waterproof cameras!). Snorkeling at the Mariettas provides one with delight, and swimming there is quite a thrill for those who love the water.
Nourish your body, soul and spirit in Yelapa - Optional Add Ons:
$75 per hour: Massage with Claudia, one of the greatest greatmama massage therapists in the world!

$65 per hour: Acupressure Treatments with Beverly Taylor - the best body work you've ever had and may ever have.

Other delights await you in Yelapa. There are always new people wonders of all sorts.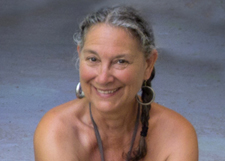 Linda Wolf: Linda is a celebrated photographer; her artwork is collected in museums, galleries and public institutions worldwide. She also is the founder of the Daughters-Sisters Project and Teen Talking Circles, 501c3. She is the co-author of Daughers of the Moon, Sisters of the Sun; Young Women and Mentors on the Transition to Womanhood and, Global Uprising:Confronting the Tyranies of the 21st Century- Stories from a New Generation of Activists and produced I Am A Full Woman, a photo/montage celebrating women world-wide. Linda is a certified Compassionate Listening Facilitator, has participated in many workshops at Esalen Institute and Hollyhock Educational Center, and has over 25 years experience training others in the art of facilitating circle. This is the 9th year she will be leading Women's Circle in Yelapa. (Linda's bio, click here).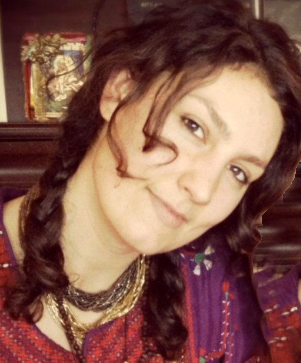 Heather Wolf: Heather leads courses to awaken the body's consciousness & the greater intelligence of the universe within us. Through the system of the cakra centers, she leads practices that enliven & purify our body. As an herbalist & herbal brewess, she teaches on subjects of folk herbalism, herb-lore & herbal brewing traditions.Heather will be leading us in Cakra Awakening practices, to help us ground ourselves to our purpose, directly connect us with our creative source, help us cultivate our inner strength and confidence, trust our intuition, and learn tools to harmonize our internal energy system--to 'give ourself to ourself.' She will be leading us in chanting mantra, meditation, pranayama, visualization, and song.Heather is a multifaceted performance artist who weaves the arts into her teaching. She has studied herbalism for over a decade, influenced heavily by Ayurvedic medicine from her studies in Kerala, India. Heather has studied with leading herbalists from around the United States through The School of Traditional Western Herbalism in Portland, Oregon. In 2012 she co-founded The Wheel Medicine, an herbal medicine & education collective. She currently co-owns and runs Herbal Honey Kombucha, of Iggy's Foods LLC, which offers her delicious herbal formulas in raw & cultured honey elixirs for our health, pleasure & wellbeing.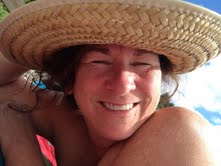 Kellie ShannonElliott: Kellie fell in love with the transformational embodiment practice of the 5Rhythms® in 1999 and has been a devoted and relentless practitioner since that time. She maintains a disciplined local practice, has traveled far and wide, immersed in the global community and studied with teachers from all over the world. Kellie has studied extensively with founder, Gabrielle Roth since 2005, and received her teacher certification from Gabrielle and the Moving Center School in New York. She teaches at the Dayaalu Center on Bainbridge Island and at numerous studios in Puget Sound communities. Her passion for and knowledge of the 5Rhythms® has grown in depth and breadth with each repetition of the maps and she maintains her own continuing education, dropping into communities around the world, to study with senior faculty, to further embody the beauty and wisdom, of being a life long student of the 5Rhythms®. This is Kellie's 3rd year leading at our women's retreats in Yelapa.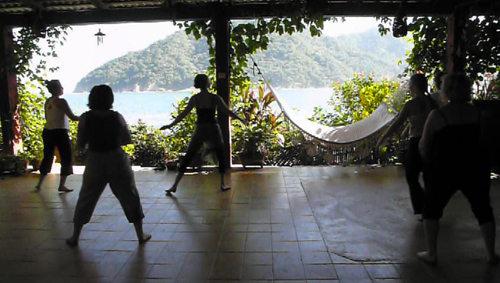 "Why do we dance? We dance to hook up to the true genius lurking behind all the bullshit
— to seek refuge in our originality; to shed the past, forget the future, and fall into the moment feet first."
~
Gabrielle Roth
Yelapa, is a fishing village 45 minutes away from Puerto Vallarta by boat, and was recently named the "Numero Uno place to go before you die" by Sunset magazine. Yelapa has long been a favorite destination for artists, musicians, hippies, backpackers, beatniks, and other counter-culture folks who were drawn by the "back to nature" reality of no electricity, no cars, no streets, no roads, and the easy-going attitude towards all things free. Now, Yelapa has electricity (most of the time!), but there is still the same free-flowing feeling and no cars, no streets, no roads, plus an indigenous Mexican culture where you can still find adobe tortilla stoves, and a natural environment with bio-diversity second only to the Amazon Rainforest.
Lodging at El Jardin Eco Retreat: For this retreat, we have rented all the rooms at El Jardin, so we'll have plenty of privacy and comfort in our own nest. El Jardin is located on "The Point," just off Isabel's Beach. The living room, dining room, kitchen, and dance space are one large space, open-air, right at the edge of the Bay. Just beautiful. The Palapa called Casa Banana is a hostel style sleeping quarter, with 3 comfy, cozy beds (all have mosquito nets) downstairs and 2 upstairs. The bathroom close by has a composting toilet, shower and window looking out to sea. There is a single occupancy room, The beautiful Eagles Nest, overlooking the water, with shared bathroom. Everything is provided for you including towels, linens, pillows, and fresh drinking water. El Jardin are commited to taking care of the eco systems of Yelapa. To view El Jardin's website, filled with recommendations and photos, look at this website. http://yelapagardenretreat.com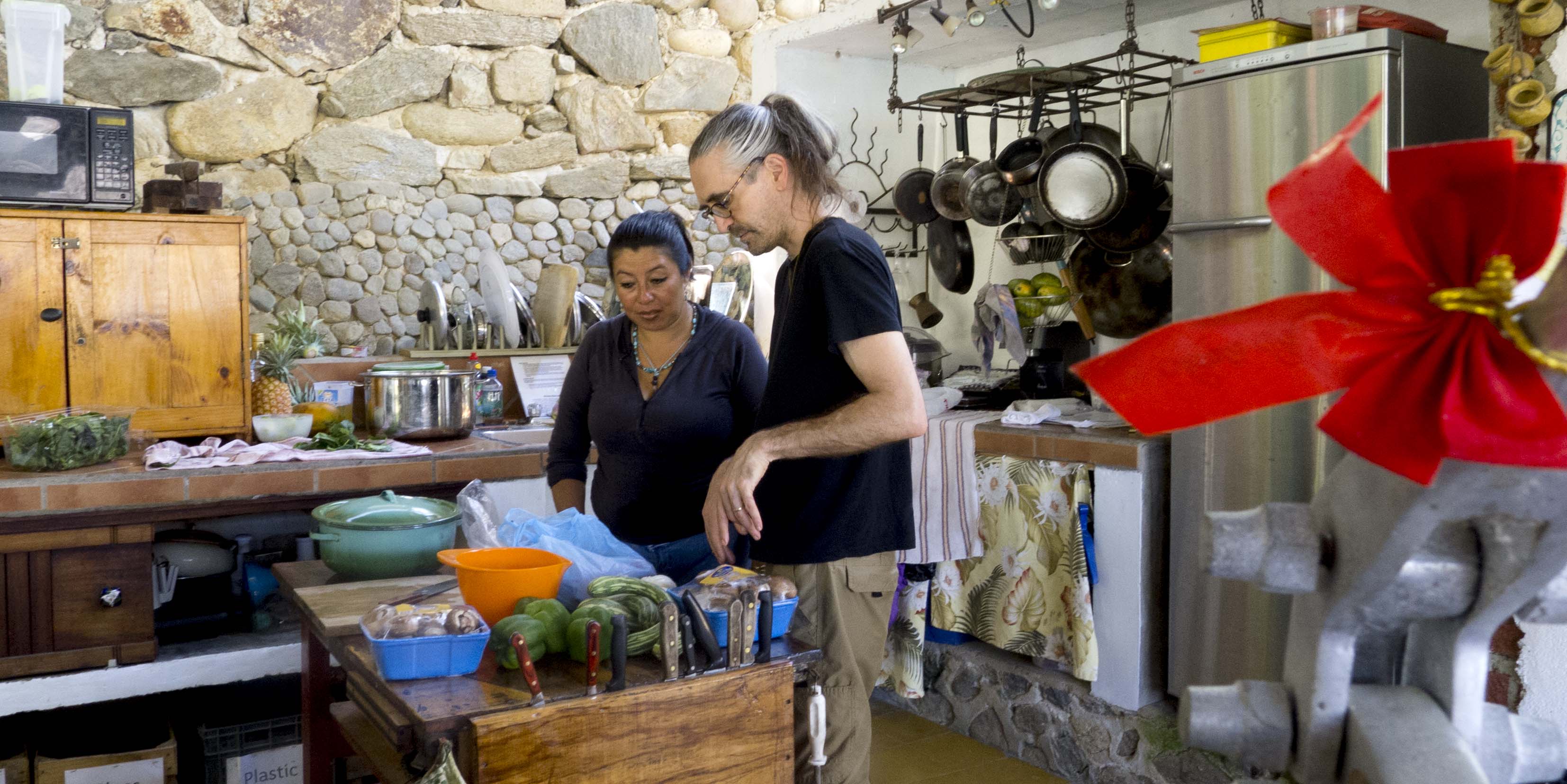 Meals: Our on-site chef, Eric Kuhner, and his assistant Veronica Rodriguez (above), use as many organic, local and whole foods as possible in their preparations. Vegan, vegetarian, pescaterian, flexitarian options are no problem, just let us know what you want!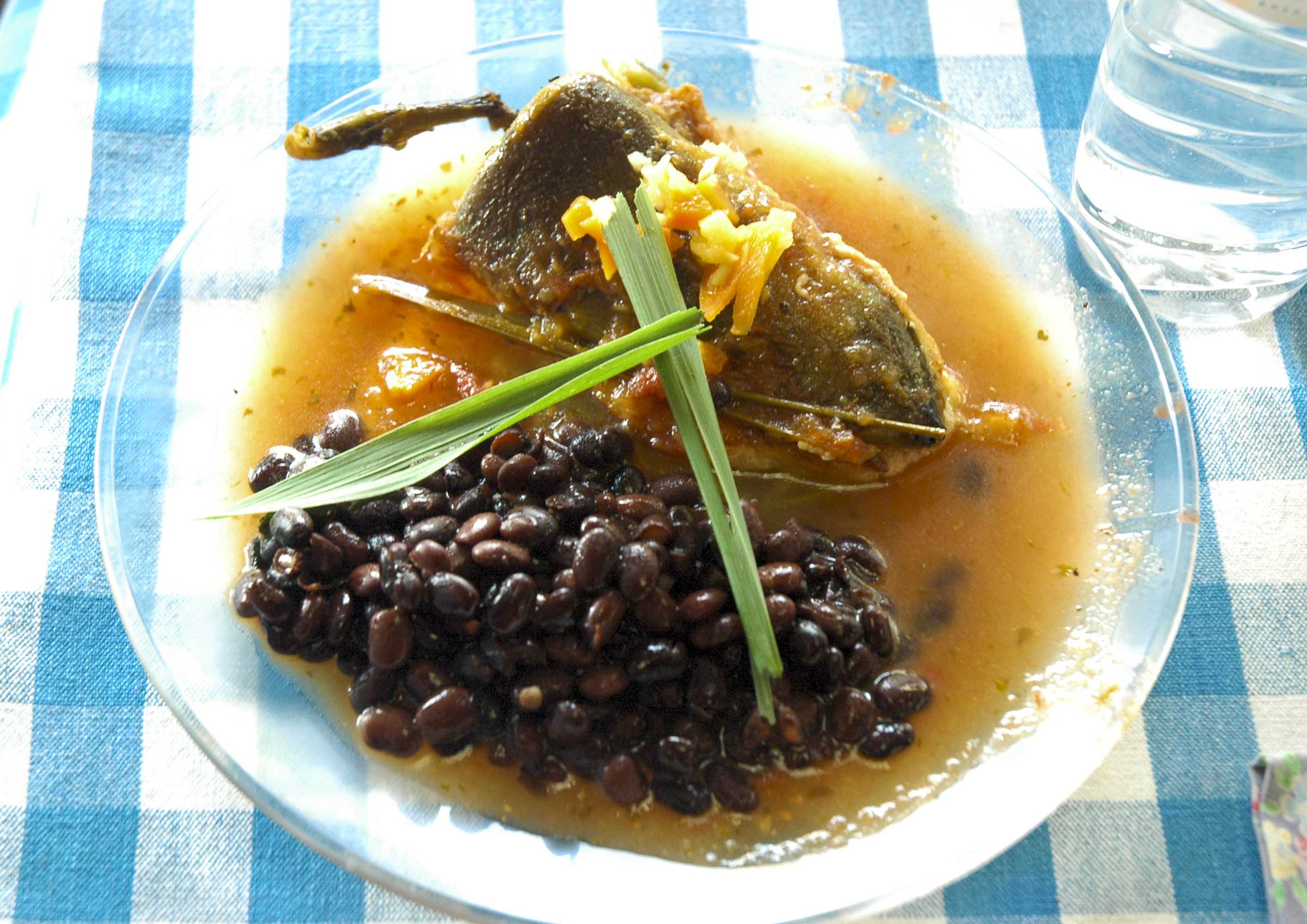 Our first night's dinner is a favorite - homemade black beans and rice, fresh corn tortillas (whenever possible, locally made by hand), salsa, guacamole and always fresh salads, steamed vegetables and local fish or vegan alternatives. But every meal is delicious -- always with an array of choices, plus fruits, nuts, coconuts, juices, herbal and medicinal brews and teas, and local desserts, all made with care, love, skill, and patience. Let us know your particular dietary constraints, and we'll take care of you to the best of our ability.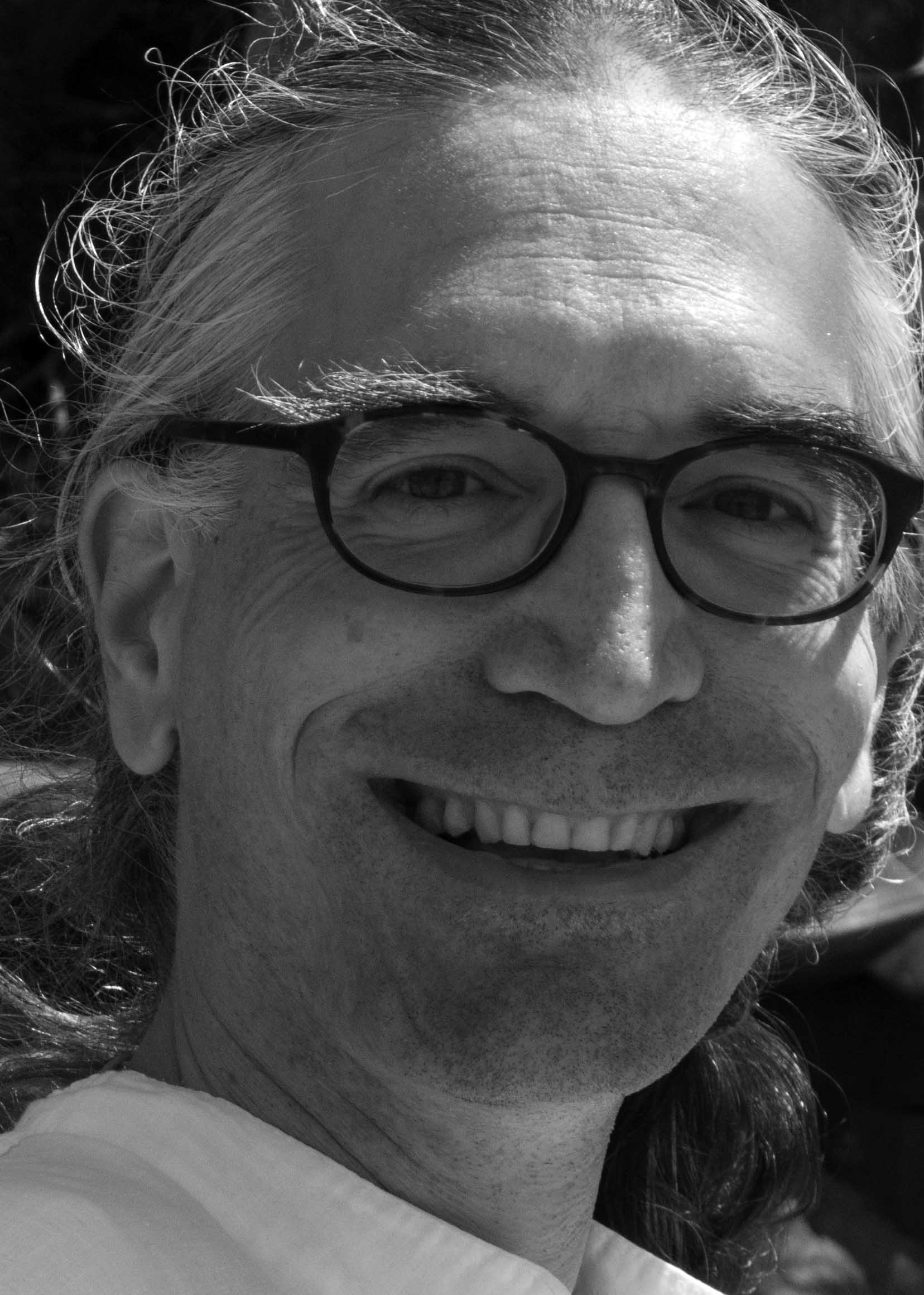 Eric Kuhner: Eric is Linda's partner and has been providing nourishment to all the women's circle retreats we've done in Yelapa. Eric has led teen and men's circles, mixed gender retreats in Yelapa and has his own weekly men's group at home in the Pacific Northwest. He is on the board of directors of Teen Talking Circles, and was Administrative Director for the Compassionate Listening Project. Eric has completed the Advanced CL Training. In addition, Eric is writing a memoire that includes stories about our trips to Yelapa.
Fitness Requirements: Yelapa is a walking village. People get around by foot, horses, donkeys or the occasional 4 wheeler. We've had participants from 18 - 80 years old in our circles -- even one woman with two artificial knees! If you've been wanting more exercise, you'll have a great opportunity! However, if you're feeling sore or even if you're not, you can avail yourself of one of the many talented local bodywork practicioners whose prices are far better than we're used to in most North American cities.
Living Conditions to Consider: Living close to nature brings us more deeply in touch with our own wild nature and the wilderness in our own spirits. It provides enormous pleasure, awe and can also cause us to have to confront our fears as well as pay attention to possible hazzards. The presence of scorpions, jellyfish, ticks (non-lyme), stingrays, intense sun, uneven footing on rocky trails requires mindfullness and care. We have never had injuries, scorpion stings or other health issues among our participants, but these hazzards are ever present and need to be recognized.
More about Yelapa: Yelapa also offers us tremendous opportunities outside our scheduled times -- through resting, reading, hiking, swimming, dancing, paragliding, and simply being, we revitalize. There are kayaks availble for our use and a beach right at our doorstep. At El Jardin, we have Internet and cell phones do work in most places in Yelapa! If you're someone who enjoys speaking Spanish, the locals love conversation and even make an effort to understand our worst efforts!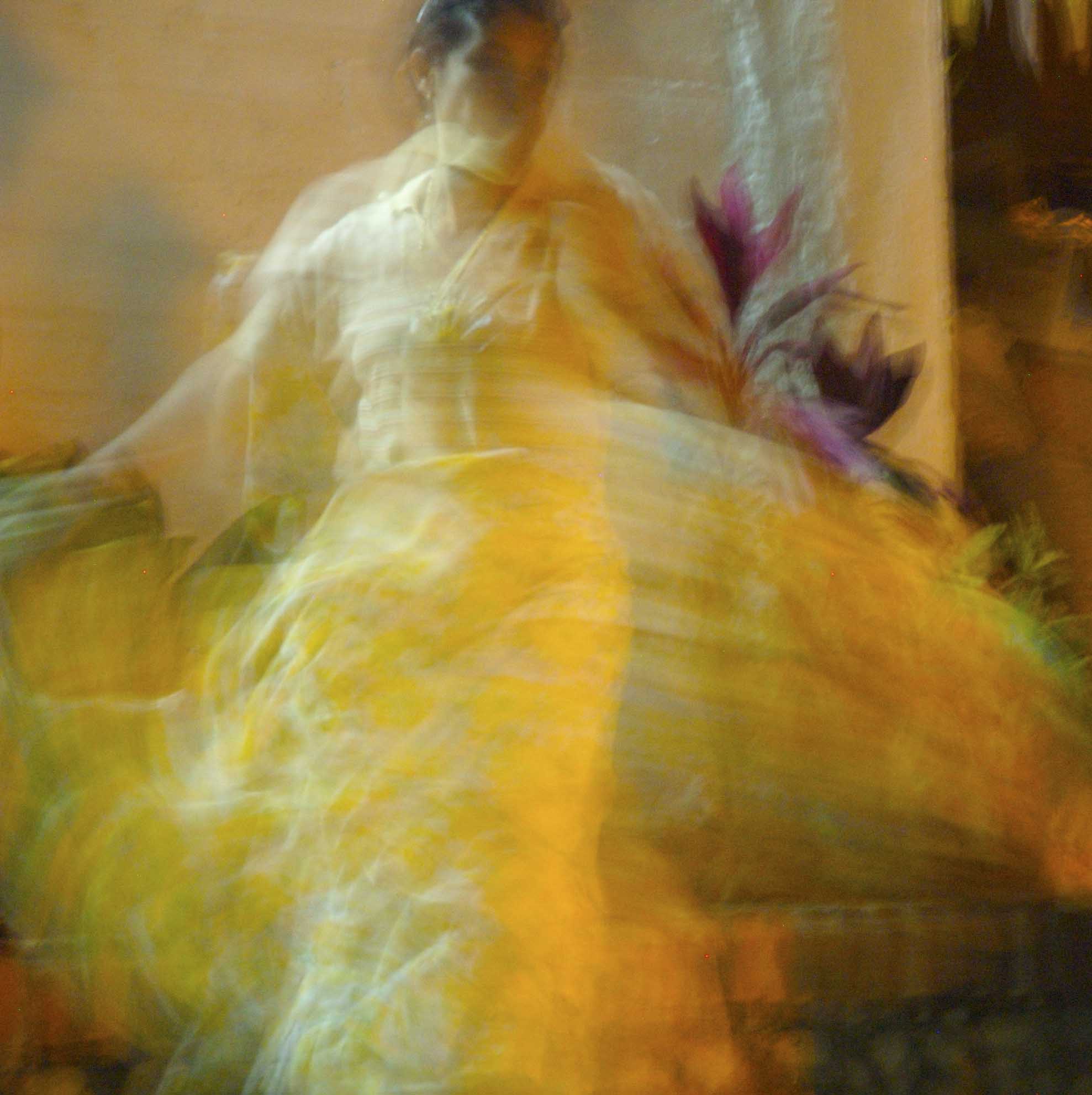 At night, in Yelapa, there is so much to see and do in the village. There are often village dances, Church dinners, and other events which we are welcome to attend. On Saturday night and Wednesday night "Disco" means dancing your heart out! So bring flowing dancing clothes! At certain times of the year we can go for a midnight swim under the stars, in the phosphorescence. Then, sleep to the sounds of the crickets and tropical forest creatures and the music flowing across the Bay. In the morning you'll wake to the sounds of dozens of birds, the hooves of horses on the stone paths, the calls of the fishermen, and the children playing or on their way to the school. If you wish there is "upriver," where an hour hike through the back country will bring you to Christina's Vegan Restaurant --- itself quite a novelty, with a bathroom & toilet up in a funky treehouse! And further on is the waterfall in Yelapa.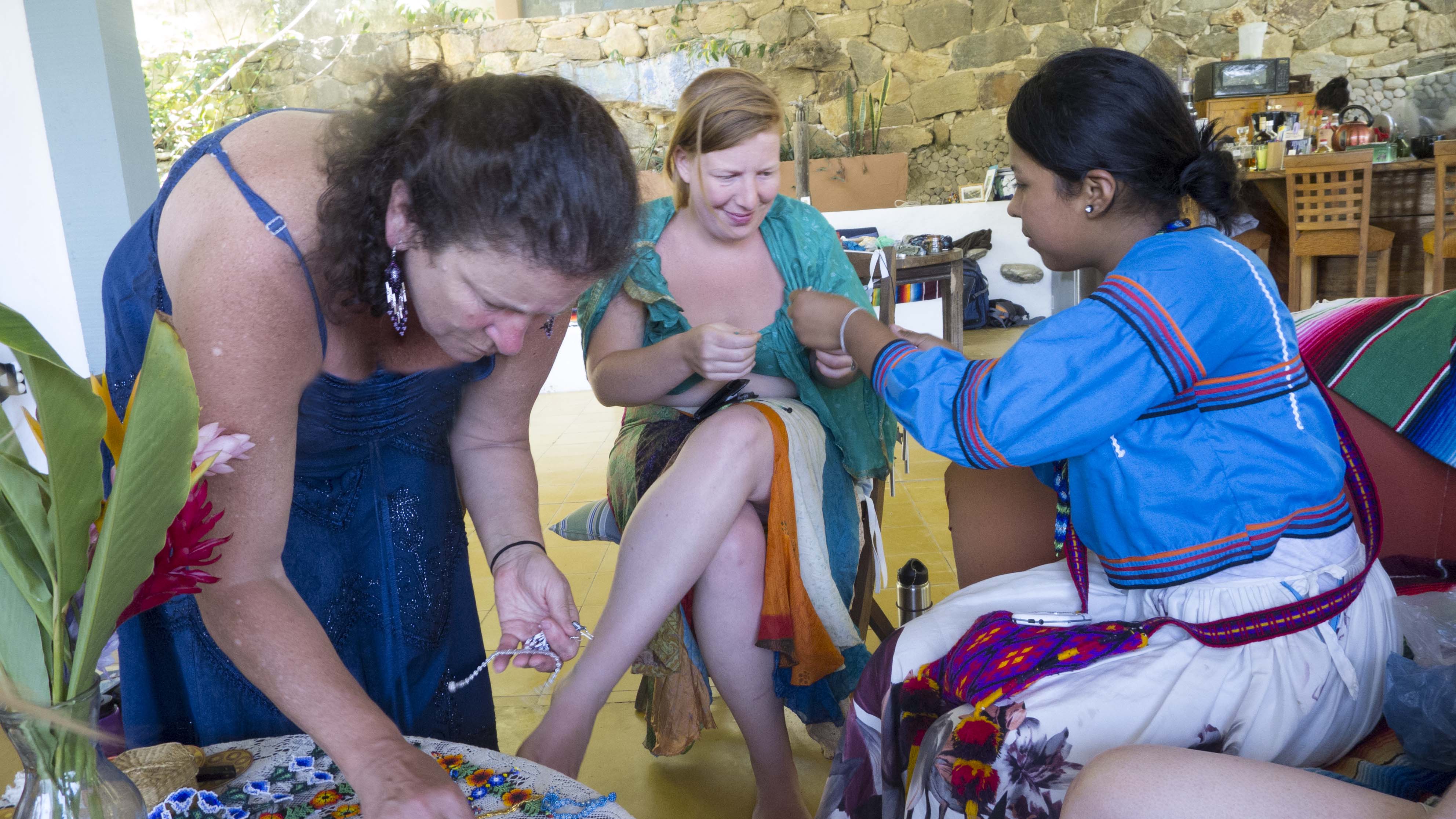 The Huichol Shamans and Artists: The Huichol or Wixáritari (or "peyote people," as they are often called) are an indigenous ethnic group of western central Mexico, living in the Sierra Madre mountain range in the Mexican states of Nayarit, Jalisco, Zacatecas, and Durango. Often we are visited by Huichol artists selling jewelry.

Traveling in Jalisco, Mexico is safe and easy. El Jardin has safes for our valuables, and the locals are friendly! There have been few robberies in Yelapa of late, but El Jardin has a reputation of safety, and the local people are committed to keeping Yelapa safe and sound.
Airlines are offering great deals right now, and there are many direct flights to Puerto Vallarta. As departure and arrival plans vary, we will work with you to arrange baggage assistance and water taxi transportation, as needed. We'll give you all the information and assistance you need to get from the airport to Yelapa and back!
We hope you will join us for another unforgetable experience in Circle in Yelapa. If you need to speak with a real person or two about this, don't hesitate to call us at 206-842-3000. You can also email Genevieve, who will be glad to help you figure out the details info (@) teentalkingcircles (.) org.
IMPORTANT INFORMATION:
Cost to attend the Retreat: $1495 - $2100 (depending upon lodging)

Nine Days/Eight Nights Eco Lodging at El Jardin Eco Retreat (http://yelapagardenretreat.com)

3 Delicious, whole-foods meals prepared by our on-site chef, Eric Kuhner (vegan options available)

Daily Sacred Circles facilitated by Linda Wolf (except adventure days)


Daily Yin Yoga, meditation and healing movement with Susi Costello (except adventure days)

Daily 5Rhythms Dance with Kellie Elliott (except adventure days)

Pie from the famous pie lady!
The Amazing Yelapa Experience: Many women have written us to thank us for offering them such a treasured experience. Here are a few more testimonials. Feel free to contact us if you'd like to speak personally with someone who has been to one of our retreats.
"I enjoyed the women's circle in Yelapa so much, I'm going again this year! The retreat is a good way for me as a busy city woman to reconnect with myself in a healthy, beautiful setting. Sharing the retreat with a great group of women makes it more meaningful. We all need to slow down sometimes, to take time to reflect, eat healthy food, laugh, dance, and share a little of our lives with friends. Just arriving in Yelapa, after a boat trip down the coast, makes me feel that I'm moving towards more balance in my life." Gillian Corless, Vancouver BC
"I can't thank you enough for your caring and your skilled facilitation in Yelapa which helped me in so many ways. I came home with a deeper understanding of some of the issues I was facing in my life, a sense of peace, and a renewed energy." Phyllis, Indianola WA.
Click here to watch the Youtube movie about yelapa
and women's sacred circles, led by Linda Wolf
YouTube Movie
FAQs
Where can I contact the organizer with any questions? Contact Linda Wolf @ 206.842.3000 or lindaanniewolf@gmail.com
What are my transport options getting to the event? Fly into Puerto Vallarta, arriving by 3:30 on the 1st day of the retreat, and take a water taxi from Los Muertos Beach to Yelapa (45 minute ride). Leave from PV after 3pm on the last day of the retreat. Please work this out with Linda before you purchase your tickets, as there are options to spend a night in a lovely place the night before the retreat begins or the night the retreat ends, to make the trip easier.
Is my registration/ticket transferrable? Yes, to another woman, sure - but please refer to our refund policy.
What is the refund policy? If you must cancel your trip, the following cancellation fees apply:
$250 non-refundable fee is retained upon cancellation at any time, due to the limited number of participants we can accomodate. (We highly recommend buying trip insurance)

Cancellations made after January 1st: $500 fee will be retained,

unless you find someone to take your place.



Cancellations made after February 1st: 50% of fees will be retained,

unless you find someone to take your place.



After March 1st: We're sorry, no refunds.

If the trip is cancelled due to any unforeseen circumstances, we will refund all but $250. (Again, we advise you to purcashe trip insurance)
Trip/Travelers Insurance: We encourage participants to purchase travel insurance, which generally includes: trip cancellation, baggage, medical and/or emergency evacuation insurance. No one ever intends to cancel their trip; however, unforeseen circumstances can change travel plans. Baggage may be lost or damaged, and some medical insurance (including Medicare) will not provide coverage outside the U.S. For a modest price, protection can be provided for these and other concerns. Please check with a travel agent of your choice or there are many reputable companies on-line.
Here are some companies you can contact:
Shortcut to: https://www.mondial-assistance.us/usa/en/get-a-quote
Shortcut to: https://www.travelinsured.com/USAASite/Default.aspx
Shortcut to: http://www.travelinsured.com/Travel-Insurance/Default.aspx
Shortcut to: http://www.worldnomads.com/index.aspx
What can/can't I bring to the event?
Bring non-toxic bug spray. Please don't bring toxic chemicals to Yelapa.
Please be mindful not to bring paper or plastic that you can leave at home. Garbage is collected by boat and the less we bring the better!
If you want to bring gifts, please bring healthy dark chocolate bars to share, a couple educational or classic children's books to gift to the kids in the village we visit (if you find spanish / english books that's great)
If you want to leave behind your shampoos, etc. they are welcomed by the women who cook and clean for us.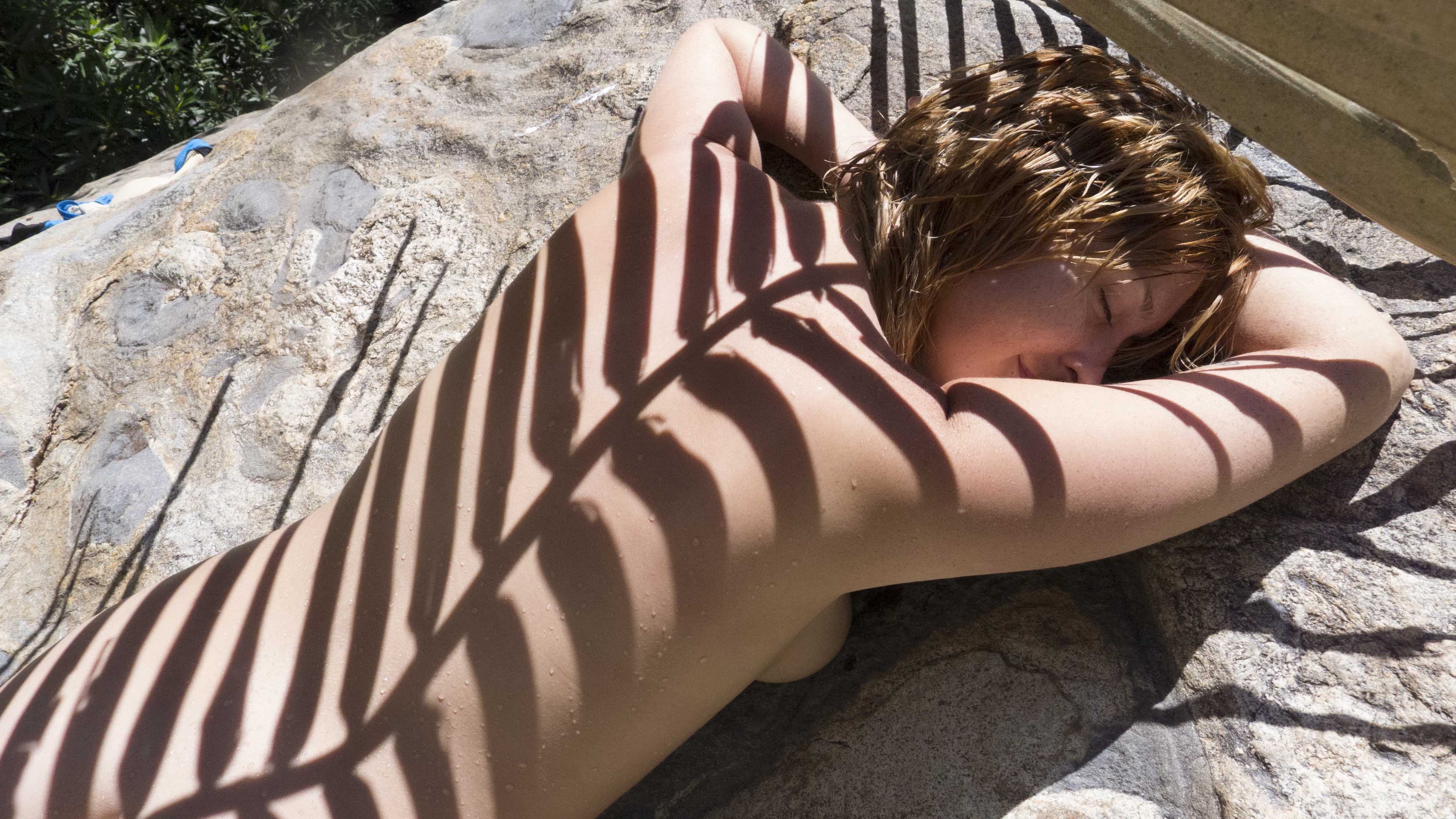 Join us for an adventure in nature, relaxation, sisterhood & soul that you will cherish for a lifetime...
"This retreat is a secret treasure..." Beverly Yates, Sounds True

TRAVEL LIGHTLY! The less you lug along, the more of YOU will BE THERE!!!