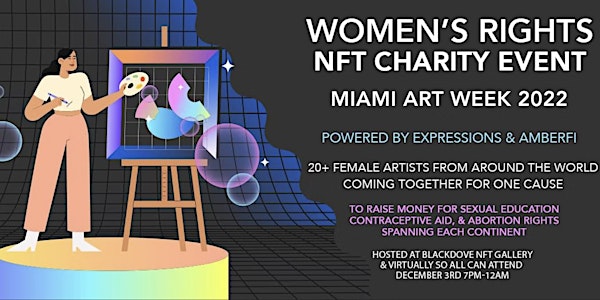 Women's Rights NFT Charity Event - Miami Art Week 2022
15+ female born NFT artists from around the world coming together to raise money for women's rights initiatives across the globe!
When and where
Location
Blackdove Art Gallery 2119 Northwest 2nd Avenue Miami, FL 33127
About this event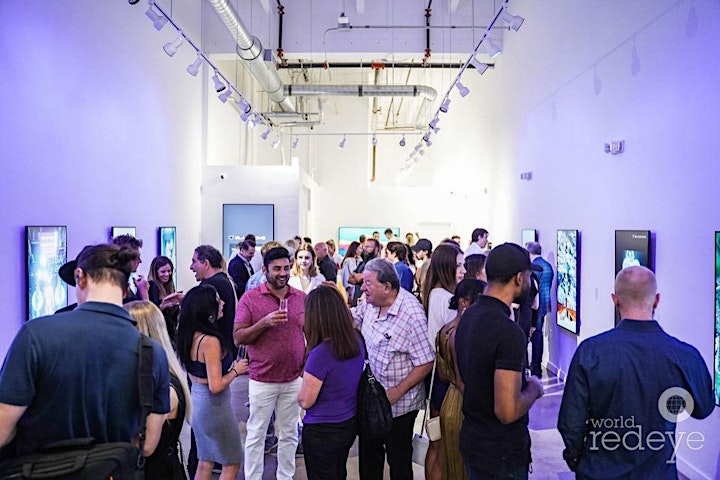 Join us & spread the word! We are bringing the art of 15+ women from across the world to raise money for the vetted charities they personally choose within their communities that work within the realms of women's rights, contraception aid, and needed healthcare services.
This is where NFTs will be used to create actionable social good and provide much-needed services to those who need them, now.
Each of our featured artists is choosing a women's rights charity to provide their auctioned funds to. 95% of each auctioned piece will go to the charity and 5% will go to the artist.
Why women's rights? A large part of our organizations are women and to think that any of us don't get equal rights, access, and healthcare is well..infuriating and terrifying. We have the ability to create change that lasts and start a ripple of social good events that give us, as a community, the autonomy over our own rights.
1) Loss of abortion rights
"The inability to access safe and legal abortion care impacts 700 million women of reproductive age. According to the World Health Organization, 23,000 women die of unsafe abortion each year, and tens of thousands more experience significant health complications. Legal restrictions on abortion do not result in fewer abortions, instead, they compel women to risk their lives and health by seeking out unsafe abortion care." - Center for Reproductive Rights
2) Lack of access to needed healthcare
"Over the past two years, the COVID-19 pandemic has exposed the shortcomings of global health and public infrastructure. Vulnerable populations have disproportionately suffered the impacts of the pandemic. Women's and girls' health has been severely affected. Their access to essential health services, in many cases, has been cut off, and recovery efforts have been actively deprioritised." - World Economy Forum
3) Limited access to sexual & reproductive care
"Nearly 12 million women in 115 countries lost access to family planning services, leading to 1.4 million unintended pregnancies resulting from the disruptions caused by COVID-19 over the past year. " - UNFPA
See the social profiles of all Featured Creators here!
Join us at Blackdove NFT Gallery for a night of amazing music, incredible art, and the ability to be a part of an auction that is truly CHANGING the world.