About this Event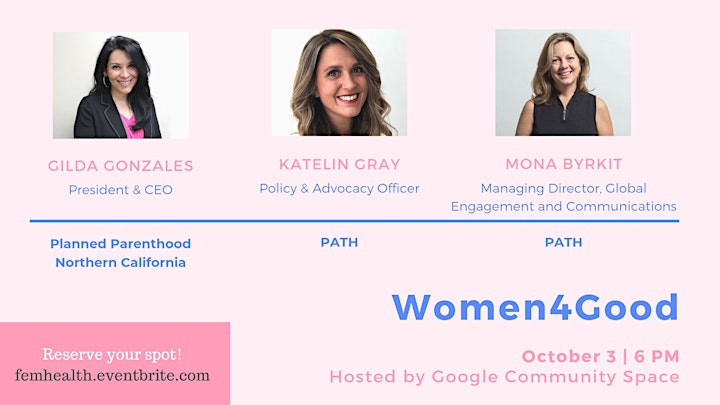 Women's Reproductive Health and Rights are a Global Issue!
Women and girls around the world are barred from access to necessary information and vital services regarding their reproductive health and rights. Some of these barriers include stigma, cultural traditions, as well as restrictive policies and lack of funding.
Join Women4Good Bay Area on October 3rd for meaningful lightning talks and a panel discussion with the premier organizations that are working to change this internationally and in the US: PATH and PLANNED PARENTHOOD Northern California.
ALL HUMANS are welcome to join the event.
LIGHTNING TALKS PRESENTED BY
President and CEO of Planned Parenthood Northern California
TALK: Planned Parenthood Northern California: What's at stake?
Policy and Advocacy Officer at PATH
TALK: From Uganda to Myanmar: Sexual and Reproductive Rights Don't Have Borders, Neither Should Health Services
PANEL DISCUSSION
Gilda Gonzales - President and CEO of Planned Parenthood Northern California
Katelin Gray - Policy and Advocacy Officer at PATH
Ramona (Mona) Byrkit - Managing Director, Global Engagement and Communications at PATH
Moderated by Zanoon Nissar, Founder of Women4Good
AGENDA
6:00pm - 6:30pm Check-in Starts | Networking.
Light Appetizers and Beverages served
6:30pm - 7:00pm Intros Women4Good
7:00pm - 7:15pm Lightning Talk by Planned Parenthood Northern California
7:15pm - 7:30pm Lightning Talk by PATH
7:30pm - 8:00 pm Panel Discussion
8:00pm - 8:20pm Q&A
8:20pm - 8:50pm Networking continues
8:50pm - 9:00pm Wrap-up
PRESENTED BY
Women4Good connects Bay Area women who have a passion for social impact. We work at corporations, nonprofits, startups. We fundraise, volunteer, and empower each other to be our best selves. Our members work together to inspire and encourage women looking for fresh perspectives on their social impact, at their jobs or beyond their work.
PATH: Better health moves humanity forward
At PATH, we are a global team of innovators working to accelerate health equity so all people and communities can thrive. We advise and partner with public institutions, businesses, grassroots groups, and investors to solve the world's most pressing health challenges.
Proudly Hosted by GOOGLE COMMUNITY SPACE