Description
Women's Real Estate Investors Club - Real Estate Investing For Women
Every Women Should Know Everything About Investing in Real Estate and How To Become A Successful Real Estate Investor With Little to Know Money Down. Hosted by REI Investment Society, this comprehensive detailed webinar is devoted exclusively to serious entrepreneur spirited individuals who is ready to start making money on day 1. You will learn about our real estate investing club that is like no other out there. The Women's Investment Network, By REI Investment Society Offers You A Proven Real Estate Investors Support System and Network WITHOUT PAYING ANY REDICULOUS PRICES. Learn all day 24/7 and get the 1 on 1 mentorship you need to start closing deals. Don't worry about real estate funding, you are covered!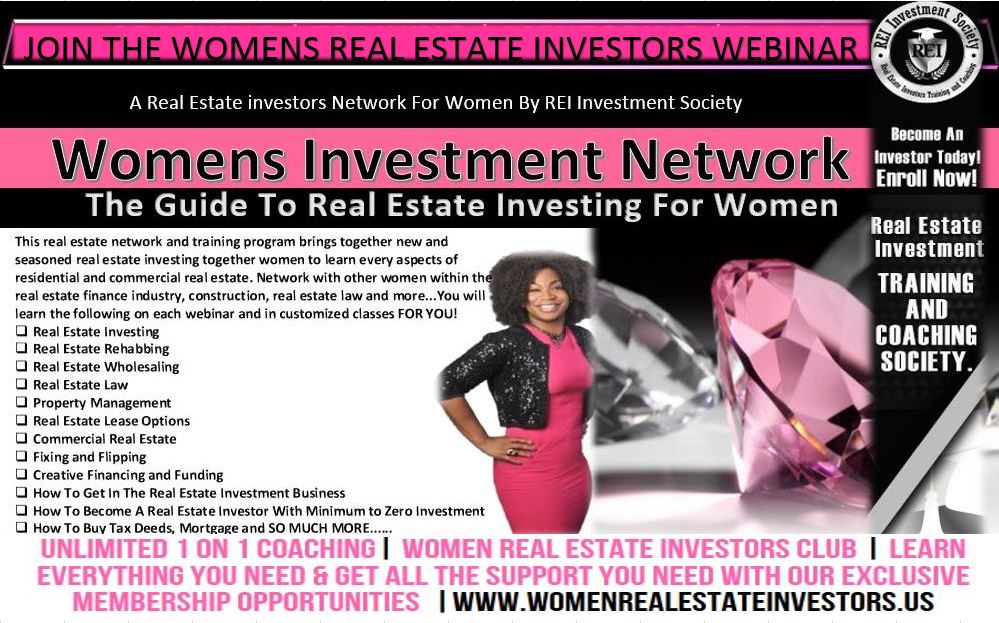 How can I make money at home right now?


Where do I find legitimate opportunities?
What does it take to spot and avoid scams?

This exclusive 60-minute webinar will feature:

How To Earn 6 figures without a real estate license

Learn how to make more money than a real estate agent without a license

Tips in tricks on how to be successful in the real estate business without a license

How to make figures and learning the different earning potentials

Learn how you only need to dedicate 15 hours of your time to make 6 figures, while learning the real estate business
• Want to spend more time with your family?
• Lost your job and looking for a replacement?
• Have a medical challenge that keeps you home bound?
• Looking to supplement your income?
• Need to ditch that costly, gas-guzzling commute?
• Dream of being in control of your earning potential?
• Want to start a holiday fund?
• Trying to replenish your dwindling retirement account?
• Saving for a rainy day?
Becoming a woman real estate investor and having all the support and tools you need to begin making the money you need from day one, while maintaining a balance family life and financial freedom, then sign up today! This webinar will expose you to a financially freedom opportunity that will help you on your road to success, with support and tools like no other.
Becoming a woman real estate investor and having all the support and tools you need to begin making the money you need from day one, while maintaining a balance family life and financial freedom, then sign up today! This webinar will expose you to a financially freedom opportunity that will help you on your road to success, with support and tools like no other. Location (Online): Webinar Link and further instructions, will be sent Within 24 hours of live webinar. Start Time 5Pm CST
www.WomenRealEstateInvestors.us