Description
We are inviting all women and men in the Lower Mainland to a time of Fasting, Prayers and Intercession for our Nation, Province, the Lower Mainland and our Cities. We are fasting and praying for Revival in the Body of Christ, our Pastors, Ministry Leaders and our Churches. We are also praying for our Families, Homes and our Children. We are trusting the Lord for a mighty move of the Holy Spirit in our midst, as we come together to lift up our voices in prayers and intercession for our cities and region.

Come and join Women of like passion to pray and intercede for our cities, churches, families and our nation Canada. The Lord is raising up an end time army for His Kingdom, come be a part of it.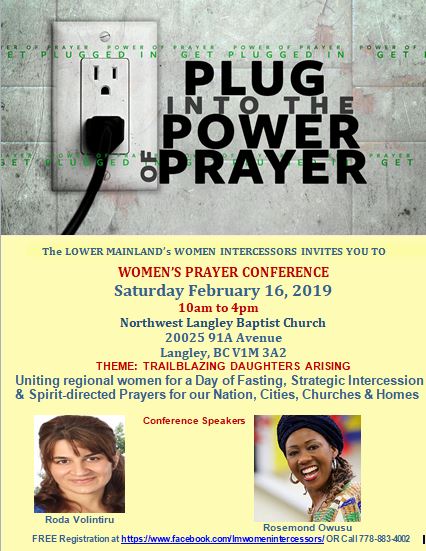 Pastor Rosemond Owusu
In 1991, Pastors Sam and Rosemond answered the call of God on their lives to move to Canada to plant a church. They knew that this church would have to be different than what they had seen. Their desire was to have a church that would bring all nations together where people would be taught the Word of God without compromise. They desired a church built upon unwavering faith, with prayer and community-focus as the foundations. Their dream was realized with the establishment of Calvary Worship Centre, a multinational, multi-branch, charismatic non-denominational church located in British Columbia.
Pastor Rosemond is also the founder of the Calvary Worship Centre Women's Ministry where she equips women of all ages to grow in their God given potential and calling. She is an inspirational speaker with a desire to see broken women made whole. Rosemond carries out her various ministries fueled by the power of prayer. She is the mother of three, grandmother of two and currently serves alongside her husband full time in ministry.

Missionary Roda Volintiru

RODICA and her husband are MISSIONARIES and EVANGELIST messengers for revival for our generation. After many encounters with God, Rodica was call to a life of consecration by fasting and prayer for all nations. Since 2007 Rodica and her husband Marian, serve the Lord as MISSIONARIES in Romania, Europe, Africa, US, Canada, etc. Roda has spoken at many women conferences and churches about revival, and about having intimacy with Jesus and Holy Spirit. She is calling all the Christians to discover the beauty of God through fasting and prayers and how to be set apart for His Kingdom.
Roda's burning passion is to pray for the lost, and to see the church of Jesus Christ awakened and set free from any bondage. To be radical lovers of God that will bring change and transformation to every sphere of society, and to make a difference in this world through the love and power of Jesus.