Description
BOOK CLUB IS BACK AND IN A NEW LOCATION!!
Read, Learn, Grow and Socialize in our Personal Development Book Club!
We meet once per month! Enjoy a coffee or glass of wine and discuss a book with friends!
We pick books two months in advance , buy/borrow and read, and then get together to talk about them.
November's Book is: The Power Of Intention: Leaning To Co-Create Your World Your Way by Wayne Dyer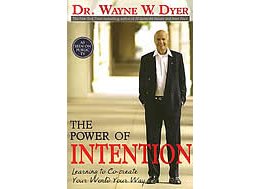 Dr. Wayne W. Dyer has researched intention as a force in the universe that allows the act of creation to take place. This book explores intention—not as something you do—but as an energy you're a part of. We're all intended here through the invisible power of intention. This is the first book to look at intention as a field of energy that you can access to begin co-creating your life with the power of intention.
Book Club House Keeping:
$5 fee secures your spot please register prior to the event.

We ask that you purchase a beverage at minimum to support the venue

Newbies always welcome, even if you haven't read the book yet.

If you have any favourites to share: Suggestions will be accepted at each meeting, and the group will choose from poll on our facebook group 2 months in advance. If you do have a suggestion, please either bring a copy with you, or a synopsis so that the group can get a sense of what it's about!
Looking forward to seeing you all!

xo
Karla