Women's Only Training Camp with Leticia Ribeiro

Friday, December 9, 2011 at 7:00 PM

-

Sunday, December 11, 2011 at 4:00 PM (PST)
Event Details
The Sweaty Betties are pleased to announce our latest event:

A Women's Only Training Camp with LETICIA RIBEIRO

Train like a champion with the champions!!!!

For the first time ever in the Bay Area, a historical figure in women's Brazilian Jiu-Jitsu, 3rd degree black belt under Royler Gracie and leader of Gracie Humaitá, the best female fight team of all time LETICIA RIBEIRO will be conducting a three-day Gi and No-Gi Brazilian Jiu-Jitsu camp exclusively for women in San Francisco, CA. As an added bonus, Leticia will be joined by talented members of the Gracie Humaitá team including LUKA DIAS, PENNY THOMAS, BIA MESQUITA and MACKENZIE DERN. 

This is an exciting opportunity to train with one of the world's best female fighters as well as the best female team in Brazilian Jiu-Jitsu history. This camp is OPEN TO ALL TEAMS. Learn the techniques, the strategy, and the approach to Brazilian Jiu-Jitsu that have made Leticia one of the most dominant forces in the sport today.

Great prizes such as Gi's, t-shirts, DVDs, Leticia's X-Guard App, etc. will be raffled off and given away! So mark your calendars, pre-register and plan on being part of one of the most awesome women's camps ever held in California.

For more info about hotel and schedule, go to our facebook event page:
http://www.facebook.com/event.php?eid=216316628439051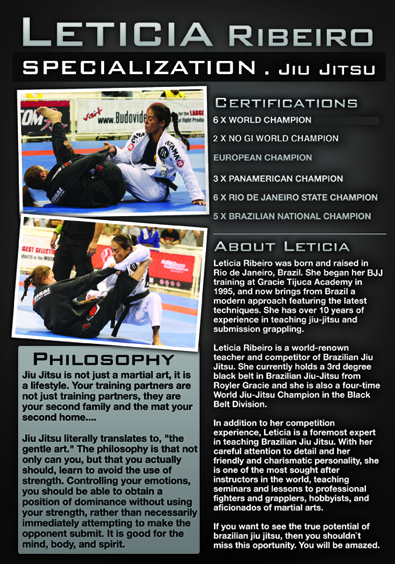 When & Where

JJ's Performance Training Center/FSA
#170 Unit D South Spruce Avenue
South San Francisco, CA 94080


Friday, December 9, 2011 at 7:00 PM

-

Sunday, December 11, 2011 at 4:00 PM (PST)
Add to my calendar
Organizer
Sweaty Betties Jiu Jitsu
Founded in 2008 by women for women, SWEATY BETTIES is a San Francisco Bay Area, California and Maui, Hawaii grappling group dedicated to growing the women's Brazilian jiu jitsu and grappling community through open mats, seminars and training camps in supportive and positive training environment. 
Sweaty Betties members meet for open mat training sessions once a week that include both technical drills and live sparring. Whether you're a beginning jiu-jitsu student or an experienced competitor, Sweaty Betties will provide you with a great place to build, hone, and test your skills. We welcome students from all schools of all levels and ages. 
Contact us to find out more about our open mats and training camps. We'd love to hear from you. 
Email Address:
FOLLOW US!
Women's Only Training Camp with Leticia Ribeiro