Description
Take time out for reflection and join us for "Breakfast and Belief"!
The Triad Women's Regnum Christi Team invites you for a morning to reflect on the things that matter, including the Holy Sacrifice of the Mass. The morning will also include a talk given by a visiting Legionary of Christ priest, and a complimentary breakfast. Please register ahead for this event.
The morning will begin with 8:45 am Mass in the Chapel. Breakfast and talk will be held in the Parish Life Center Lounge.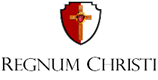 Questions? Contact Sue Perez at (336) 908-0881 or regnumchristitriad@gmail.com