| | |
| --- | --- |
| Women's Month Professional Development Series: Women Leveraging Technology | |
Event Details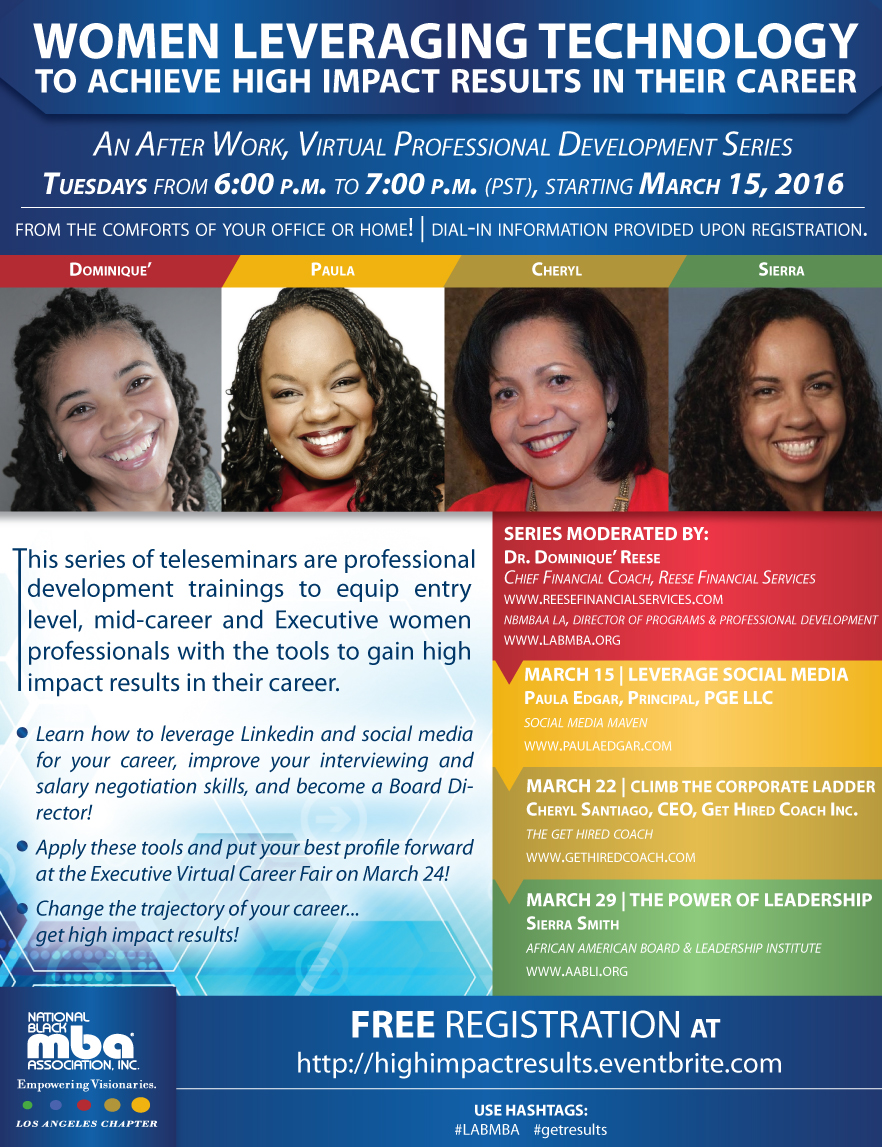 Women Leveraging Technology To Achieve High Impact Results in their Career is a series of professional development teleseminar trainings to equip entry-level, mid-career, and Executive women professionals with the tools to gain high impact results in their career. Given the National Black MBA Association is hosting an Executive Virtual Fair on March 24, 2016, this professional development series will provide members with practical and valuable tools to apply before, during and after the fair. Three black female experts have been selected bring the latest trends, best practices and tips for social media, interviewing and boardship. The series will be held every Tuesday in March, starting March 15th. 
Moderated by: Dr. Dominique' Reese, Chief Financial Coach, Reese Financial Services, The Money Master, NBMBAA LA, Director of Programs & Professional Development, www.reesefinancialservices.com www.labmba.org, @reesefinancial @labmba 
Our expert trainers include:
March 15, Social Media: Paula Edgar, Principal, PGE LLC, Social Media Maven, www.paulaedgar.com @paulaedgar  
March 22, Interviewing & Salary Negotiation: Cheryl Santiago, CEO, Get Hired Inc., The Get Hired Coach, www.gethiredcoach.com @gethiredcoach

March 29, Become a Board Director: Sierra Smith, Manager of Engagement & Outreach, African American Board & Leadership Institute, www.aabli.org @theaabli

Only 200 registrants per call! Do not delay your registration. 
To register, choose the date you want to register from the drop-down (March 15, March 22 or March 29). You must register for each date
Organizer
National Black MBA Association Los Angeles Chapter
VISION ~ MISSION
Established in 1970, the National Black MBA Association is dedicated to the creation of educational opportunities and economic growth for Black business professionals and the African-America community.
The National Black MBA Association achieves its mission three principal ways:
Providing innovative programs to stimulate intellectual and economic growth.
Building partnerships with key stakeholders who help facilitate this growth.
Increasing awareness of and access to graduate management education programs and career opportunities in management fields.