Women's March SLO 2019

Saturday, January 19, 2019 from 9:00 AM to 12:00 PM (PST)
Event Details
SCHEDULE & LOCATION
8am - 12pm - Call to Action Alley, Mitchell Park
9am-10am - Rally, Mitchell Park
10am - March, Downtown SLO
11am - Music, Mitchell Park

***Please help us cover the cost of the march by donating to https://www.flipcause.com/secure/cause_pdetails/MzI2MDM=***

WHY WE MARCH
On January 19, 2019, we will march along with millions of women and allies in our continuous fight for women's rights, human rights, social and environmental justice, and for a positive and just future for all people.

"When a woman tells the truth she is creating the possibility for more truth around her." Adrienne Rich

For far too long our truth didn't matter. We won't be silenced, shamed, ignored or erased any longer. We march to speak truth to power, and to create space where speaking the truth is possible. In 2017 we started with the largest single day demonstration our nation has ever seen, in 2019 we bring our #TruthToPower and commit to the long-term success of our movement.

RALLY SPEAKERS
**Nicole Brydson
**Leola Dublin Macmillan
**Rita Casaverde

PERFORMERS
Dian Sousa
A. Rosalind Crew and Diane Steinberg Lewis
Noach Tangeras and Rachel Santa Cruz
Leo Matthews

MARCHING WITH
Samba Loca and SLO Action Figures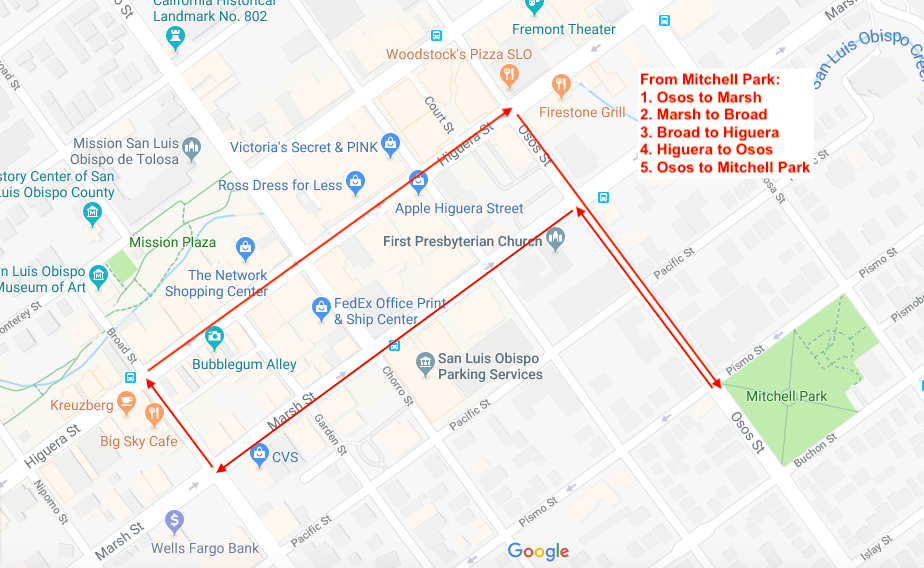 FAQs

Are all genders invited?
YES. This is about women and allies speaking our truth to those in power and bringing our truth when we are in power. All genders play an important role in creating the change we want to see.

Should I/How do I donate money?
YES. Keep reading!
- Please make a donation here: https://www.flipcause.com/secure/cause_pdetails/MzI2MDM=
- Please send checks to Women's March SLO c/o SocialGoodFund, POB 5473, Richmond, CA 94805
- This event is free to attend but costs close to $30,000 to produce. Most of this costs goes to safety personnel, permitting, insurance and road closures.
- WMSLO is a volunteer run organization. WMSLO does not receive any funding from Women's March National (DC Chapter).
- We rely solely on donations from our community to cover the many costs associated with a mass rally and march, and to ensure it is safe and accessible to everyone in our community.

Are donations tax deductible?
YES. Women's March SLO is a fiscally sponsored 501c3 under SocialGoodFund. Donations are 100% tax deductible. The EIN is 46-1323531

Should I RSVP?
YES. Please RSVP so we can plan accordingly for things like bathrooms, chairs for those that need them, water, volunteers, march length and more.

Do you need volunteers?
YES! Please sign up here: http://signup.com/go/DCdjAwM

Will you have merchandise? YES!
We will have a limited number of T-shirts, hats, buttons and stickers available on the day of the march in Mitchell Park. Suggested donation for T-shirts and trucker hat is $20, for embroidered hat $25. Please bring cash.
Will the march be accessible for people with disabilities?
We are fortunate to have Katie Voice and Laura Lippincott (back again this year) for sign language interpretation. Mitchell Park is ADA accessible, and we will have a limited number of chairs for those that need them. Please make sure to check the weather and plan for your needs. Let us know if there's something we've missed at womensmarchslo@gmail.com.

What should I bring?
- Your own reusable water bottle
- Comfortable walking shoes
- Signs that bring your truth to those in power
*** IMPORTANT NOTICE ***
We are aware of attendees who suffer from a life-threatening latex allergy; PLEASE DO NOT BRING ANY LATEX BALLOONS OR PRODUCTS to this event, whether as a decoration or a giveaway. Latex balloons are a specifichazard due to aiborne proteins. We respectfuly ask you to leave alllatex at home. 
What should my sign say?
This rally and march is free and open to the public. Your signs are your personal expression of bringing #TruthToPower. WMSLO does ask that signs not target any one person. That is because we follow the Kingian Principles of Non-Violence. Principle 3 states: "Attack forces of evil, not persons doing evil. The nonviolent approach helps one analyze the fundamental conditions, policies and practices of the conflict rather than reacting to one's opponents or their personalities." Therefor we respectfully ask that signs address your truth and what you want to say either to those in power, or the truth you bring to your position of power.

I want people to notice my sign! Do you have suggestions?
We have noticed that signs that get the most visibility state creatively and positively what you want.

What are the Guiding Principles and Mission of WMSLO?
- WMSLO follows the Kingian Principles of Non-Violence. Click here: https://womensmarchslo.com/non-violence/
- The WMSLO Mission Statement is found here: https://womensmarchslo.com/mission-statement/

Why not just march in the streets - it's our right, right?
Women's March SLO focuses on creating a safe space for all people regardless of age, race, religion, ability level, gender, or immigration status. We want each person to have the space to engage in #TruthtoPower without fear of reprisal or arrest. We have had success working with the City of SLO to create this safe space. Part of doing so is participating as partners in the share of cost. Please donate here: https://www.flipcause.com/secure/cause_pdetails/MzI2MDM=

How do I get updates or get in touch?
Web: https://womensmarchslo.com
Facebook:@womensmarchslo
Twitter: @womensmarchslo
Instagram: womensmarchslo
Email: WomensMarchSLO@gmail.com
When & Where

Mitchell Park
1050 Buchon Street
San Luis Obispo, CA 93401


Saturday, January 19, 2019 from 9:00 AM to 12:00 PM (PST)
Add to my calendar
Organizer
We stand in solidarity to protect women's rights, human rights, our safety, our health, and our planet, as we move toward a positive and just future. We are actively nonviolent in words and action. We work to unify our nation's diverse communities, grounded in new relationships, to create change from the grassroots. We recognize that there is no true peace, freedom, or inclusion without equity for all.