In solidarity with the Women's March, let's take the Power Together march where it counts--in places where our visibility matters!
About this event
Visit our website, www.womensmarchtn.org for more details.
If you'd like to donate, please visit our Go Fund Me page!
On January 18, 2020, the anniversary of the Women's March, we are calling on you to join thousands of marchers in Middle Tennessee for a morning of training, lunch, marching the neighborhood to register voters, and ending with powerful grand rally.
This Day of Action is the most relevant follow-up event to one of the largest demonstrations in history. There will be several advocacy opportunities--such as, attending advocacy workshops, knocking doors to register voters, walking the neighborhoods to distribute census information, phonebanking, textbanking, or writing postcards/letters--that will propel our movements forward as we organize our voices, giving us the momentum we need to impact 2020.
PROGRAM:
8:00 AM Registration and Coffee
9:00 AM Gather at venues in downtown Murfreesboro
9:30 AM Voter Registration Workshops and Legislative Issue Workshops
--Understanding the Criminal Justice System by the ACLU-TN
--Making Voting Easier for a Stronger Democracy by Indivisible Tennessee
-- Protecting Reproductive Rights in Tennessee by Planned Parenthood of TN and North MS
--Issues facing the LGBTQ community and Upcoming Legislative Efforts by the Tennessee Equality Project
--Building Power Together: How to Talk About Race and Class and Still be Invited to Dinner, with Black Voters Matter and Power Together Women's March Tennessee.
--Immigration: Community Defense and the Latinx Vote by Mix
--Economic Security for Women: The Wage Gap and What You Can Do About It, by AAUW
--Health Care: We Need It, a panel by Corps 54
--Climate Crisis Solutions by Sunrise Movement
11:30 PM Lunch for training attendees
Women's March Day of Action Kickoff Rally at Murfreesboro Civic Plaza
12:30 PM March the Neighborhood and Action Headquarters
2:30 PM Closing Grand Rally at Murfreesboro Civic Plaza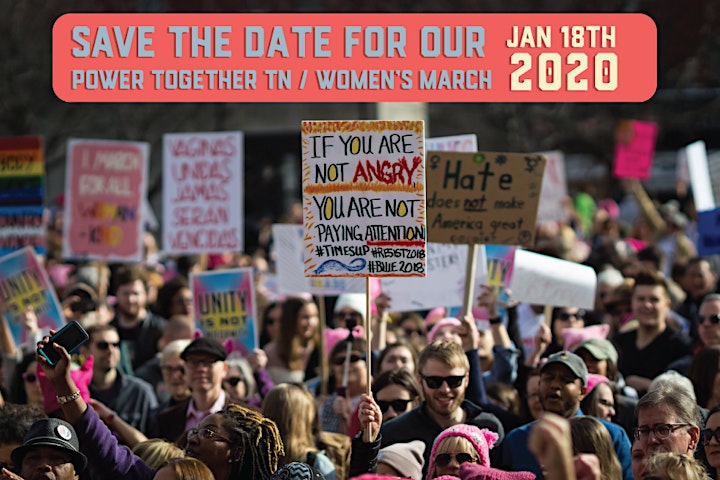 Organizer of Women's March 2020 Power Together Tennessee
Power Together Tennessee is a chapter of The Women's March on Washington, a women-led movement bringing together people of all genders, ages, races, cultures, political affiliations, disabilities, and backgrounds to affirm our shared humanity and pronounce our bold message of resistance and self-determination.