Women's Leadership Symposium 2016

Wednesday, April 13, 2016 from 7:00 AM to 4:00 PM (EDT)
Event Details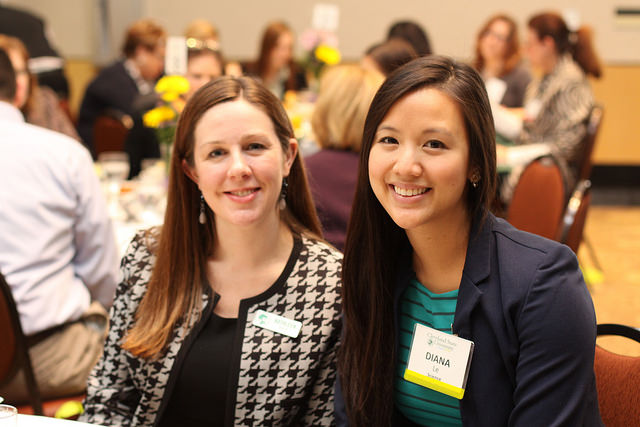 Online registration has now closed -- walk-ups will be accepted at the event!
Join us at Cleveland Public Auditorium on April 13 for our second women's leadership symposium as we explore women's ways of leadership and women's contributions to our community, while building powerful partnerships between students and leading women in Northeast Ohio.

To purchase tickets for Cleveland State University alumnae and guests, click here.
You Choose
Participate in the morning sessions, the afternoon sessions, or all-day with three price options:
Morning Session (includes breakfast)
$25 alumnae and faculty/staff
$35 General Registration (guests)
Students (currently enrolled) are eligible for sponsored participation at no charge.
Afternoon Session (includes lunch)
$25 alumnae and faculty/staff
$35 General Registration (guests)
Students (currently enrolled) are eligible for sponsored participation at no charge.
All-Day (Morning and Afternoon sessions—includes breakfast and lunch)
$45 alumnae and faculty/staff
$65 General Registration (guests)
This Year's Keynote Speakers
Our morning will feature Dr. Rachel Talton, CTO (Chief Transformation Officer) of Flourish Leadership and the Flourish Conference for Women in Leadership. Dr. Talton literally wrote the book on thriving in the business world. Three books, actually: Beyond Extraordinary: A Blueprint to Flourish in Business and in Life; The Currency of Passion; and her newest,  Flourish: Have it All Without Losing Yourself. Dr. Talton earned an MBA in finance from CSU and a doctorate in management from Case Western Reserve University's Weatherhead School of Management, where she has taught as adjunct professor of marketing. In addition to her academic pursuits, writing and her work in inspiring others to flourish, Dr. Talton is Chief Executive Officer of Synergy Marketing Strategy & Research, Inc., a brand strategy and market research consultancy that helps organizations improve market share, share of wallet and share of heart.  She is sure to challenge, encourage and inspire her audience!
Nancy Frates, the "Mom behind the Ice Bucket Challenge," will kick-off the afternoon portion of the Symposium. In 2012 Ms. Frates' athletic 27-year old son, Pete, was diagnosed with ALS, or Lou Gehrig's disease. Inspired by Pete – who chose to view his disease as an opportunity to do good – Ms. Frates and her supporters launched the now-famous ALS Ice Bucket Challenge. They found their sense of purpose in working tirelessly to raise awareness about ALS and to raise funds for research. The challenge went viral, raising more than $160 million for ALS research. Ms. Frates went viral too, as groups across the country began inviting her to speak and inspire. Her TED talk has been viewed nearly 900,000 times.

Click here to download a Word document with more speaker information.

Panel Discussions and Workshops
In addition to these inspiring women, the Women's Leadership Symposium will include panel discussions and workshops on topics ranging from online harassment and safety, to LGBTQ rights, women in business, women's aging, and a Lean In presentation about women and careers (Lean In refers to the movement sparked by Facebook COO Sheryl Sandberg's book Lean In: Women, Work and the Will to Lead.).
In this, the second year of the Women's Leadership Symposium, CSU Alumni Association is proud to announce an exciting partnership with the Ohio University Alumni Association to deliver this compelling event. Cleveland State and Ohio University both have extraordinary alumnae and students engaged in many vibrant leadership roles in Northeast Ohio.
Participants will experience a day designed to broaden horizons, explore new possibilities, network with others with shared passions and interests, and pay it forward for future generations of talented women. 
Morning Session
7:00 - 8:00 a.m. Check-in/Registration
8:00 - 9:15 a.m. Welcome Remarks & Keynote Address by Dr. Rachel Talton
9:30 - 10:45 a.m. Industry/Interest Panels and Presentations
10:00 a.m. - 2:00 p.m. Women's Expo and Career Fair
11:00 -11:45 a.m. Topical Workshops

Morning Panels: 
Beyond Rosie the Riveter: Women Strive and Thrive in Traditional Male Occupations
In the "C" Suite—Leading Women in Northeast Ohio Share their Insights
Women's Cultures and Religions: Embracing Differences and Similarities
Morning Breakout Sessions:
Beyond Marriage Equality: What's Next for Today's LGBTQ Community?
Women in Retirement: Challenges and Opportunities
Coming Together: Using a voice to find community in the battle against and treatment of breast cancer
Women and Popular Media: From Sports Illustrated to Playboy, a journalist's eye view
Afternoon Session
11:45 - 1:15 p.m. Lunch and Featured Address by Ms. Nancy Frates
1:30 - 2:45 p.m. Industry/Interest Panels and Presentations
3:00 - 3:45 p.m. Topical Workshops
3:50 - 4:00 p.m. Closing Remarks/Wrap-up

Afternoon Panels:
Women of Color: Aspiring and Inspiring
Law, Justice, and Public Service: Impacting Lives and Building Communities
Upstarts and Start-ups: Women Making it in Business and Entrepreneurship
Creativity Pays: Succeeding in the Arts, Entertainment, and the Media
Afternoon Breakout Sessions
Stay Out of Your Own Way: How Gender Stereotypes Threaten Our Success
Emotionally Intelligent Leadership
Cyber Bullying: Preventing Online Harassment
Aging across the Lifespan: What Every Woman Should Know
Sexism and Gender Roles: Advice and stories from OHIO's Dean of Students

Women's Expo
From 10 a.m. to 2 p.m., organizations committed to advancing women's interests and causes will be exhibiting in the Wolstein Center. To learn more about opportunities to exhibit, contact Kathleen Piper (216) 687-2078 or k.a.piper16@csuohio.edu.
Career Fair
This year the Women's Leadership Symposium will also feature a Career Fair, from 10 a.m. to 2 p.m., for companies/organizations interested in recruiting top female talent.  If you are interested in participating as a hiring agency, contact Jamie Johnston at (216) 687-2048 or j.m.johnston3@csuohio.edu.
Parking

Willard Garage, located at 601 Lakeside Avenue, is the closest recommended parking location. Click here for links to parking options near Public Auditorium.
Shuttle from CSU Campus
Throughout the day, free shuttle buses will pick up passengers at South Garage and the Student Center (Euclid Avenue entrance), on the hour, and drop off at Public Auditorium. They will pick up at Public Auditorium at half past the hour, returning to South Garage and the Student Center.
Breakfast and lunch will be held at the Cleveland Public Auditorium.

When & Where

Cleveland Public Auditorium
500 Lakeside Ave.
Cleveland, OH 44114


Wednesday, April 13, 2016 from 7:00 AM to 4:00 PM (EDT)
Add to my calendar
Organizer
Sponsored by Cleveland State University Alumni Association, Ohio University Alumni Association, ohiowomen and the Division of Student Affairs at Cleveland State University